HOME | BOOSTER | CEMETERIES | EDUCATION | GHOST TOWNS | HEADSTONE
MINOTTO | PICTURES | ROADS | JACK SWILLING | TEN DAY TRAMPS
Arizona Pioneer & Cemetery Research Project
Internet Presentation
Version 091411
JEROME (HOGBACK) CEMETERY
YAVAPAI COUNTY, ARIZONA
By Kathy Block
APCRP Historian
<![if !vml]>

<![endif]>
Panoramic View of Jerome, Arizona – Courtesy Wikipedia.
The old mining town of Jerome in Yavapai County N.E .of Prescott, Arizona, is a very interesting town to visit. It is located on top of Cleopatra Hill at 5,200 feet elevation. The 500 plus residents, many of whom are artists with galleries showing their work, consider this historic area "Too Strong to Die."
A famous song by Kate Wolf, "Old Jerome", was written in 1983 while she was visiting folk singer Katie Lee in Arizona. In 1987 Jerome town council adopted the song as the "official town song." One line of this 8 verse ballad says in part: "And they say that once you live here you never really go." (Complete song available on the Internet.)
The long history of mining in Jerome and surrounding area began with the first mining claims filed in 1876 for copper. The Great Depression led to a decline in mining. By the time mining shut down in 1952, one writer claimed "enough copper had been produced to put 13 pounds in the hands of every citizen in the world. Gold and silver production covered mining expenses." (This quote is in an inscription on a Historical Marker plaque on Main Street in Jerome.) At one time Jerome was the fourth largest city in Arizona Territory. It sits on top of what was once the largest copper mine in Arizona (United Verde Mines) which produced 3 million pounds of copper per month. Men and women from all over the world came to Jerome to find work and a new way of life. Many of them are buried in Jerome Hogback Cemetery.
Jerome was also known as "the wickedest town in the West," due to the number of saloons and brothels. Jennie Bauters, who was murdered in the town of Gold Road in Mohave County and buried in the Old Pioneer Cemetery in Kingman (www.apcrp.org) had a famous establishment in Jerome. The Jerome historical Society Museum has a tasteful display about her and the red light district. (A side note: I arranged for the Mohave Museum of History and Arts to send the Jerome Historical Society museum photos and news articles about her to supplement their display.)
<![if !vml]>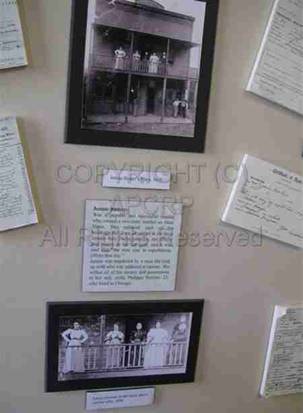 <![endif]>
Display at Jerome Historical Society Museum in Jerome.
Old tailings piles can be seen from viewpoints in the town, and an old mainframe is located near a mine converted into an outdoor mining museum. The Gold King Mine and Ghost Town was originally the site of Haynes, Arizona, one mile north of Jerome. When the Hayes Copper Company dug a 1,200 foot shaft in search of copper, they hit gold instead! This outdoor attraction has old mining equipment, an old sawmill, gold panning (with a tame burro to feed), and old cars, etc. is worth your visit. The Jerome Historical Society museum in town has historic photos, ore samples, and a helpful staff. Their archivist courteously supplied information and a roster of the Jerome Hogback cemetery which I used in research for this article.
Many old buildings are still in use in Jerome as shops, restaurants, galleries. Here are a few historic photographs from the mining era.
<![if !vml]>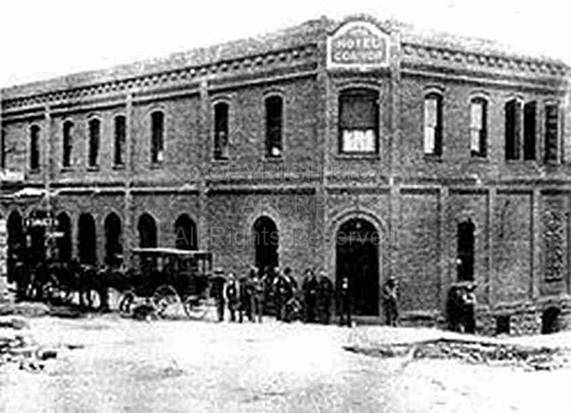 <![endif]>
Hotel Connor, Jerome, 1899.
<![if !vml]>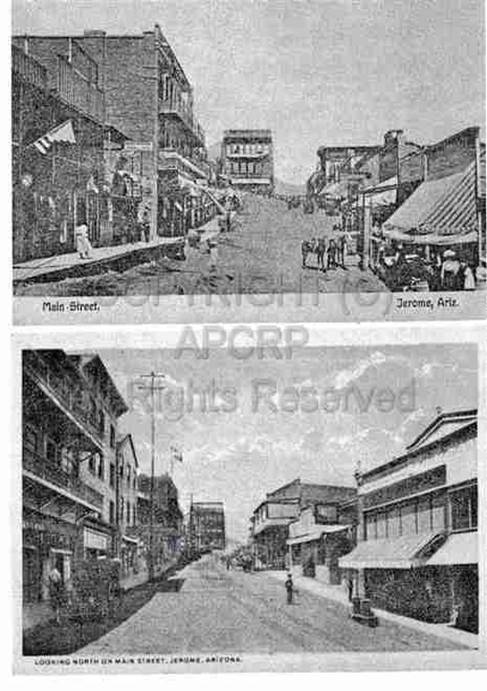 <![endif]>
Two postcards of Main Street, taken 25 years apart. Courtesy Mohave Museum History & Arts
The Jerome Hogback Cemetery, at the east end of town, is not particularly publicized or well known, with the exception of "ghost hunting tours" held there. An enterprise called, "Haunted Tours" offers visits to the cemetery, and claims the north end is the most haunted.
<![if !vml]>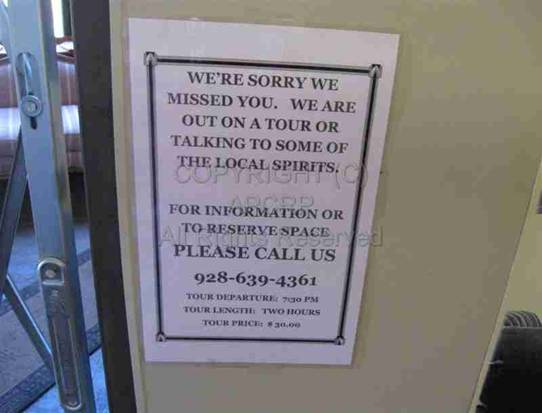 <![endif]>
Sign at closed tour booth.
Hogback Cemetery is somewhat hard to locate. The cemetery is very unkempt, with many broken headstones, overgrown graves, and unknown burials. I researched the roster of burials. Eventually I was able to list 386 burials, with 188 documented by Death Certificates. The remainder were confirmed thru Sharlot Hall Cemetery records, news articles, and Find A Grave listings. There are about 33 burials listed in F.A.G., and 17 known and at least 5 unknown on Arizona Gravestones site. The problem is that early mortuary and church records were incomplete, some were lost, or thrown away, and burials at a new "Jerome" cemetery about 5 miles N.E. at Clarkdale, were sometimes merged with the roster of Jerome Hogback. This article focuses on the original cemetery at Jerome, on a ridge in town, called Hogback Ridge. I arbitrarily researched burials listed on the "Jerome Hogback" roster only to March 1917, in my possibly faulty assumption that after that date burials were mainly in the new cemetery.
The new Jerome Cemetery, now called Jerome Valley, opened for burials around March, 1917, according to news articles courtesy of the Jerome Historical Society, On June 13, 1917, the cemetery was named Jerome Valley Cemetery. The town of Jerome owned 40 acres that it had purchased in 1915 from the U.S. Land Office in Phoenix, as a consequence of unpaid property taxes. The town did not later realize it owned this land, until a severe outbreak of influenza began to fill the cemetery. As many as 51 people were buried there in one month in 1918! Burials began to decline after 1919, with the last ones in 1975. Records showed at least 518 graves with 182 more in another section. Vandals removed metal grave markers and many records were thrown away in the 1950s, so nobody knows names and places of burial there! It is now being researched and restored by various people in Clarkdale. The cemetery became mainly used by immigrant Mexicans. An interesting note about this cemetery: During a smallpox epidemic, Jerome residents who contracted the disease were taken to the "pest house", a wooden shack near Hopewell. When a patient died, the mortuary (Scott McMillan) would take a pine box down and leave it outside the shack. Nurses would bring the body out; the coffin would be sealed and taken directly to the cemetery for burial! Sharlot Hall Cemetery records on the Internet used surviving records from this mortuary and others to list burials at Jerome Hogback and Jerome Valley.
<![if !supportLineBreakNewLine]>
<![endif]>
The Jerome Hogback Cemetery, the focus of this article, as mentioned, is very neglected. A path winds thru the top of the plateau or ridge with burials on each side. There are also other graves at the end of this path, extending down a hill. A private road, probably made to access a ranch, runs along the east side of the cemetery. The road to the parking lot has houses on each side, and a small park near the end of this road. Explore this historic cemetery and discover some interesting graves.
<![if !vml]><![endif]>

Road to Cemetery goes between these houses

<![if !vml]><![endif]>

Ed Block walks past the unmarked entrance to the Jerome Cemetery
<![if !vml]><![endif]>

Downhill from end of road through Jerome Cemetery

<![if !vml]><![endif]>

Looking west toward Jerome from Hogback Cemetery Ridge.
Research for the roster revealed some tragic stories of deaths among the miners and people living in Jerome. There were murders, terrible mine accidents, and individual tragedies. Often infants and children died from gastritis, measles, or colic, many with "no medical attendant", and were buried by a parent or family member as the undertakers. - 51 of the 188 death certificates stated "Buried by Father". (Including one buried by mother.) Almost all of these were Mexican, and most likely the families were very poor, and could not afford mortuary services. They may have been simply buried in a hole dug in the ground, and no marker was ever placed on the grave. This would account for some of the lack of gravestones.
Here are some typical news articles about deaths in Jerome
One newspaper article, July 4, 1905, had a particularly gruesome child death. "JEROME: Death of a Lad. Victor Cobello, aged 6 years, was buried here yesterday. Death was the result of an abscess of the brain, as the result of fracture of the skull several years ago. The funeral was largely attended."
Sometimes the roster reflects families where one child after another died either stillborn, or shortly after. An example is Guadalupe Vasquez. The first child was born in Jan. 1913 and died in June 1913. A later child, also named Guadalupe, was born in Dec. 1915 and died in Jan. 1916. Both were buried by their father as "Undertaker". An Irish family had three consecutive children, who all died at birth or after a few months.
Many miners died while working at the United Verde Copper Mine. Some were smelter men who burned to death or fell; other miners were hit by rocks, fell down shafts; killed by dynamite explosions. Some lingered for up to 12 days before dying of their injuries. Here's a typical news report of such a death:
"September 3, 1905. ANOTHER MINER DROPS TO INSTANT DEATH: Joseph Werkman Accidentally Falls 500 Feet Down the United Verde Shaft; the day before yesterday the United Verde mine was again the scene of an unfortunate accident that resulted in the death of Joseph Werkman, a young Austrian who had been engaged as a miner, and was working on one of the lower levels...The remains of the dead miner were buried at Jerome in the city cemetery yesterday."
If a person needed a coffin, it was usually delivered from Kingman. For example, from May 16, 1905: "Frank Nevin is over in Jerome attending to professional duties. As it was necessary for him to have a casket over there Monday, one was loaded in his wagon, and he started for Jerome Junction about 5 o'clock Sunday afternoon; it was then shipped to Jerome on the 8 o'clock train Monday morning."
There were a number of people on the roster who died from "Gunshot Wounds." A town tragedy was the shooting of a night policeman named Charles King on August 7, 1910. He had responded to gunfire by a drunken Mexican named N.D. Chavez, who'd gone to his estranged wife's house and started shooting. When King arrived, the shots momentarily stopped. King was questioning a 14-year-old girl when Chavez fired twice, hitting the policeman in the back and the girl in the leg. King died 4 days later at the age of 47 years, leaving a wife, daughter, and son. Chavez was arrested, tried, and hung. A memorial in the Jerome Historical Society honors King and other fallen policemen.
A domestic violence situation resulted in the death of Juan Mirabel. On November 5, 1905, a headline screamed: "Juan Mirabel Shot and Fatally Wounded. Murder Attempted at Jerome By the Paramour of Victim's Wife. As he was entering his own home, Juan Mirabel was shot and fatally wounded last evening at 8:45 o'clock at Jerome by Peter Abeyia, who was in the house with Mirabel's wife. Apparently, when the husband began to open the door, not suspecting the situation, he was shot!
The people mentioned in these news articles are buried in Jerome Hogback Cemetery and many had Death Certificates.
Here are a few of the graves that are identified by headstones, photographed by Ed and Kathy Block.
<![if !vml]><![endif]>

Carmen and Ramon Aros - both names on one cross

<![if !vml]><![endif]>

Nikolas G. Swilvanig

<![if !vml]><![endif]>

N. Balzano

<![if !vml]><![endif]>

Joseta De Carrera, "In memory of A. Josefa de Carrera. Originally from Guadalajara Mexico. Born 1842 and expired 1908. May she rest in peace."
Other grave sites cannot be read and many are covered with brush and cactuses.
<![if !vml]><![endif]>

Almost readable

<![if !vml]><![endif]>

Unknown graves with mine tailings in background

<![if !vml]><![endif]>

A tree grows over this unknown grave

<![if !vml]><![endif]>

Fenced, unknown graves strewn on slopes
This Jerome Hogback Cemetery is a repository of history that is sadly being lost from neglect. It was probably abandoned soon after the opening of the new cemetery in nearby Clarkdale in 1917. Take time to walk among these mostly forgotten graves and think about the many people and their lives in the historic mining town of Jerome at the start of the 20th Century.
A mystery remains, what happened to all the burials? Infants and children may have been buried without formal markers, but adults are listed here, too, on the roster. Perhaps further research may help provide some answers. One project during another visit could be to systematically research and photograph all the gravestones, identifiable or not, for APCRP records!
<![if !vml]>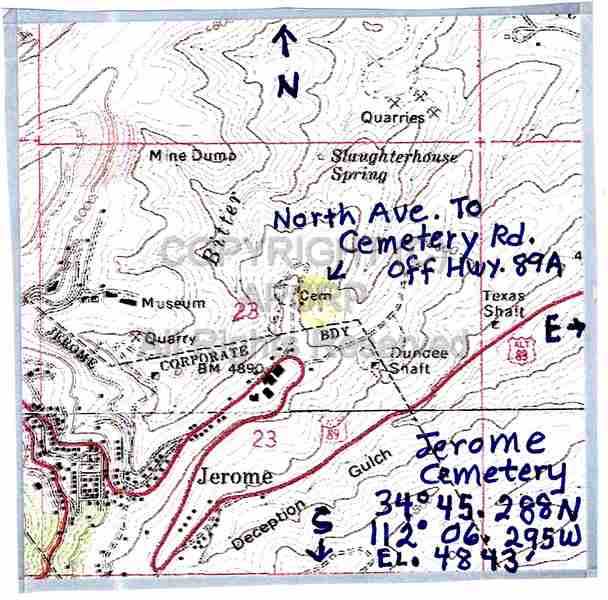 <![endif]>
Location of Jerome Cemetery, by Ed and Kathy Block
Directions: Drive east thru Jerome on Highway 89A towards Clarkdale and Sedona. A street named "North Avenue" abruptly goes north, at a sharp angle, where the highway turns down a steep hill. Turn down this alley, with houses on each side, and continue straight where it becomes "Cemetery Avenue". You will see the cemetery ahead of you. Park in the lot and walk into the cemetery. There is a small picnic area to your right before the parking lot.
<![if !vml]>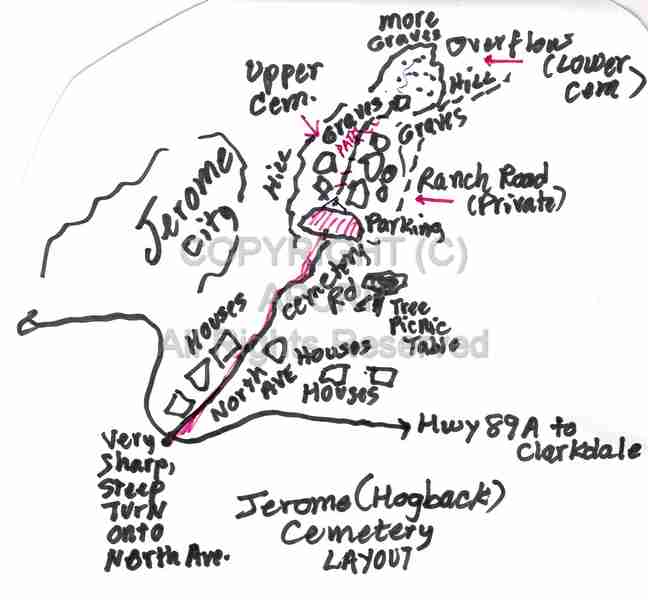 <![endif]>
Sketch map of the Jerome Hogback Cemetery layout by Ed and Kathy Block.
The author wishes to express appreciation to Colleen Holt of Jerome Historical Society for materials, rosters, and helpful comments; to Kay Ellermann at Mohave Museum of History and Arts for historic photos of Jerome; to Ed for his astute comments and proofreading; and to Neal Du Shane for his encouragement and guidance in this large project!!!!
Arizona Pioneer & Cemetery Research Project
Internet Presentation
Version 091411
WebMaster: Neal Du Shane
Copyright © 2011 Neal Du Shane
All rights reserved. Information contained within this website may be used
for personal family history purposes, but not for financial profit or gain.
All contents of this website are willed to the Arizona Pioneer & Cemetery Research Project (APCRP).