HOME | BOOSTER | CEMETERIES | EDUCATION | GHOST TOWNS | HEADSTONE
MINOTTO | PICTURES | ROADS | JACK SWILLING | TEN DAY TRAMPS
Arizona Pioneer & Cemetery Research Project
Internet Presentation
Version 022410EKB
KOFA CEMETERY
GPS: N33 15.918, W113 57.257
By Kathy and Ed Block, APCRP Historians
KOFA is an acronym for "King OF Arizona". The original Ghost Towns for which this cemetery served were Polaris and Kofa, AZ and were the main communities for the KOFA Mine, North Star Mine and other mines in the area. Several years ago an APCRP researcher (1) found the Kofa Cemetery, located about 1 mile southeast of historic King of Arizona mine. With photographs, maps and GPS coordinates we were ready for this research sojourn. After much searching, we were able to use this photo and topographical map to find this cemetery.
<![if !vml]>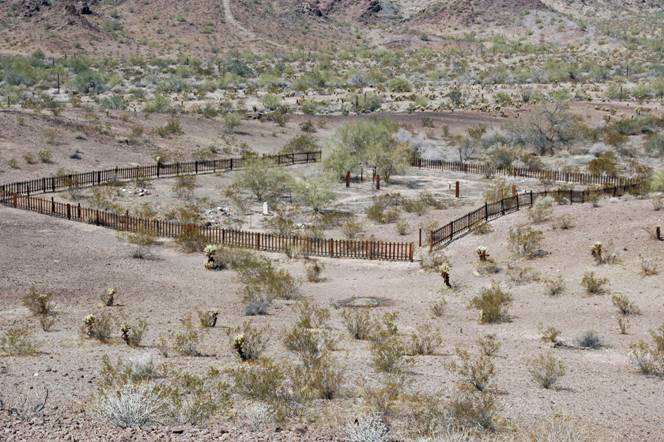 <![endif]>
INSERT 1. Photo courtesy: Kevin Hart - Kofa Cemetery.
King's Valley Road to the walking trail to Kofa Cemetery is 24.4 miles of gravel from Highway 95. It begins between milepost 76 and milepost 77 east of highway from a cluster of little shacks where you can buy pop, ice cream, etc. at the historic Stone Cabin site. The road is rough in spots and dips thru shallow washes, which had puddles from recent rains. A high clearance vehicle would be desirable. The path to the cemetery is about 300 yards long from Road 65 (which branches south from King's Valley Road) and goes to the left around a hill about 20 feet high that blocks the view of the fenced cemetery from Road 65. The path appears to be a road which probably came from Kofa to the west. You do not see the cemetery until you are around the hill. It sits in a small valley on flat ground.
<![if !vml]>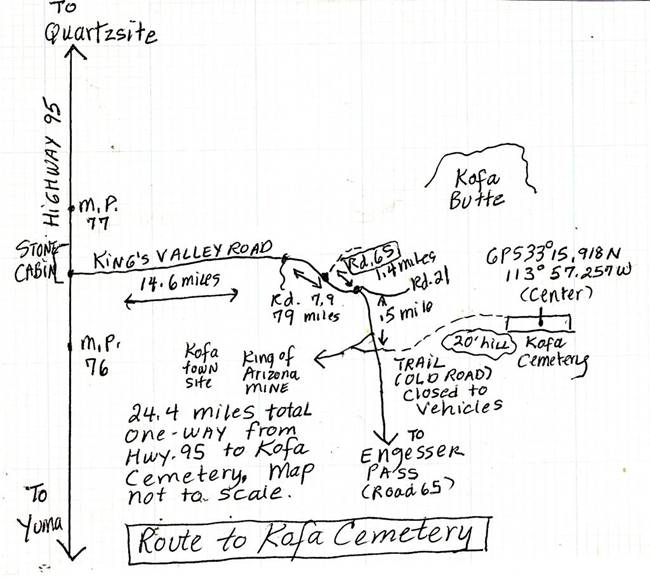 <![endif]>
INSERT 2, Sketch of route to Kofa Cemetery, By: Ed Block. No scale, N = Up
The cemetery measures approximately 105 feet east to west and 150 feet north to south, with a tilt of the rectangle to the northeast. We counted 33 possible graves. Due to the haphazard layout (graves were randomly placed in different directions) based on APCRP experience researching other pioneer cemeteries with similar configurations, it is possible some graves could be on top of other graves.
Only two graves had legible grave markers. One had a chipped marble headstone that read, on one side, in Spanish. An inscription that translates: 1880 on top. "Reyes Garcia born Jan.6 and died Feb.3, 1901 in cofa, arizona." (2). The other side had a long inscription in flowery script in Spanish, virtually illegible. If 1880 was Reyes Garcia's birth date, he would have been twenty one years old and possibly a miner at KOFA mine?
| | |
| --- | --- |
| <![if !vml]><![endif]> | <![if !vml]><![endif]> |
INSERT 3 and 4. Spanish headstone. Photo by: Ed Block
The other marker was a basketball-sized rock. On one side, crudely carved lettering read: "1908. DIED.MRS(?) C.M." The reverse side read, "1910. DIED NOV.24, T.M." It was placed between two graves. Was this a husband and wife? Parent and child?
| | |
| --- | --- |
| <![if !vml]><![endif]> | <![if !vml]><![endif]> |
INSERT 5 and 6. Rock with initials and dates. Photo by: Ed Block
Other burials were marked by piles of stones or gravel, some with wooden posts or boards so old no writing was visible. Some graves had tumbled-down remnants of fences around them. One elaborate 4-post enclosure had notches for missing cross-pieces. This burial was likely a female.
<![if !vml]>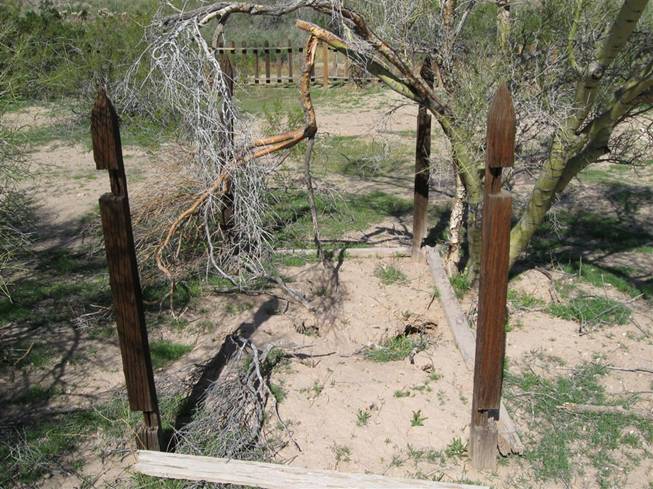 <![endif]>
INSERT 7, Elaborate 4- post grave; note rodent holes and brush inside the foundation.
Photo by: Ed Block
The wooden picket fence enclosing the cemetery had sections that had fallen down. Someone had replaced a few of the posts. We were told via an e-mail from the Quartzsite Historical Society that this cemetery is owned by, Kofa National Wildlife Refuge but there were no signs. This cemetery is included in the Kofa National Wildlife Refuge. Volunteers working with the U.S. Fish and Wildlife Service have attempted to keep up the wooden perimeter fence.
<![if !vml]>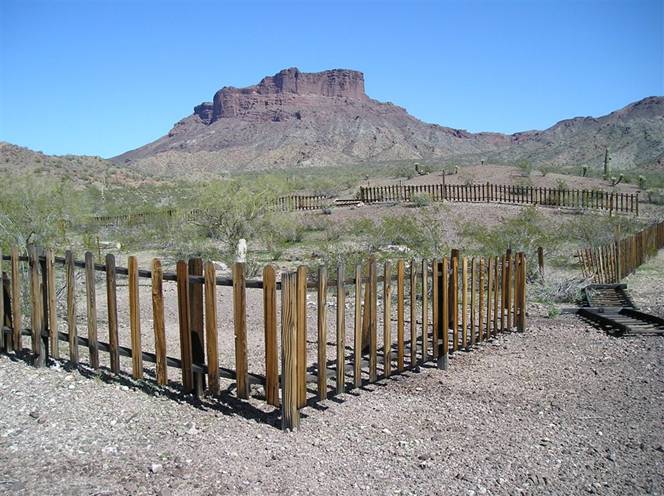 <![endif]>
INSERT 8. Fence around Kofa cemetery. Photo by: Ed Block
<![if !vml]>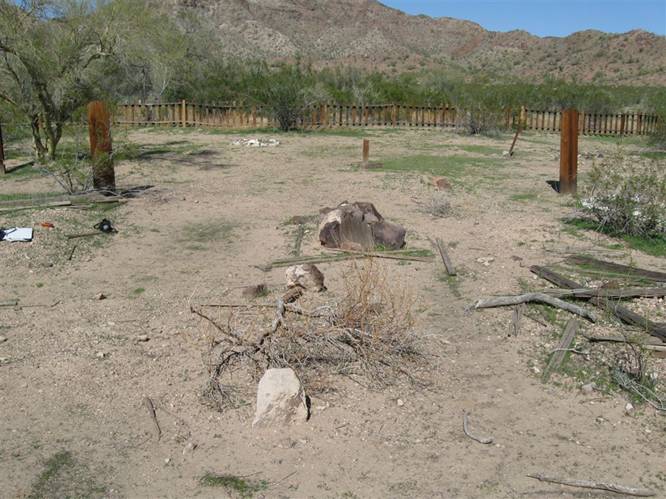 <![endif]>
INSERT 9: Nameless boards marking graves. Photo by: Ed Block
Why was this cemetery placed here and why was it almost 2 miles from the community of Kofa, to the west, the settlement serving KOFA mine? It seemed to be almost "out of sight, out of mind?" One answer would be it was established to bury people from Kofa and other nearby mines. The old road to the cemetery is almost a straight line from Kofa. Some historic cemeteries, though, seem to be right in or near settlements, reflecting a positive attitude, maybe, towards cemeteries and death. Some decision must have been made as to where to begin Kofa cemetery, or any cemetery. Another possibility for its location is the ease of interment, being in sandy soil near the creek, made it easier to prepare a grave when a death occurred.
Kofa, the town, is located on private property in the Kofa National Wildlife Refuge. (KOFA is an acronym for King of Arizona Mine.) It's also within the Kofa Game Refuge, beneath a military aircraft training path and in the military bombing range. General Patton used desert areas for training during WWII and hikers sometimes find unexploded ordinance!
The Kofa post office was established June 5, 1900 and discontinued August 27, 1928. The town suffered from lack of water. When ore was first discovered, the mine could not support a town until a 1,000 foot deep well was dug 5 miles from the mine. Before the well was drilled, miners had to drink water carted in by mule team in old whiskey barrels. The town survived thru 1928, even though people began moving away as the mine stopped operations in 1910. It was the richest single mine in the Southwest. This vein produced $465 million from 1896 until 1910. Other claims in the area, such as the nearby Polaris Mine, were also profitable. (Footnote 1)
The King of Arizona Mine was established in 1896 by Charles E. Eichelberger, grubstaked by Epes Randolph of Southern Pacific Railroad. As he looked for gold around Yuma, he enlisted the help of H.B. Gleason, hunting for natural tanks of water in what were then called the S. H. Mountains (s--- house) due to their supposed resemblance to a row of outhouses! Supposedly Eichelberger investigated a soot-blackened Indian cave in a canyon on the southwest edge of the mountains in his search for water to fill his canteen. He found a three foot wide rich vein of gold in an outcropping nearby. He'd seen something shiny about five feet away! The three men raised funds and started the KOFA mine. They built a 5-stamp mill at Mohawk on the Gila River, thirty five miles south of the mine. When the well tapped underground water, a new, larger mill was erected five miles south of the mine. Eichelberger and his partner sold their shares a year later for $250,000.
Miners initially slept in tents or caves, with little protection from heat, cold, or the elements. Then their wives began accompanying the miners to the Kofa area and a story stated that the name of the mountains was revised to "Short Horn" for the sheep in the area. The mountains were then renamed "KOFA" after the mine. A town sprang up with the arrival of the women. It had a boarding house, bunkhouse, saloons, company store, and even a school serving Cornish, Mexican, and Chinese immigrants. The "cousin Jacks" were the miners; the Mexicans chopped and sold wood for running the mills; and the Chinese were the cooks for the company. At its peak, the mine employed over 100 men.
In 1999 the mine was still in operation. (Footnote 2) A diary by William Keiser, a prospector and miner in the 1890s, told this joke: "One miner to another in Kofa mountains: 'What are you doing hiking? Are you broke?'" Keiser had been forced off a train 10 miles out from Blaisdell by a Wells Fargo agent poking a double-barreled sawed-off shotgun into his ribs and saying, "Get off! Get off!" Since he'd been riding the rails, he left and then walked 116 miles from Blaisdell to KOFA mine, looking for work! (Footnote 3)
A few crimes occurred in this small settlement. A man named Joaquin Nogales tried to burn down some buildings at Kofa and was sentenced to six years for attempted arson, probably to the prison in Yuma. A drunken "Negress" called "Pinky Dean" slashed up a miner with a knife in her apartment in back of a saloon. No sentence recorded for her!
The Kofa National Wildlife Refuge, which surrounds the still privately-owned KOFA Mine (no access to the public), was established in 1939 to protect Bighorn Sheep, various other animals and birds, and rare plants and groves of native palm trees. Due to drought, predation from coyotes, and disease, the herd of sheep has shrunk from 800 -1000 sheep to only 410 in the 2009 count. Some mining claims remain active amid the 655,400 acres of land of which 82% is officially designated as Wilderness. The Refuge is managed by the U.S. Fish and Wildlife Service.. A system of roads, including 4x4 tracks, can be used to access various areas of these mountains. The Kings Valley Road is one of the main routes into the Kofa's and leads you eventually to Kofa Cemetery!
<![if !vml]>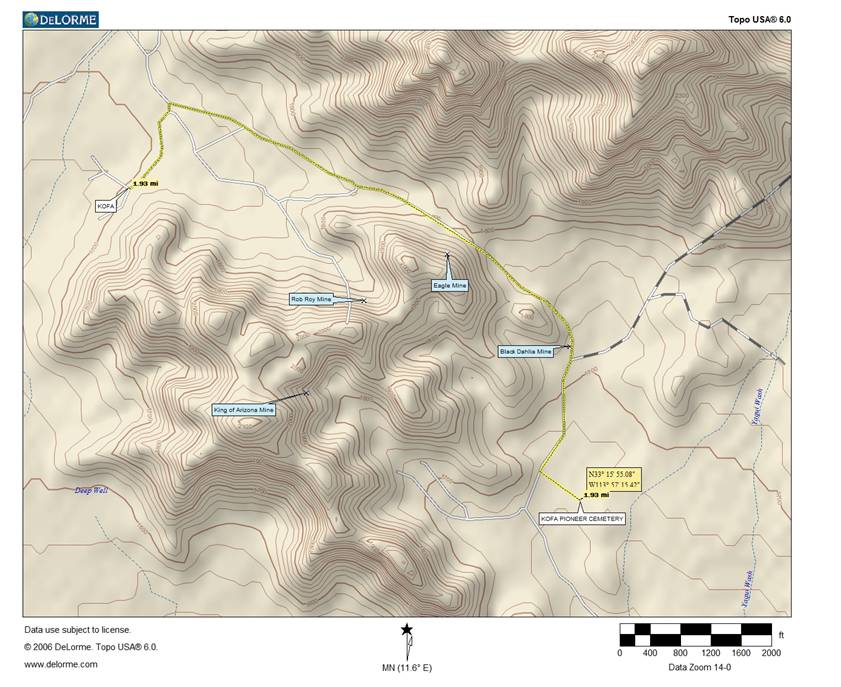 <![endif]>
Map of the area and mines near Kofa Cemetery. Map by: Neal Du Shane
SOURCES:
(1) Kevin Hart
(2) Jose Borrajero
FOOTNOTES:
Footnote 1. "Kofa" ghosttowns.com. On the Internet.
Footnote 2. Peter Massey and Jeanne Wilson. Backcountry Adventures Arizona. Swagman Press, Castle Rock, Co. 2002. pp.41-42 and p.345.
Footnote 3. John Annerino. Adventuring in Arizona: The Sierra Club Travel Guide to the Grand Canyon State. Sierra club Books, San Francisco, 1991. p.117.
Arizona Pioneer & Cemetery Research Project
Internet Presentation
Version 022410EKB
WebMaster: Neal Du Shane
Copyright © 2010 Neal Du Shane
All rights reserved. Information contained within this website may be used
for personal family history purposes, but not for financial profit or gain.
All contents of this website are willed to the Arizona Pioneer & Cemetery Research Project (APCRP).