HOME | BOOSTER | CEMETERIES | EDUCATION | GHOST TOWNS | HEADSTONE
MINOTTO | PICTURES | ROADS | JACK SWILLING | TEN DAY TRAMPS
Arizona Pioneer & Cemetery Research Project
Internet Presentation
Version 011809
<![if !vml]>

<![endif]>
<![if !vml]>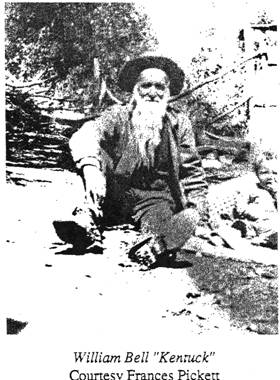 <![endif]>
William "Kentuck" Bell was born in Kentucky, it is believed his birth year was 1835. Married to Sarah Ashby and had a daughter, Rethilda age 1yr. old. Neither, Ashby nor Rethilda were listed in the 1880 census in Kentucky. History does not provide an answer as to what happened to his wife and child, or a reason for him to move west. In the 1870's William Bell headed west to seek his fame and fortune.
William enlisted in the Confederate Army on September 5, 1862. Based on information gained from a photograph of his original headstone, William served in the civil war as a Corporal in Co. E. 35th KY. Mounted Infantry. Kentuck was honorably discharged.
"Kentuck" as he was referred to by local residents, built this cabin and lived at "Kentuck's Cabin" until he died on June 17, 1910. George Bigler and his wife were the last occupants of Kentuck's cabin, residing there until the late 1960's, after that the cabin was torn down by the Forest Service. Some evidence of his structures still remain and are recognizable upon close detailed inspection.
Al Francis residing at Fort Misery approximately ½ mile north and Burro John, residing approximately 1/3rd mile south, buried "Kentuck" after he died up on a hill to the east across from his cabin and were responsible for putting up "Kentuck's" original military veteran style headstone. The headstone was shipped to Crown King and hauled to the grave site by Al Frances. Over years of neglect, elements as well as cattle and wild life the original headstone is no longer there or has decayed, melting back to mother earth.
<![if !vml]>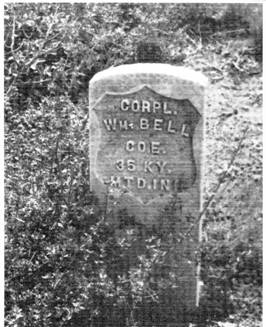 <![endif]>
Original Headstone
The remains of the cabin are located along Crown King Trail, south of Ft. Misery and north of Burro John's on Humbug Creek. Originally "Kentuck's" cabin had two stories.
Often photographs of Fort Misery mistakenly show a photo of "Kentuck's Cabin" as Fort Misery. They are not one in the same locations – although somewhat close to each other. It is believed Kentuck was a miner along with many other trades and worked the mine to the east of his residence plus numerous other mines in the area.
Al Francis is buried in the Historic Walnut Grove Cemetery on the Wagoner Road.
History does not provide information for the adult male, adult woman, and female child buried just to the south of Kentuck's former cabin on the west side of Humbug Creek.
The Arizona Pioneer & Cemetery Research Project (APCRP) has been instrumental in locating abandoned derelict graves of our ancestors. Once found APCRP recruits volunteers interested in preserving this museums of our heritage. APCRP can make and replace missing headstones.
<![if !vml]>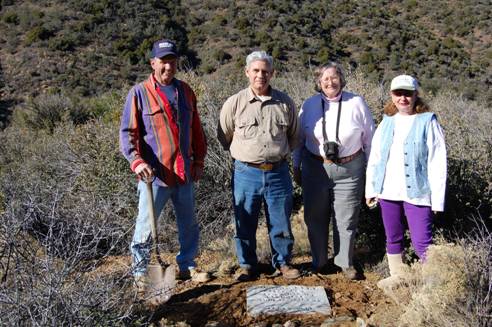 <![endif]>
L-R, Darrel Steffen, Jose and Judy Borrajero, Barb Steffen
Photo by: Neal Du Shane
<![if !vml]>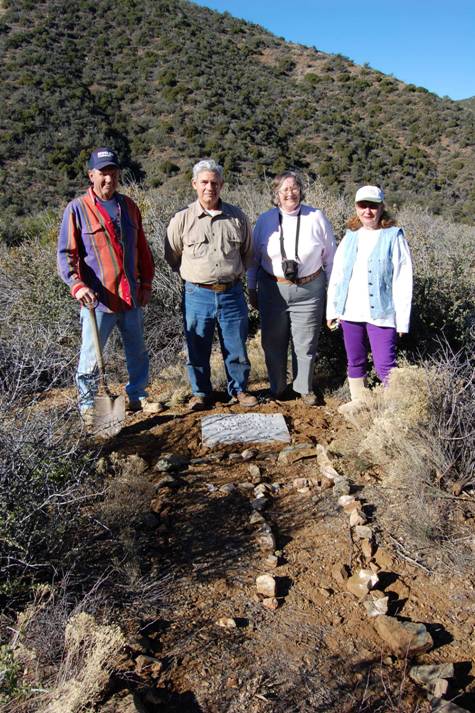 <![endif]>
L-R, Darrel Steffen, Jose and Judy Borrajero, Barb Steffen
Photo by: Neal Du Shane 1/15/09
Placing the new headstone on January 15, 2009 at the grave of William "Kentuck" Bell. Work was completed to outline the perimeter of William's grave and to place rocks in the configuration of a cross to mark the exact location.
Please help preserve this grave - police the area when you visit this historic museum of our heritage.
<![if !vml]>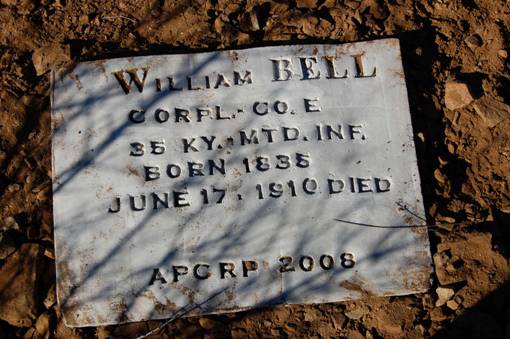 <![endif]>
Photo by: Neal Du Shane
Four Photo's above by Judy Borrajero 01/15/09
APCRP has been planning to replace this headstone for several years. In the past two years we have been researching this project documenting as much information as possible. Pat Ryland has done an outstanding job finding records and documentation on William "Kentuck" Bell. Last fall Mary Ann Wunderlin, Bonnie Helten, Darrel and Barb Steffen and myself made a sojourn here and located, verified the exact interment. This fall there were two headstone projects taken on by APCRP. One being placing a headstone at the grave site of Jack Swilling and the replacement of William "Kentuck" Bell's headstone. Speculation on what happened to the original headstone is arguable. In fact with the growth of the shrubs in the area it may have toppled by cattle rubbing against it and it is still there within the bushes. We have never had the time or man power to completely research this hill top.
January 15, 2009 APCRP coordinators started from Lake Pleasant with one quick stop at Darrel and Barb's house, we started up Crown King Trail headed for Kentuck's Cabin. (or what is left). We made one stop along the way at "Burro Johns" to revisit the grave of "Wade". The elements had leveled the cross lying flat on the ground, We located the cross and reinstalled it to a metal post that was embedded in the ground. If anyone has information who Wade was or the circumstances for this grave we would be interested in documenting this grave for historical purposes.
Upon arriving at the former Kentuck's Cabin we evaluated the trail up to Kentuck's grave site. Elevation gain is about 80' and the road is approximately 500' long to reach the saddle. Once at the saddle near the top of the climb, the grave is up on a small rise of another 10' on the right. Trail to it is hard to see and find once your at this point. We located the grave and verified this was his actual grave. Cleared and trimmed some weeds and shrubs, defined the parameter of the grave and placed rocks to outline the grave. We also placed a makeshift cross in side the rock parameter, using local rocks to further define the grave for future visitors. We verified William was buried in a Christian manner, in that his grave is facing east. We placed the new headstone at the head of his grave and paid our respects.
We should point out Crown King Trail is not for the faint of Heart. DEFINATELY a 4X4 road with many challenges. Recommend you don't travel this road alone, as it could be a LONG and difficult walk out.
There is currently a grave at Burro John's along side Crown King Trail simply marked "Wade 1941 - 2005" on the white cross.
On 1/15/09 the wooden cross had toppled and was laying flat on the ground, APCRP reattached it with wire to the metal post placed in the ground.
<![if !vml]>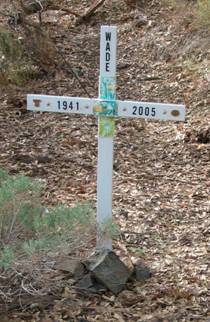 <![endif]>
Photo by: Neal Du Shane 2008
Research found a fairly large unmarked cemetery with up to 20 graves at Fort Misery in an island on Humbug Creek. History provides no research information on these historic Pioneer Cemeteries.
Found William Bell in the 1870 KY. Census. He was married to Sarah Ashby and had a
daughter, Rethilda age 1yr. old. Neither of them are in the 1880 census. Something must have happened to his wife and child for him to move west.
According to the census, he was either born in 1844 or 1838. He was born in KY. But I haven't found out where. His sister, Mary Bell, married my Great Grandfather, William Gardner. Maybe they moved west with him?
Nancy
Bell, William Corpl 35th Ky. Infantry, Company E
Kentuck's VA Claimant's Affidavit
"That he is the claimant in the above cited claim and that he incurred the broken arm on account of which pension has been applied for under the Act of June 27, 1890. At a timber camp about 35 miles west of Pueblo, known as Babcock's Hole in the state of Colorado July, 1873 under the following circumstances: Working in the timber making Rail Road Ties, and in falling a tree a limb form another tree, fell striking him on the arm, dislocating the Elbow, and breaking the bone of the forearm. There being no doctor or surgeon available the arm had to get well without medical treatment resulting in a permanent disability, making him a cripple for life.
Feb 16, 1900: There was no other person present when this accident occurred but another tie chopper by the name of John Burnes came along about two hours after hand helped him to camp. He further states that he does not know the present whereabouts of the said John Burnes.
January 25, 1893
"I must say regarding the dislocation he had no treatment and in fact refused treatment. His is in fair circumstances. He drinks, smokes, chew tobacco, rides his horse after stock. Delay in his case will work no hardship.
Oct. Sept 24th 1898 on Department of the Interior Bureau of Pensions Wm. Bell states:
<![if !supportLists]>1. <![endif]>"I am not married"
<![if !supportLists]>2. <![endif]>"I was never married"
<![if !supportLists]>3. <![endif]>"No children living or dead"
Signed: William Bell P.O. Box Columbia, Arizona
March 27, 1900:
GENERAL AFFIDAVIT – George C. Cary, Age 58, Columbia, Yavapai, AZ.
I have known the said Wm. Bell for about 35 years and as far as I hand know or heard he has lived a quiet, peaceable, sober and industrious live; thoroughly honest and reliable in every particular. Moreover this is the uniform opinion and expressions of all his neighbors and acquaintances. Affiat's Signature" Geo. C. Cary
March 30, 1900:
GENERAL AFFIDAVIT – Chas. E. Tucker, Columbia, Yavapai, AZ.
I have know the said Wm. Bell for about 30 years and during all that time I have always considered him a sober, peaceable and honest man; and further that in the community where he lives and has lived for years has reputation has been of the highest for integrity, honesty and reliability. Affiant's Signature C.E. Tucker
June 2, 1900
GENERAL AFFIDAVIT – W.A. Ryan, Age 42, Columbia, Yavapai, AZ.
That he is well acquainted with Wm. Bell applicant for pension above mention and has known him for several years; that he knew him before and during the whole of the years 1897 and 1898 that the said W. Bell was suffering from *Catarrh of the head and rheumatism and after complained of a severe pain in his breast; that he was not able to perform any steady manual labor on account of these troubles.
*CATARRH; The symptoms that are often associated with catarrh are listed below.
1. A blocked and stuffy nose.
2. An excessive discharge of mucus from your nose, or down the back of your throat. The mucus can be thin and watery, or thick and stodgy.
3. An irritating, persistent cough that is caused by excess mucous at the back of your throat.
4. Headache.
5. Facial pain that is caused by blockages in your nasal passages and sinuses (small cavities inside your cheekbones and forehead).
6. Loss of smell and taste Temporary, partial hearing loss and a crackling sensation in your middle ear.
7. Tiredness.
September 11, 1906 Dr. McDonnell of Crown King, AZ
I have examined Wm. Bell and find he has an abscess of the left lung.
Also he is almost deaf – both eardrums are destroyed.
Wm. Bell is totally disabled.
Wm. Bell states that when he joined the Army he put his age four years ahead.
Kentuck time line in Arizona;
Oct. 15, 1892 Tip Top – crossed out - Columbia, AZ
Dec. 23, 1895 Tip Top, AZ
Sept 24th 1898 Columbia, AZ
May 11, 1904 Columbia, AZ
June 16, 1906 Harrington, AZ
GPS COORDINATES: (WGS84 D,M,S) LAT. N34 08 9.11, LONG. W112 21 39.78
Arizona Pioneer & Cemetery Research Project
Internet Presentation
Version 011809
WebMaster: Neal Du Shane
Copyright ©2009 Neal Du Shane
All rights reserved. Information contained within this website may be used
for personal family history purposes, but not for financial profit.
All contents of this website are willed to the Arizona Pioneer & Cemetery Research Project (APCRP).
HOME | BOOSTER | CEMETERIES | EDUCATION | GHOST TOWNS | HEADSTONE
MINOTTO | PICTURES | ROADS | JACK SWILLING | TEN DAY TRAMPS