HOME | BOOSTER | CEMETERIES | EDUCATION | GHOST TOWNS | HEADSTONE
MINOTTO | PICTURES | ROADS | JACK SWILLING | TEN DAY TRAMPS
Arizona Pioneer & Cemetery Research Project
Internet Presentation
Version 020409
<![if !vml]>

<![endif]>†
Yuma County, Arizona
By: Kathy Block
Laguna Cemetery, NW of Yuma, is a long forgotten derelict Pioneer Cemetery, seemingly abandoned with little care or maintenance. It sits on a slight knoll overlooking fields of produce, with barns and fenced pasture to the south and a place that RVs park to the north.
| | |
| --- | --- |
| <![if !vml]><![endif]> | <![if !vml]><![endif]> |
All Photos and Map are Courtesy: Ed and Kathy Block 1/31/09
At some point in the past, encroaching brush had been cleared on the perimeter, but it is reclaiming grave sites. We counted six graves marked only by rectangular piles of heaped stones, set side by side at least 100 feet to the left (east) of the main cemetery. One can only speculate why they are so separated from the main cemetery.
| | |
| --- | --- |
| <![if !vml]><![endif]> | <![if !vml]><![endif]> |
The main Laguna Cemetery had at least seventy graves marked only by piles of stones. Three had stones painted white. Some had rotting wooden crosses lying across the stones; others had no markings at all. They were sort of in parallel rows trending east to west. Some graves had heavily decay, headstones that once held statues that had been beheaded possibly due to time and the elements or wild life. Only four graves were marked with headstones with names and dates.
| | |
| --- | --- |
| <![if !vml]><![endif]> | <![if !vml]><![endif]> |
First, the earliest, was Atonita C. Arviso. It suggests a tragedy. She was born in 1876 and died in 1915, age 39. Her grave is inscribed in letters scratched into a concrete base, "BORN 1876 - DIED 1915 by Daughters & Sons. By her sonís Douseno C. Arviso, Johnny Arviso, Bobby Arviso.
<![if !vml]>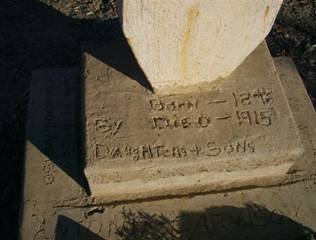 <![endif]>
A second marked headstone is entirely in Spanish for Vincente Hernandez, 1901-1931.The figure of Christ on a cross is almost entirely gone. Very likely time and elements have caused the continued destruction of this headstone.
<![if !vml]>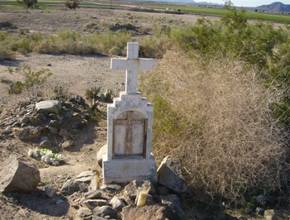 <![endif]>
A third marked grave seemed to be somewhat maintained, with plastic flowers, for Juana Mopales Quintero, 1915 - 1941.
<![if !vml]>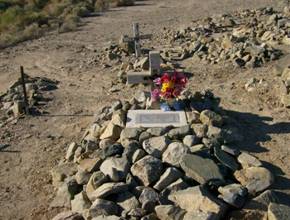 <![endif]>

The final marked headstone is for Donny C. Wright, 1922 -1976. His is the only grave enclosed by a rusting iron fence. He has a brass plaque on headstone plus wooden inscribed board lying on the grave.

Donnie Wright had two grave markers. One is engraved on a brass plaque and reads: "DONNIE C. WRIGHT S2 US NAVY WORLD WAR II, JAN. 21, 1922 + FEB. 13, 1976." The inscribed wooden board lying on top of the grave reads: " DDS DONNIE WRIGHT (Leathers Britches) Jan.21, 1922, Feb.13, 1976 Yuma, Ariz." These few words suggest much about his background. Possibly the wooden board was the original marker and later friends or family added the brass marker? Somebody cared enough to erect the iron fence around the grave site, too.

<![if !vml]>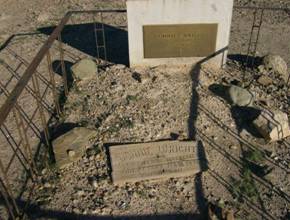 <![endif]>
There was one grave with a concrete cross with date 1930 on right arm, a beheaded statue, but the rest of the inscriptions were too worn and faint to read.
<![if !vml]>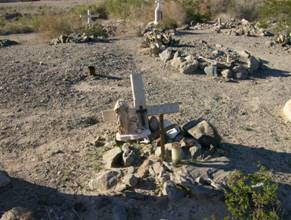 <![endif]>
Because three of the four marked graves had Hispanic names, and there were various religious items scattered among the graves, this very likely is a Hispanic cemetery.
<![if !vml]>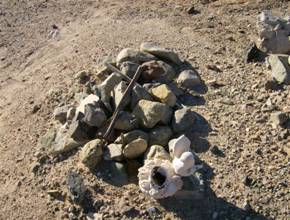 <![endif]>
The surrounding area is mainly agricultural. Large fields of green crops, many tractors and other machinery, and bus loads of Hispanic agricultural workers picking, planting, weeding crops like lettuce, cauliflower, cabbage, suggests a source for the interments in Laguna Cemetery in the past.
The cemetery is unfenced and there was a pasture and barn en route. The cemetery is totally unprotected and out in the middle of fields.
There also may be workers from various dam building projects in the area, such as Laguna Dam, and also from many mines in the historic Laguna placers in mountains to the north and west.
| | |
| --- | --- |
| <![if !vml]><![endif]> | <![if !vml]><![endif]> |
Laguna Cemetery would definitely be a site for further research. Very likely there are more unmarked burials in the brush. And it would be interesting to determine more information on the age/sex of these burials. A worthwhile cemetery to visit!
<![if !vml]>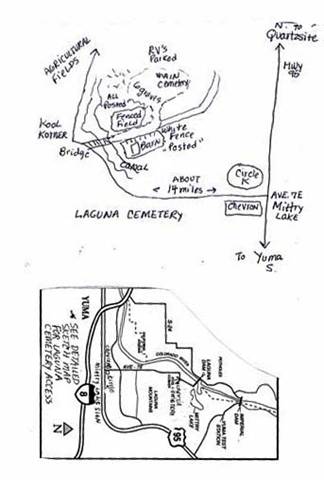 <![endif]>
LOCATION: From US 95, turn west (left) on Avenue 7E, going north from Yuma (this is at northern end of Yuma area), (or right, going south from Quartzsite), between 2 gas stations, a Chevron to the south and a Circle K to the north. The turn is also marked with a brown sign that says "Mittry Lake." Stay on Avenue 7E going roughly west, about 14 miles, following its curves and turns, to Kool Korner, a defunct grocery store on your left (south).
<![if !vml]>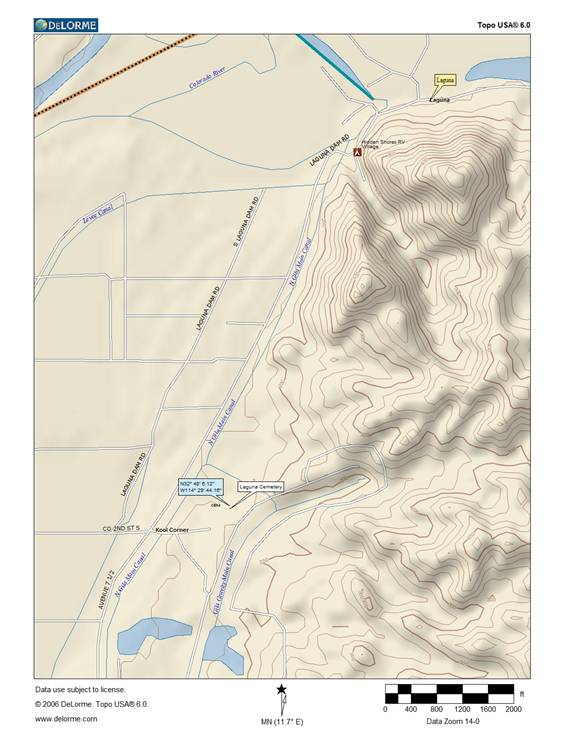 <![endif]>
Map by: Neal Du Shane 02/02/09
Opposite it, just a few hundred feet before you pass the store, turn right over a little bridge that crosses a canal and take the little lane that curves around between a posted "No Trespassing" sign on white fences and barns to your right and a fenced, posted field to your left. Go about a block on the dirt track until you see a dirt path to your left and start to see a few crosses of the cemetery. There is a rough, sometimes muddy, parking lot from which you can walk to the cemetery. There are no signs.
The cemetery can be seen from the main road to your right as you go slightly past Kool Korner, on the left, but there is no access from the main road. All are private and posted. (We had to turn around and go back to the little bridge, pulling small trailer, somewhat tricky!) See map of area and sketch map of route to cemetery.
Arizona Pioneer & Cemetery Research Project
Internet Presentation
Version 020409
WebMaster: Neal Du Shane
Copyright © 2009 Neal Du Shane
All rights reserved. Information contained within this website may be used
for personal family history purposes, but not for financial profit of any kind.
All contents of this website are willed to the Arizona Pioneer & Cemetery Research Project (APCRP).
HOME | BOOSTER | CEMETERIES | EDUCATION | GHOST TOWNS | HEADSTONE
MINOTTO | PICTURES | ROADS | JACK SWILLING | TEN DAY TRAMPS