HOME | BOOSTER | CEMETERIES | EDUCATION | GHOST TOWNS | HEADSTONE
MINOTTO | PICTURES | ROADS | JACK SWILLING | TEN DAY TRAMPS
Arizona Pioneer & Cemetery Research Project
Internet Presentation
Version 012208
<![if !vml]>

<![endif]>
<![if !vml]>

<![endif]>
Not to be confused with Minnehaha, Arizona
<![if !vml]>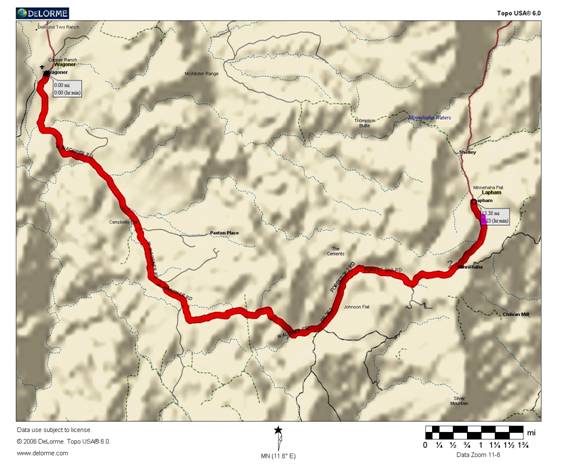 <![endif]>
Route from ghost town of Wagoner to Lapham
WARNING: Road suitable for SMALL, 4 wheel drive vehicle's only in 2008 – each storm will change the road conditions. CJ-5 size vehicles are fine anything large will sacrifice body parts. Met a friend who told me they took there Yukon up this road . . . $2,000 to repair the body dents and replace the missing parts once they got back.
We have always thought Minnehaha and Minnehaha Flats were one in the same just called by different names. When in fact they were two individual locations and separated by approximately 1 1/2 miles. If you come into this area from the West this will be the third community you come to when you come in on Forest Service Road (RSR) 362 from Kirtland Junction through Wagoner.
Minnehaha Flat resides literally on the middle of the road between Lapham and Shelley. Many structures remain including the house and several out buildings. The cemeteries/graves are not in one location as cemeteries are configured today. Rather the graves are scattered. In total we found 10 to 15 graves were identified. Most were adult males and it would be assumed they were miners.
To add to the town name confusion, communities by the name of Marion, McCormick, Patterson, Taylor, and Button existed, and were scattered along Minnehaha Creek between Shelley and Minnehaha. We have been unable to document any information on these towns existence. Logic would dictate they were the same four communities but called by different names over the years as boom and bust mining transpired. Very likely no more than one or two structures and or homes.
It is not absolutely clear which of the communities the actual post office was located but research dictates it would have been Minnehaha from 1880 to the 1890's located to the south of Minnehaha Flats then moved to the Button Mine in the 1890's, then the Post Office was closed in 1910.
1892 news clippings from Phoenix Arizona REPUBLICAN
May 26, 1892
Fred Miller and James Daly, who have been working on a small scale on the Little Mint Mine in Minnehaha Flat near Bayard* Post Office came into the city yesterday with a gold nugget weighing thirty two ounces.
*Bayard G.L.O. Map 1892, Mining camp on Humbug creek near Wasson Peak. Named after James A. Bayard, Secretary of Territory, 1887. P.O. Established, May 25, 1888, William B. Long P.M. (Will C. Barnes Arizona Place Names)
Minnehaha G.L.O. Map 1921
In T. 10 N., R. 1 W. Mining camp on Minnehaha Flat. The Minnehaha Mine is listed, 1878, in Hinton's Hand Book, Town and flat named after the mine. P.O. established June 21, 1880, Charles Taylor, Post Master. (Will C. Barnes Arizona Place Names)
We have little historical facts on Minnehaha Flats other than general writing's but Minnehaha Flats looks to be one of four cities for the workers of the mines in and about the area. It was written that there was a ranch here in Minnehaha Flat and would very likely been located at or very near Minnehaha Spring and there was water at Lapham Well a short distance to the south.
1/21/08 - Todd Zuercher - Recalls
Your piece on Minnehaha and evidence of hippies living there jogged a memory for me.  I had forgotten that former encampment south of the Button Mine was known as Minnehaha. 
When our family first traveled through that area (either 1978 or 1979), there was quite a little collection of dwellings in the southeast corner of the road junction there.  I remember the dwellings and quite a number of vehicles there.  I believe most of the folks living there probably worked at the Button Mine, as you noted. 
Many years later, we came by again and there was little or no evidence of them ever being there.  The third time I came through (sometime in the early '90s), I remember being mystified that I didn't see ANY evidence of anyone having lived there.  I did get out and snoop around that time and found some evidence off the road, but the Forest Service had done a real good job of cleaning up the evidence of their presence. 
The Forest Service used to have a lot better signage out on most of those roads too.  There are no signs to indicate Minnehaha Flat anymore, etc.  I was also disappointed to see the continued degradation of the roads in the area and continued abuse of the existing roads by the quad traffic.  A lot of the old little trails around the Button Mine look to be part of a rally course now or something.  Very discouraging. 
At least the Lapham building in Minnehaha Flat is still there. About 5-7 years ago there were some dirt bags that lived in the area temporarily.  They dragged those trailers in that are now sitting just north of Lapham's place and they even had plastic sheeting encasing the Lapham place to give it a mild bit of weatherproofing so they could live in it.  Disgusting
<![if !vml]>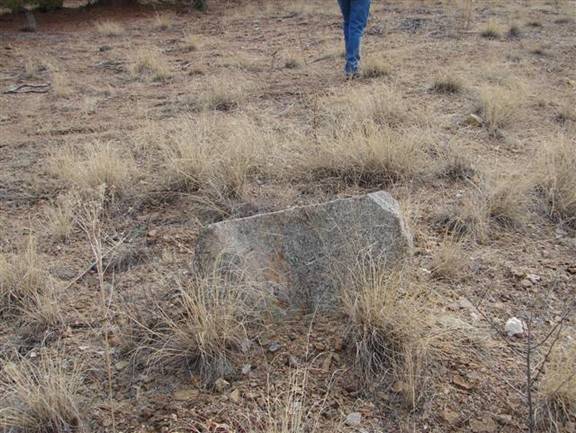 <![endif]>
Headstone at Minnehaha Flat, AZ 01/16/07
Photo courtesy: Bonnie Helton
Walking the area where Minnehaha Flat is situated, we found several graves. The exact location of the Post Office is unclear with the four communities being so close together, and knowing the Post Office was moved.
<![if !vml]>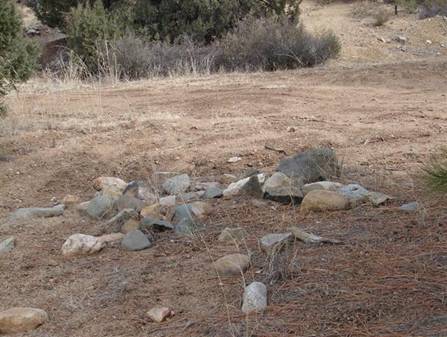 <![endif]>
One of several scattered graves at Minnehaha Flat
Photo Courtesy: Bonnie Helten 01/16/07
<![if !vml]>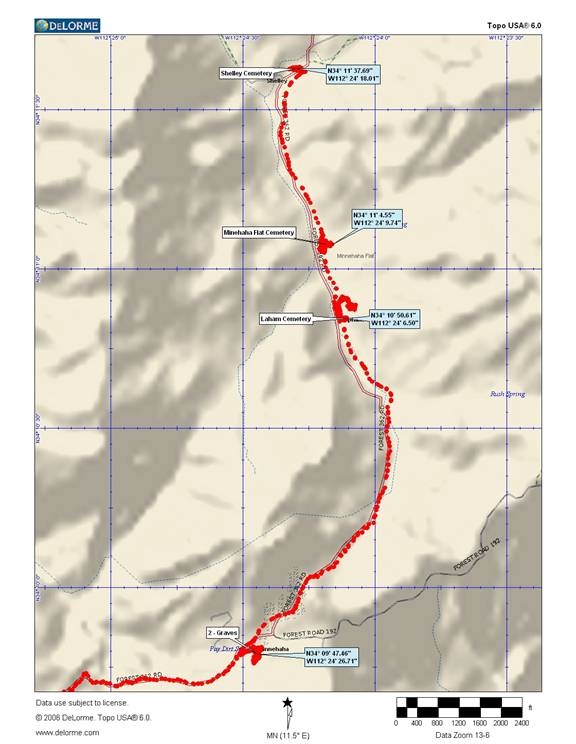 <![endif]>
Please leave these historic areas as you find then – destroy nothing, take only pictures and memories. Preserve for future generations.
Arizona Pioneer & Cemetery Research Project
Internet Presentation
Version 012208
WebMaster: Neal Du Shane
Copyright ©2003-2007 Neal Du Shane
All rights reserved. Information contained within this website may be used
for personal family history purposes, but not for financial profit of any kind.
All contents of this website are willed to the Arizona Pioneer & Cemetery Research Project (APCRP).
HOME | BOOSTER | CEMETERIES | EDUCATION | GHOST TOWNS | HEADSTONE
MINOTTO | PICTURES | ROADS | JACK SWILLING | TEN DAY TRAMPS