HOME | BOOSTER | CEMETERIES | EDUCATION | GHOST TOWNS | HEADSTONE
MINOTTO | PICTURES | ROADS | JACK SWILLING | TEN DAY TRAMPS
Arizona Pioneer & Cemetery Research Project
Internet Publication
Version 122611
MISSION HOME CEMETERY
(A.K.A., G Mission Home, Sleeping Bride, Thompson and Pioneer Cemetery)
N33 45 25.55, W112 25 30.03
<![if !vml]>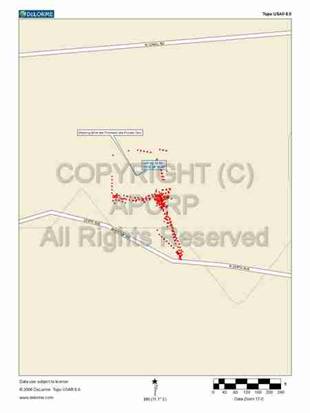 <![endif]>
At this writing, research continues into the history of this cemetery. While it is a fairly large cemetery geographically at one acre, there are only nine markers identifying some of the interred. The research to date that APCRP Certified Coordinators have completed, identifies in total thirty seven graves, twenty nine of which are unmarked for the most part. It is possible there could be more unmarked graves as we research the acreage.
Based on one acre, it is possible there could be up to 800 graves if the cemetery were filled to capacity, but there is no evidence this cemetery ever reached capacity. It is more likely that the one acre was set aside for burials from the ranch families living in the area and in later year's members of the Mission.
Initial speculation would have it this was a ranch family cemetery or a small ranch community grave yard. Research indicates this was a ranch when it was founded, then turned to a religious Mission in later years. Dominate surnames are Thompson and Rhodes in this cemetery.
Map at left is the layout of the physical property as defined using GPS tracking.
<![if !vml]>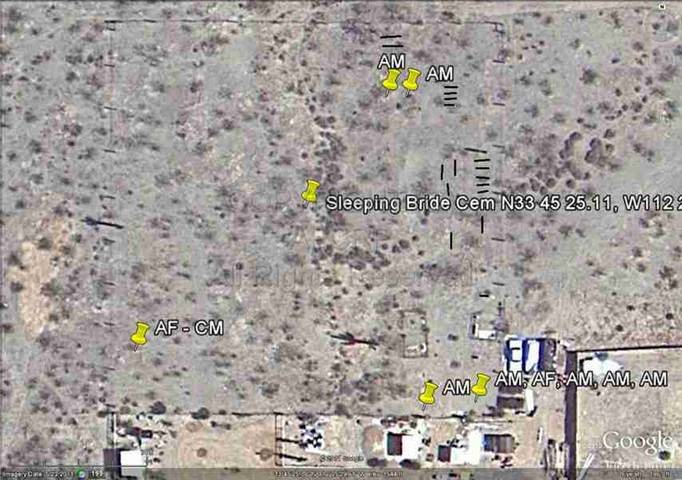 <![endif]>
The Surprise Historical Society, although this cemetery is in the county slightly outside of the Surprise town boarder, is in the process of working with the remaining family members that own this cemetery in an attempt to restore, preserve and maintain this as a Historic Pioneer Cemetery.
Map Legend:
AM = Adult Male, AF = Adult Female, CM = Child Male
Black lines = unmarked individual grave locations
<![if !vml]><![endif]>

Thompson family row of graves

<![if !vml]><![endif]>

Neal demonstrates to group how to Research a grave

<![if !vml]><![endif]>

Handmade marker.

<![if !vml]><![endif]>

J.C Bliason or Blinson? Difficult to identify.

<![if !vml]><![endif]>

Teaching group APCRP techniques to identify unmarked graves.

<![if !vml]><![endif]>

White rock cross in earth, research identified a mother and infant son buried in the same grave.
<![if !vml]><![endif]>

APCRP researchers Chuck Ulbricht & Daniel Anderson identifying unmarked graves

<![if !vml]><![endif]>

APCRP Certified Coordinator Bonnie Helten (blue Cap) demonstrates how to identify unmarked graves with a SHS volunteer.

<![if !vml]><![endif]>

White earthen rock cross to the south of two graves.

<![if !vml]><![endif]>

Red Flags identify a male baby grave. Yellow flags identify adult female grave. Both are buried in the same grave, NE of the white earthen cross. No other graves were found in the immediate area.
Rarely do we find a grave with two individuals buried in the same grave, but it does happen occasionally. Speculation would be the mother and child died in child birth and were buried together in on single grave. Or died at the same time, in the same accident etc. This is the case in what we believe and have identified as a double burial in this cemetery. In the two pictures above, the red flags identify the perimeter of the Childs grave and the yellow flags identify the perimeter of the female grave, speculating this grave would be the mother of the child. It is possible these could be two children being brother and sister. Until research documentation can be found we have no way of knowing for sure.
More will be added and updated as research information and ownership progresses. If you have information you can provide in the research of this Arizona Pioneer Cemetery please contact the webmaster.
If you would like to visit this historic Pioneer Cemetery contact the Mission Home Cemetery caretakers:
Darrel & Merrie Edmonds
16830 W. Dove Wing Way
Surprise, AZ 85387
602-499-6900
Arizona Pioneer & Cemetery Research Project
Internet Publication
Version 122611
WebMaster Neal Du Shane
Copyright © 2011 Neal Du Shane All rights reserved.
Information contained within this website may be used
for personal family history purposes, but not for financial profit or gain.
All contents of this website are willed to the Arizona Pioneer & Cemetery Research Project (APCRP).
HOME | BOOSTER | CEMETERIES | EDUCATION | GHOST TOWNS | HEADSTONE
MINOTTO | PICTURES | ROADS | JACK SWILLING | TEN DAY TRAMPS