HOME | BOOSTER | CEMETERIES | EDUCATION | GHOST TOWNS | HEADSTONE
MINOTTO | PICTURES | ROADS | JACK SWILLING | TEN DAY TRAMPS
Arizona Pioneer & Cemetery Research Project
Presentation
Version 032508
<![if !vml]>

<![endif]>
MORGAN CITY
A.K.A.
The Swede's – Morgan City Wash
<![if !vml]>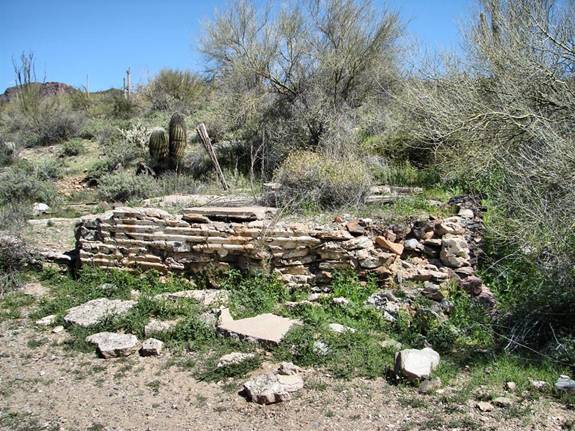 <![endif]>
Foundation of the home of the lady known as "The Swede" in Morgan City
Photo courtesy: Bonnie Helten 3/09/08
Ever want a laid back, take in the scenery outing? Lots of time to explore and enjoy the country side. This is such a trip and was recommended by two fellow APCRP Boosters. Keep in mind what is written here today can and will change with the next storm. Be advised the details here many not represent future road conditions.
<![if !vml]>
<![endif]>
Started at mile marker 17 off Hwy 74 just west of Lake Pleasant. There is a blacktop road that leads you north for about a ˝ mile then turns to dirt. Shortly you drop down into Morgan City Wash. Stay left and you will proceed for approximately 20 miles reaching Castle Hot Springs road. Left takes you to Morristown, right takes you back to Lake Pleasant.
The Morgan City Mine is on your right after about 8 miles. Then in a sharp bend in the wash you will observe concrete slab and a small foundation of a former residence on your right. According to Rusty and Betty Hastings a woman from Minnesota resided there. She was a Ring Dang-Do Rafter Rattler according to Rusty and Betty. She prospected and mined the area. It is not clear if she was interred in the cemetery there.
Research continues to find historical information as to a legitimate town of Morgan City, but the name would imply there were plans for a Morgan City whether it developed is still being investigated. We know it had one house, a mine and a cemetery but little else is known.
<![if !vml]>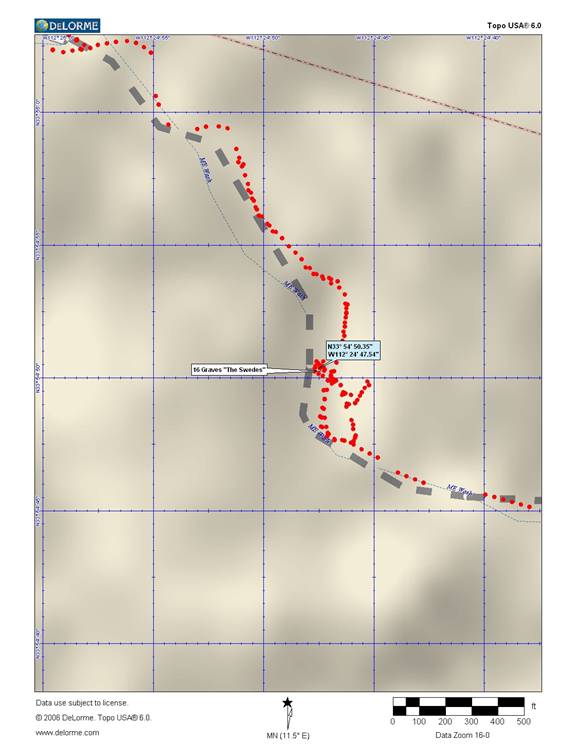 <![endif]>
<![if !vml]>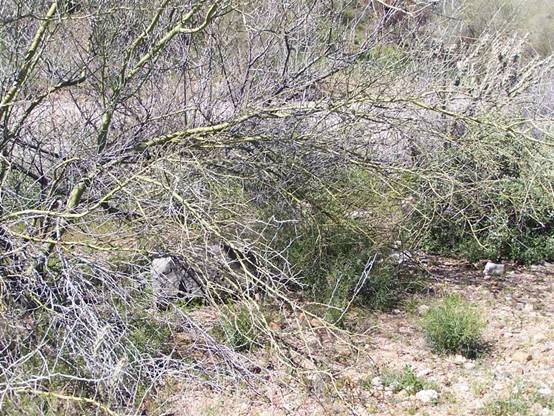 <![endif]>
Graves that number up to 16, in the Morgan City Cemetery.
Photo courtesy: Mary Ann Wunderlin 03/09/08
There is a trail that leads beside the former residence and turns into Wilderness Area in a very short distance. Directly across the Wash is a flat area (west side) that still has some faint graves visible. In total we identified 16 graves in total. Two female adult graves, one male baby, and the rest adult male graves. With further research it is possible there are other graves in this area. Nothing is known at this time regarding the Morgan City Cemetery other than assumption these were miners that were interred here.
As you travel north from Morgan City you will come to a windmill and a metal water tank. There is three possible options for exiting this area at this point. Stay on the main road out of the wash and it will lead you to Castle Hot Springs Road.
This wash as with most washes should be avoided in monsoon season or when there has been snow fall in the Bradshaw Mountains, as the run off could be dangerous and deadly.
In total this took about 5 hours on a ATV with the round trip via Morgan City Wash then Castle Hot Springs road to Lake Pleasant back to hwy 74 was 42 miles. Averaging 8 MPH. 3 hours moving and 2 hours stopped exploring.
I killed about 30 minutes when I took a left up a wash that went from vehicle tracks to ATV tracks to cow tracks, at which time I reversed course and got back on the main road leading to Castle Hot Springs road. Pay attention at the windmill and stock watering tank, stay to the right and follow the road that leads up hill, its easy to zig when you should zag at this point.
Arizona Pioneer & Cemetery Research Project
Presentation
Version 032508
WebMaster: Neal Du Shane
Copyright ©2003-2008 Neal Du Shane
All rights reserved. Information contained within this website may be used
for personal family history purposes, but not for financial profit of any kind.
All contents of this website are willed to the Arizona Pioneer & Cemetery Research Project (APCRP).
HOME | BOOSTER | CEMETERIES | EDUCATION | GHOST TOWNS | HEADSTONE
MINOTTO | PICTURES | ROADS | JACK SWILLING | TEN DAY TRAMPS