HOME | BOOSTER | CEMETERIES | EDUCATION | GHOST TOWNS | HEADSTONE
MINOTTO | PICTURES | ROADS | JACK SWILLING | TEN DAY TRAMPS
Arizona Pioneer & Cemetery Research Project
Internet Publication
Version 010310-AG-GCM
Owens, Arizona
and
Hiram Alfred Owen
A.K.A.
"Chloride Jack"
1842 - July 7, 1909
By Adam Germroth

According to the 1850 census Hiram Alfred Owen was born in 1842 in Georgia.  Hiram joined Company A, 7th Georgia Infantry, on August 1st, 1863, at the age of 21, as a Second Lieutenant for the Confederate Army. This Unit served as a local defense unit.  Hiram was elected as First Lieutenant on December 28th 1863, and served until January 31st 1864, when the unit dispersed.  When General William Tecumseh Sherman of the Union Army marched through Georgia, Hiram was drafted to serve as a Private with Company K, 30th Georgia infantry. Hiram was captured on July 5th 1864, at Chattahoochee, Georgia, and sent as a prisoner to Camp Douglas, Illinois.
Upon his release and the surrender of General Lee, Hiram headed west in or around 1866 - 1868 for new ground and settled in White Pine, Nevada. Because of Hiram's extensive knowledge and use of Chloride in the extraction of Silver, he was soon given the name "Chloride Jack", the name stuck like glue from this point on. 
<![if !vml]>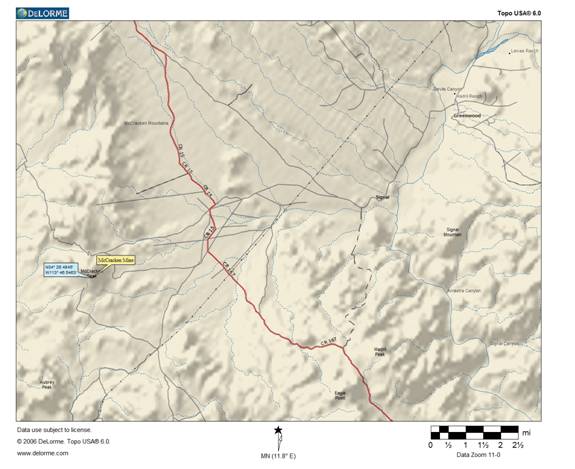 <![endif]>
Map courtesy Neal Du Shane
Sometime in the early 1870's, Chloride Jack packed up camp and made way for Prescott, Territory of Arizona. It was here that he met Mr. Jackson McCracken and together they discovered the famous McCracken Silver Mine, August 17, 1874. The hill and lode were named for Mr. McCracken and the newly formed mining district took the name of Owen. Hiram and Jackson McCracken later sold the mine. Hiram's share consisted of $70,000 to $80,000 and a large chunk of stock in the McCracken Company.
<![if !vml]>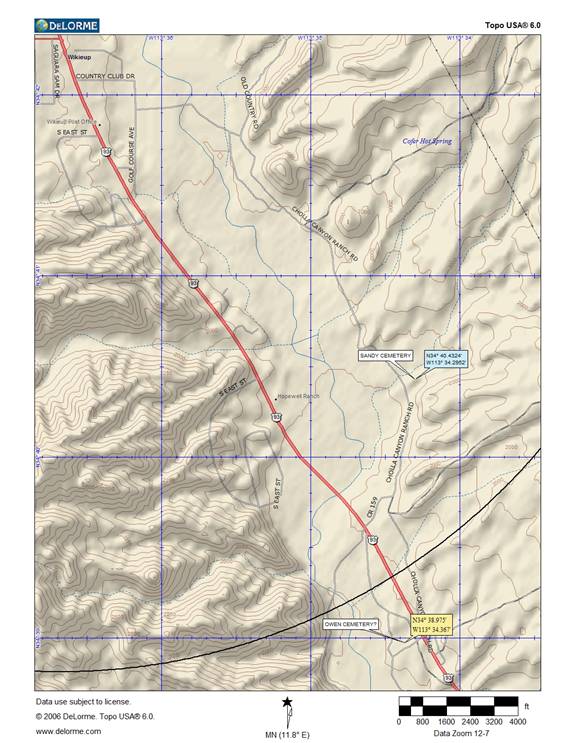 <![endif]>
Ghost Town of Owens, AZ and the Owens Cemetery
Map courtesy Neal Du Shane
Owens, AZ
T. 15N R. 13W
<![if !supportLineBreakNewLine]>
<![endif]>
Owens Post Office was established April 4th 1899 and closed August 31st 1914. Owens is located 4 miles south of Wikieup, AZ. The community of Owens was established in 1874, but no other historical information is available until 1899 (the opening of the Post Office). The town/camp was named for "Chloride Jack" Owen.
According to Ray Owen (Grandson to Hiram), and The Arizona Republic after selling the mine Hiram and his partner moved to San Francisco to enjoy there fortune. However in Nell Murbarger's book, "Ghosts of the Adobe Walls", she claims the amount to be much less and that Hiram moved back to Georgia.  According to all of my extensive research I have no other information to support Murbarger's claim.  He soon married a woman by the name of Marie Theresa Guerin,"Miss Gillie," on March 13th 1876.  They had two sons Alfred and Eugene.
<![if !supportLineBreakNewLine]>
<![endif]>
Although there is no information to prove this, it seems he went through his share of the money in short order, as he returned back to Arizona to resume mining. 
<![if !supportLineBreakNewLine]>
<![endif]>
Hiram Alfred Owens, known throughout the western mining world as "Chloride Jack" died July 7th 1909 at the age of 66 in a Prescott hospital from a long lasting case of Dropsy. He was survived by his wife and two sons, who resided in Oakland CA at the time, also had two brothers. John Owens, also a local miner in the Mohave area and another brother who was a wealthy planter in Georgia.
<![if !supportLineBreakNewLine]>
<![endif]>
It's always unfortunate to lose such a picturesque pioneer, but Chloride Jacks name will never be forgotten!!!
He was known as Chloride Jack in all the principal camps and mining districts of the Sage Brush State and his final territory, Arizona. He was a veteran prospector and explorer who enjoyed making and spending fortunes and ever ready when favored by fortune to assist his less fortunate fellows.
<![if !vml]>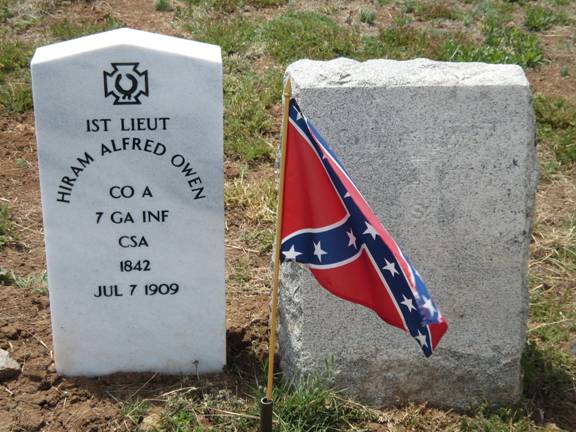 <![endif]>
Hiram Alfred Owen, Laid to rest in the Citizens Cemetery, Prescott, AZ.
UPDATE
Gwen Cosby Moore
I just came across your website and the story about Hiram Alfred Owen by Adam Germroth. In the article it mentioned his brother John and another brother in Georgia who was a "wealthy" planter. I am the great, great, granddaughter of the other brother and his name was Oliver Perry Owen. I know that Hiram Alfred's obituary is the source for the "wealthy planter" info, but unfortunately, that is not true. Perry was just a farmer and he didn't lead as interesting life as Hiram. Oliver Perry was the oldest son, Hiram Alfred the middle son, and John Martin the youngest.
If anyone is researching Hiram Alfred they will be able to connect him to both of his brothers. Just in case you also want to add it, their father was John Owen and mother was Permelia Embry Owen. The family resided in Campbell County, Georgia before the Civil War. Perry married and remained there after the War. The area eventually became Douglas County.
Works Cited:
Ray Owen (Grandson to Hiram Alfred Owen)
Arizona Pioneer & Cemetery Research Project (APCRP)
Neal Du Shane
www.ADMMR.com
"Ghosts of the Adobe Walls" by Nell Murbarger
The Arizona Republic, 1909
                                                   
Adam Germroth 2009 - APCRP Booster
Arizona Pioneer & Cemetery Research Project
Internet Publication
Version 010310-AG-GCM
WebMaster: Neal Du Shane
Copyright ©2010 Neal Du Shane
All rights reserved. Information contained within this website may be used
for personal family history purposes, but not for financial profit or gain.
All contents of this website are willed to the Arizona Pioneer & Cemetery Research Project (APCRP).
HOME | BOOSTER | CEMETERIES | EDUCATION | GHOST TOWNS | HEADSTONE
MINOTTO | PICTURES | ROADS | JACK SWILLING | TEN DAY TRAMPS