HOME | BOOSTER | CEMETERIES | EDUCATION | GHOST TOWNS | HEADSTONE
MINOTTO | PICTURES | ROADS | JACK SWILLING | TEN DAY TRAMPS
Arizona Pioneer & Cemetery Research Project
Internet Presentation
Version 010210-MQ
By Mark Quigley
POLAND JUNCTION
OLD ARIZONA CITY
HACKBERRY
In Search Of Area Pioneer Cemeteries
<![if !vml]>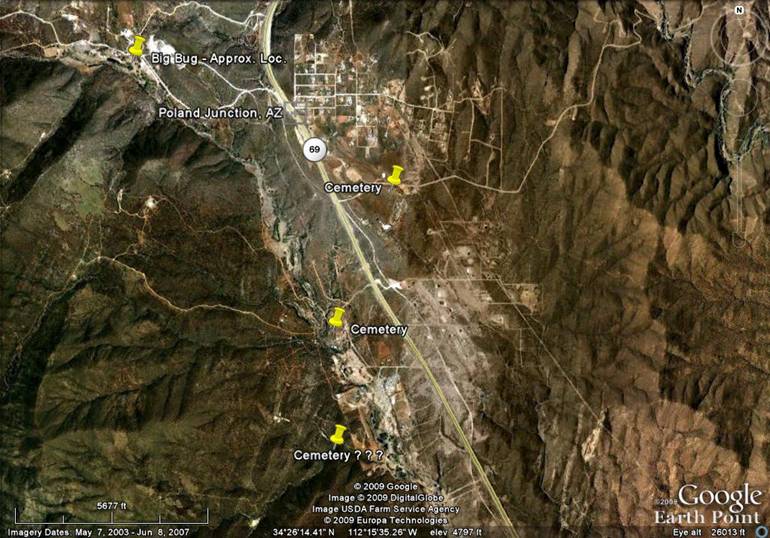 <![endif]>
Map by Neal Du Shane
Had a couple of days off and thought I could help you out on one of your requests.
Since I live in the area I thought I would look back over, the possible cemetery locations for you, in the Poland Junction area. I've lived in Poland for twenty three years now and never knew of a cemetery on the east side of Arizona Highway 69 by what we call the Poland Junction Mine, the furthest north thumbtack on your Google map. The Google Earth map must be a bit old (2007) as there has been a house on that location now. I did look around the mine and didn't find anything. May be on the private property?
<![if !vml]>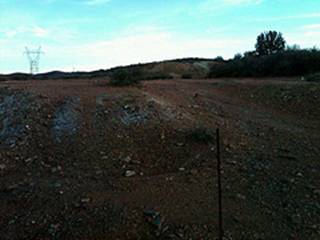 <![endif]>
This area we always called Old Arizona City referring to the old ghost town, mill and train stop near your tack. By the way, it was never a city. So I went down and looked it over again. I think I may have found something for you here. As far as I can tell your tack is on private property but if you follow the road down into Big Bug Creek, on the way to Grapevine Creek, just as you come out of Big Bug Creek there will be a small road on your left. It shortly dead ends in the creek. Park here and look across the creek (east side) and there is somewhat of a ledge above the creek.
<![if !vml]>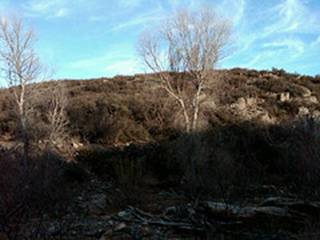 <![endif]>
Between trees up the hill a bit ledge
It is a very thick chaparral plant community like all of this area but to me as I looked around the overhang it looked like there were possibly five to seven graves.
| | |
| --- | --- |
| <![if !vml]><![endif]> | <![if !vml]><![endif]> |
| <![if !vml]><![endif]> | <![if !vml]><![endif]> |
<![if !vml]>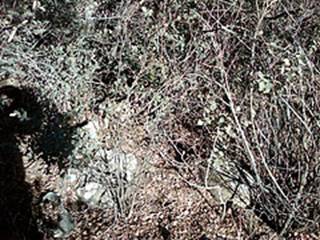 <![endif]>
Possible Graves
But remember I'm not good at this like APCRP is and I may be identifying piles of rocks. I'm into the Indian ruins, ghost towns/camps, history, dumps and mines of the Bradshaw's.
<![if !vml]>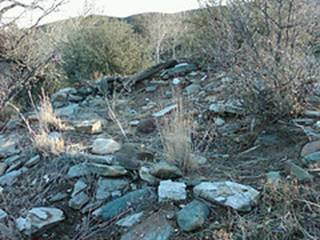 <![endif]>
Ruin
Lastly the third thumbtack (lower left) with the three question marks. This one is hard to get to as the gravel company blocked access to the easy road in several years ago. You have to follow a decent road to the Hackberry Mine and just before getting to the mine you enter a small drainage. Turn left into the drainage and follow it until you shortly catch the other wash and an old road will appear at this point. It's an okay road just very thick with brush in spots. Need an ATV but don't recommend larger vehicles. Follow it back east to Big Bug Creek. They did a bit of stone work at one time to maintain this old road to the Hackberry mine and looks to me like 1910 time period.
<![if !vml]>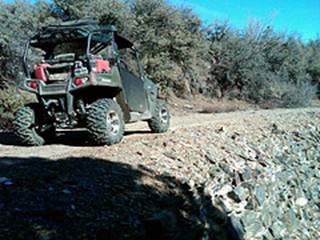 <![endif]>
Stone work
Anyway stay on this road and it dead ends into a stone quarry. I think this is the area where your thumbtack is located. If so…. You're out of luck as they have stripped the area several years ago.
<![if !vml]>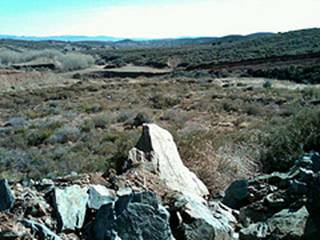 <![endif]>
Quarry in thumbtack area
Turn around and go back and as you intersect the first road to your right look south. There is a fenced area…well kind of, across from an old dried up spring. On the south side of the drainage is to me an area where I thought folks could be laid to rest.
<![if !vml]>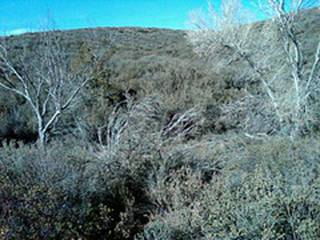 <![endif]>
Other side of trees
I walked over… again very thick and found one possible grave. I didn't spend much time looking though had to get back.
<![if !vml]>
<![endif]>
Grave???
Here is a photo but again…. I don't have a lot of experience finding and identifying Pioneer Graves and Cemeteries. (APCRP feels Mark is very good at identifying possible Pioneer Graves) While you're here follow that road I just mentioned uphill to a very cool mine. Only about ½ mile distance.
<![if !vml]>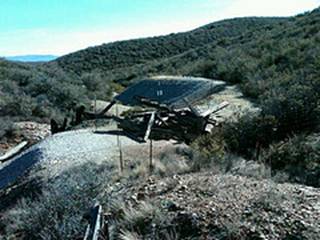 <![endif]>
Cool old mine
Thank APCRP for their great service to all of us.
All Photographs courtesy Mark Quigley
Arizona Pioneer & Cemetery Research Project
Internet Presentation
Version 010210-MQ
WebMaster: Neal Du Shane
Copyright © 2010 Neal Du Shane
All rights reserved. Information contained within this website may be used
for personal family history purposes, but not for financial profit or gain.
All contents of this website are willed to the Arizona Pioneer & Cemetery Research Project (APCRP).
HOME | BOOSTER | CEMETERIES | EDUCATION | GHOST TOWNS | HEADSTONE
MINOTTO | PICTURES | ROADS | JACK SWILLING | TEN DAY TRAMPS