HOME | BOOSTER | CEMETERIES | EDUCATION | GHOST TOWNS | HEADSTONE
MINOTTO | PICTURES | ROADS | JACK SWILLING | TEN DAY TRAMPS
Arizona Pioneer & Cemetery Research Project
Internet Presentation
Version 061609
Update - Version 112011
Update – Version 010713
PUNTENNEY CEMETERY
By Kevin Hart
Certified APCRP Coordinator & Historian
Additional Information: Tale Of Two Towns
Contents
Grave of Gabriel G. Felix (Male) 5
<![if !vml]>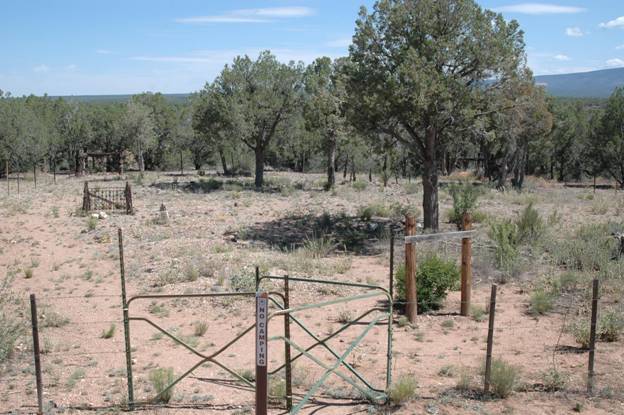 <![endif]>
Photo by: Kevin Hart
Cedar GLADE Cemetery is located in Yavapai County off of Highway 89A at N34* 58.503', W112* 23.297  (WGS83) It is also known as Puntenney Cemetery.
George and Lucy Puntenney arrived in Arizona in 1879. Shortly after their arrival they identified a large amount of limestone on Hell Canyon's south rim and proceeded to build the territory's first limekiln. Being lime was an important commodity in the development of the west they proceeded to build a small community. Lime is used in producing mortar as well as plaster and is used in the production of glass and castings, refining sugar, and tanning of leather. Puntenney Lime Company was reported to be shipping as far as California with their product.
George and Lucy proceeded to develop the Puntenney Lime Company and a small community developed around it. George built a one-room schoolhouse in the community.
| | |
| --- | --- |
| <![if !vml]><![endif]> | <![if !vml]><![endif]> |
Photos by: Kevin Hart – Left, appears in 2009. Right Photo enhanced by Neal Du Shane
The Puntenney Cemetery has been incorrectly identified as the "Cedar Glade Cemetery".
The actual Cedar Glade Cemetery is approximately 1/2 mile to the NE across Hell Canyon at the Ghost Town of Cedar Glade which is now identified as Drake, Arizona
There was an original town called Puntney, which was later changed to Puntenney.
There was a Post Office from 1893 to 1932. According to Az. Place names George Puntenney built the first lime kiln at this site.
<![if !vml]>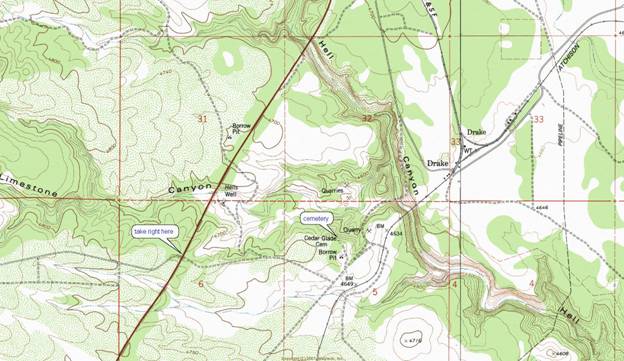 <![endif]>
Map by: Kevin Hart
It is simple to reach if you read a map right. Which I was having trouble doing, mistaking one road for another. Take 89 north past Paulden. Take a right on an unmarked road just past mile marker 344. Follow the road for .9 miles and take a left at the intersection on FSR 9042P for .2 of a mile to reach the cemetery. The cemetery is fenced off by 4 strands of barbed wire and a zigzag gate to keep out the cows and other big creatures.
<![if !vml]>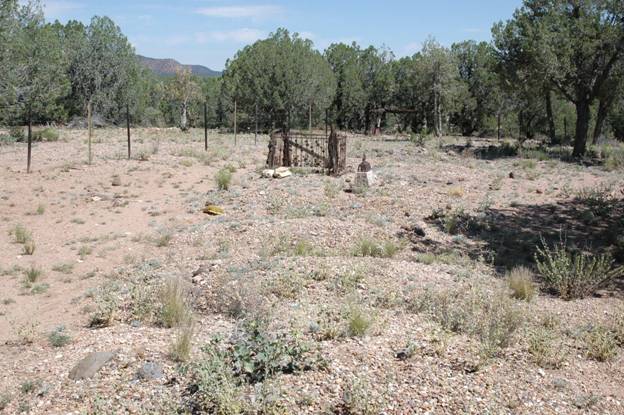 <![endif]>
Photo by: Kevin Hart
It has 34 graves, there is only one marked grave. That marked grave is of a young boy. The inscription is written in Spanish. Translated it reads:
<![if !vml]><![endif]>

Translated

Infant Son
Gabriel G. Felix
Born Sept. 19, 1920
He Died At 14 Months
<![if !vml]><![endif]>
Photo by Kevin Hart
There is a grave fenced in with wrought iron and 2 graves next to each other who might have been husband and wife.
<![if !vml]>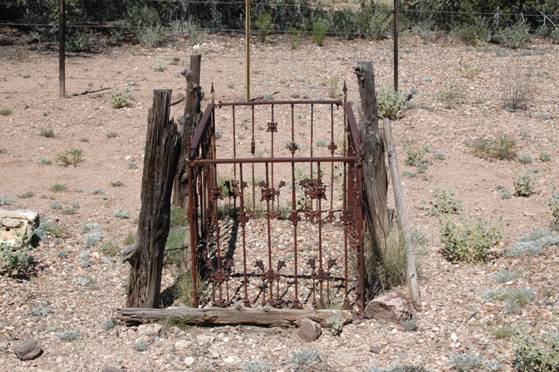 <![endif]>
Photo by: Kevin Hart
Besides that the other graves are mostly just small rock used to cover the graves. Several of them had small American flags on them. They are well worn and probably put there several years ago.
<![if !vml]>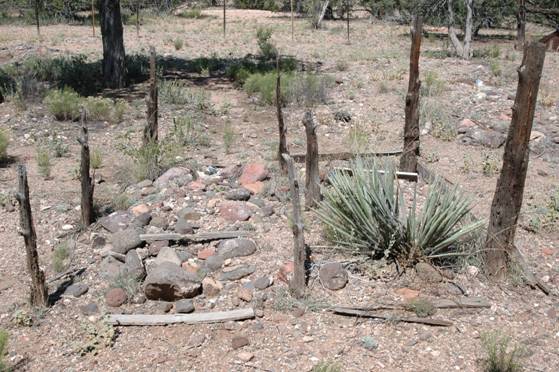 <![endif]>
Photo by: Kevin Hart
There are several trees within the cemetery and a few of them have been cut down, with the branches thrown off to the side and the thicker parts hauled off for firewood.
<![if !vml]>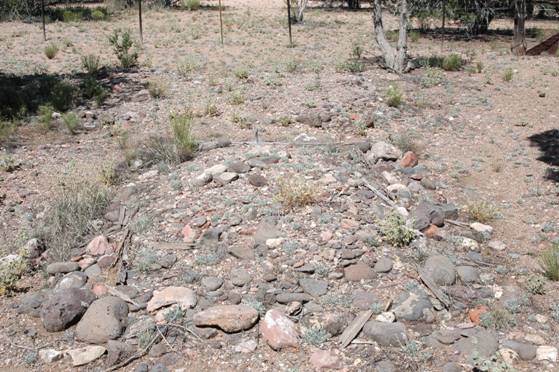 <![endif]>
Photo by: Kevin Hart
The cemetery map shows what I was able to ascertain about the gender and age of the interred. There were several graves where I was unable to get significant research results. But due to the size of the grave I determined whether it was a child or an adult.
If not for the well worn sign and the marker and wrought iron fence I would have thought it was just a corral as I passed by. That is how well worn down derelict it is.
Cedar Glade Cemetery - Puntenney, AZ

MA

MA

FA

ANR

FA

ANR

CNR

MC

FA

MA

MA

CNR

ANR

FC

FC

ANR

MC

CNR

FC

ANR

FC

MC

FA

FA

MA

ANR

MA

MA

MA

MA

CF

MA

MA

CNR

MA

Zigzag Entrance

A=Adult, C=Child, F=Female, M=Male, NR=No Research Info.

By: Kevin Hart  06/14/09 - Not To Scale
The community of Cedar Glade functioned with the infusion of railroad workers living there and maintaining the railroad line. A heavy steel viaduct spanned Hells Canyon between Puntenney and Cedar Glade. The viaduct was completed in 1901, spanned 646 feet, 186 feet high at the center of Hells Canyon. The 108 year old trestle shudders and quakes when an infrequent train passes over Hells Canyon, whistling a sorrowful acknowledgment to the restful souls who once lived in Cedar Glade and Puntenney.
The name Cedar Glade was changed to Drake in 1920 after William A. Drake what was put in charge of constructing a cutoff line there. This was in keeping with the railroads policy of naming railroad stops after bigwigs in the company.
* * * UPDATE INFORMATION * * *
By Neal Du Shane
In the past there are two easily confused Pioneer Cemeteries within ¾ mile of each other at the ghost towns of Puntenney and Cedar Glade, separated by Hell Canyon. To access either requires approximately a three mile drive around and over Hell Canyon. Extensive research and interviews of the Puntenney family were conducted to bring clarification to the names of the two cemeteries. The confusion came when someone posted a sign at the Puntenney Cemetery incorrectly identify it as the Cedar Glade Cemetery. Even Topographical maps have incorrectly identified the Puntenney Cemetery as the Cedar Glade Cemetery.
<![if !vml]>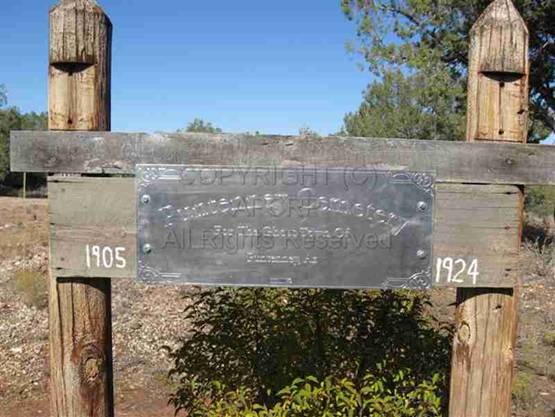 <![endif]>
Sign reads: "Puntenney Cemetery For the Ghost Town Of Puntenney, AZ"
Based on APCRP's extensive research and documentation a new Puntenney Cemetery sign was placed over the incorrect sign. 
<![if !vml]>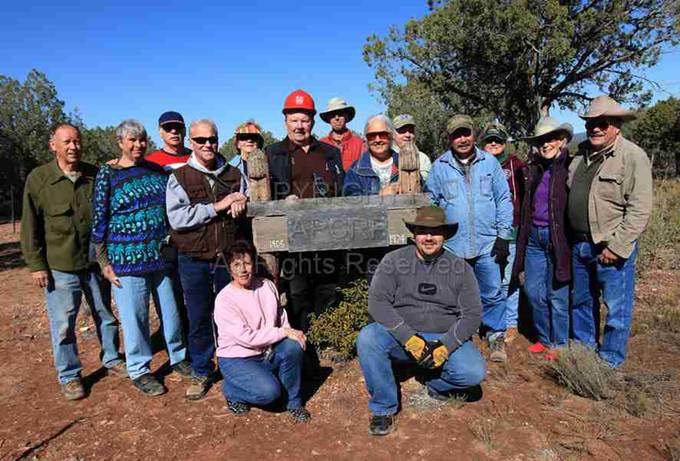 <![endif]>
TEAM APCRP 11/08/11
L-R Back Row: Ed Block, Kathy Block, Harvey Jones, Key Jones, Bob Gibney, Bill Mitchell, Pat Mitchell, Dana Sharp, Bob Galloway
L-R Middle Row: Bruce Colbert, Neal Du Shane, Barbara Marcel, Jim Marcel
L-R Kneeling: Bobbi Wicks, Frank Zurita
<![if !vml]>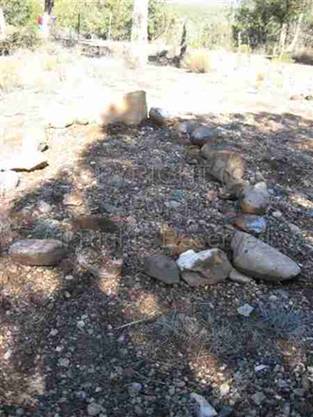 <![endif]>
Puntenney family unmarked grave identified by Bobbi Wicks
Team APCRP got busy researching the graves within the fenced area and found a few outside the current marked Puntenney Cemetery. Bobbi Wicks has had contact with a Puntenney family member and wanted to identify their family member's grave and this was accomplished with stones placed around the grave to give it more permanent identification.
<![if !vml]>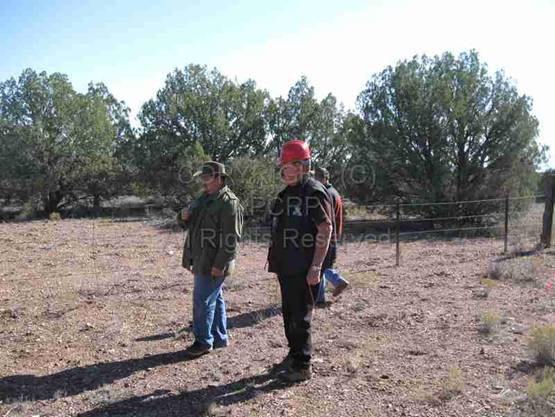 <![endif]>
Neal Du Shane teaches Frank Zurita how to identify unmarked graves, Bill Norman documents.
<![if !vml]><![endif]>

Frank Zurita identifies one of his family member's final resting places.

<![if !vml]><![endif]>

Frank Zurita takes a moment to pay his respect after placing one of the markers he made for his relative, Bill Norman observes and pays his respects.
<![if !vml]><![endif]>

Marker made and placed by Frank Zurita at the grave of Benito Flores Jr.

<![if !vml]><![endif]>

Marker placed and rocks define the grave of a two month old baby. Relative of Frank Zurita
<![if !vml]>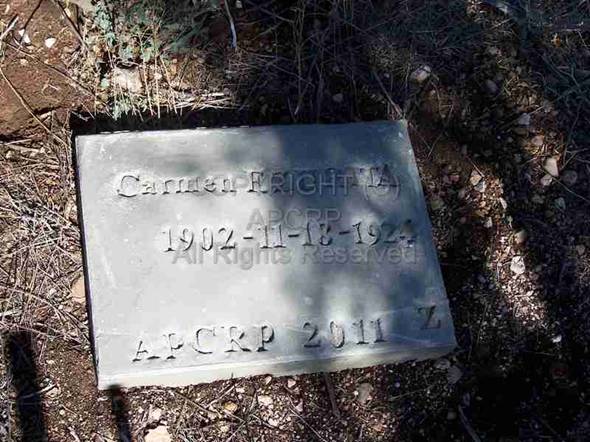 <![endif]>
In addition to the work that has been completed here over the past four years, each year new information is found to lend historical restoration to this cemetery. This year in addition to documenting the correct name for this cemetery APCRP received a telephone call from Frank Zurita of Las Vegas that has family buried in unmarked graves in this cemetery. His goal was to document their burials, identify their actual graves, then place a marker that he had made, at each grave to pay honor and respect to his heritage. With a little training on APCRP research techniques Frank was able to find, identify and place a marker at three grave sites of his beloved family member's final resting site.
UPDATE:
By: Neal Du Shane – APCRP Certified Coordinator
Kevin Hart – APCRP Certified Coordinator
Placement of Francisco Osuna marker
<![if !vml]>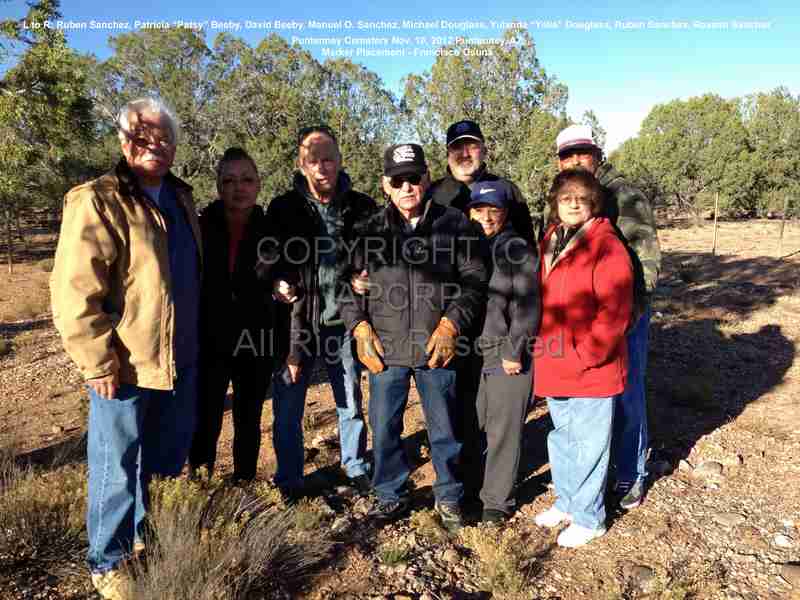 <![endif]>
L-R, Ruben Sanchez, Patricia "Patsy" Beeby, David Beeby, Manuel O. Sanchez, Michael Douglass, Yulanda "Yolie" Douglass, Ruben Sanchez, Roxann Sanchez
Puntenney Cemetery, November 10, 2012
For the past ten years or so, since we researched and documented this cemetery, it has been incorrectly identified as the Cedar Glade Cemetery. In actuality this is the cemetery at the Ghost Town of Puntenney, AZ, logically it would be called the Puntenney Cemetery and death certificates support this conclusion based on the individuals documented as being buried in the Puntenney Cemetery and the graves identified.
Since APCRP identified and pointed out this oversight, we have had inquiries from family members that indicate they have searched for a Puntenney Cemetery for years and could never find one. Indicating they are in search of finding the graves of family members buried in Puntenney Cemetery.
<![if !vml]><![endif]>

Puntenney Cemetery Sign in 2011

<![if !vml]><![endif]>

Roxann Sanchez
The confusion seems to reside in the fact this total area was referred to as Cedar Glade which would encompass the communities of Cedar Glade (name later changed to Drake), Puntenney, and Wood Siding etc. The topographical maps of this area have for years shown a cemetery at the Ghost Town of Puntenney and did not identify the actual Cedar Glade cemetery one half mile away across Hell Canyon to the NE. In an attempt to clarify the correct name for Puntenney Cemetery  someone placed a new sign there in 2011.
The Forest Service removed it and has placed a new sign here and does indentify it as the Puntenney Cemetery but also states A.K.A. Cedar Glade Cemetery, which is still incorrect as the actual restored Cedar Glade Cemetery is currently in the Drake Cement facility one half mile away across Hell Canyon. It is open to visitation at Drake Cement, simply by going to the security building and asking permission to visit it. Well worth the effort.
<![if !vml]><![endif]>

Red ground flags identify the unmarked graves size

<![if !vml]><![endif]>

Kevin Hart holding ground flags, observes relatives placing the marker at the grave of Francisco Osuna
Regardless, since correctly indentifying the Puntenney Cemetery and the graves here, APCRP receives numerous inquiries from family members wanting to pay respect to their beloved relatives who were interred here. Such was our contact with Ruben Sanchez some months ago who was trying to find the grave of their relative. Francisco Osuna was born December 8, 1924 and perished December 10, 1924. Francisco was only two days old, with the Death Certificate stating his Place of Burial as Puntenney, AZ. His parents were Enrique and Petra Osuna who resided and worked at Puntenney. The family knew he was buried in Puntenney Cemetery but was never able to indentify his unmarked grave.
<![if !vml]><![endif]>

Ruben Sanchez places rocks to identify and outline Francisco's grave

<![if !vml]><![endif]>

Marker made and placed by Ruben Sanchez
<![if !vml]>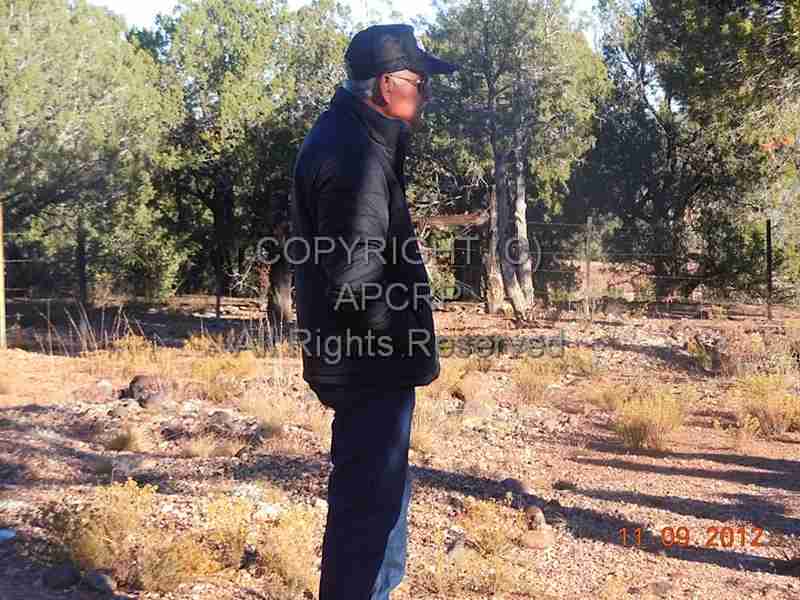 <![endif]>
Manuel O. Sanchez pauses a moment to reflect.
Arrangements were made to meet the relatives at the Puntenney Cemetery to see if we could identify the grave of Francisco. Kevin and I, plus eight relatives met at 8:00 AM at the Puntenney Cemetery. The most notable of the attendees was Manuel O. Sanchez who was born and lived a short time in Puntenney before his family moved to another community. Unfortunately Manuel was too young to remember anything about Puntenney or the configuration of the structures within the community.
Reviewing the evidence and documents we had accumulated we were able to identify the grave of what we believe to be Francisco Osuna. Ruben had premade a marker for Francisco's grave site. Members of the family prepared the grave site and placed the headstone at their beloved family member's grave.
APCRP finds many of the current day unmarked grave sites originally had markers made of wood, over the years they have decayed or termites destroyed them and are no longer visible with only faint traces of a grave but still visible to a trained eye. We find very few that can be identified as vandalized other than by natural sources or wild life and/or live stock. Untrained individuals are quick to miss identify and not take the time to research the obvious and lump all decay and destruction as being by vandals. This is especially true in unfenced cemeteries so it is critical to keep these historic Pioneer Cemeteries enclosed.
Arizona Pioneer & Cemetery Research Project
Internet Presentation
Version 061609
Update 010713
Copyright ©2003-2013 Neal Du Shane
All rights reserved. Information contained within this website may be used
for personal family history purposes, but not for financial profit or gain.
All contents of this website are willed to the Arizona Pioneer & Cemetery Research Project (APCRP).
HOME | BOOSTER | CEMETERIES | EDUCATION | GHOST TOWNS | HEADSTONE
MINOTTO | PICTURES | ROADS | JACK SWILLING | TEN DAY TRAMPS