HOME | BOOSTER | CEMETERIES | EDUCATION | GHOST TOWNS | HEADSTONE
MINOTTO | PICTURES | ROADS | JACK SWILLING | TEN DAY TRAMPS
Arizona Pioneer & Cemetery Research Project
Internet Presentation
Version 112008
<![if !vml]>

<![endif]>
AND CEMETERIES
<![if !vml]>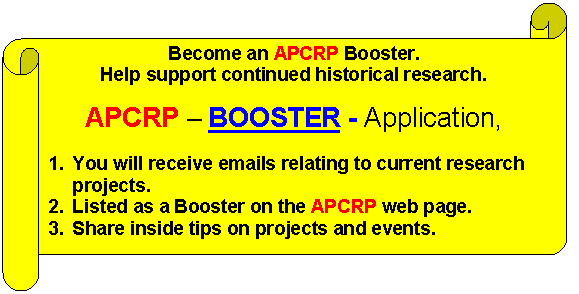 <![endif]>
Palace Station is located approximately 17 miles South of Prescott, AZ on the historic Senator Highway, travel south on Mount Vernon Street in Prescott.  It is 13.74 miles from the ghost town of Peck, AZ and the Peck Mine.
<![if !vml]>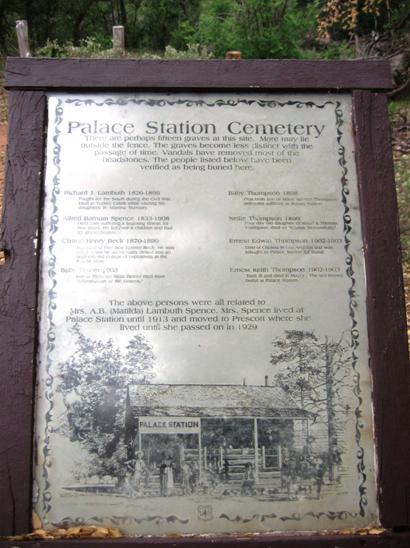 <![endif]>
Photo courtesy: Todd Zuercher
Two Wheel Drive can make the trip with careful driving in dry weather, but Four Wheel Drive, high clearance vehicles, are recommended. Be aware this recommendation can drastically change with the next storm. Check locally for current road conditions before proceeding.
<![if !vml]>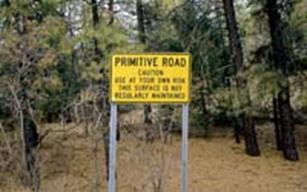 <![endif]>
PRIMATIVE ROAD - Caution enter at your own risk!
Palace Station was a historic stage station and stage stop, built in 1874 as a two room structure with a loft. The structure was expanded in 1878 to its present size. The U.S. Forest Service has owned it since 1963.
<![if !vml]>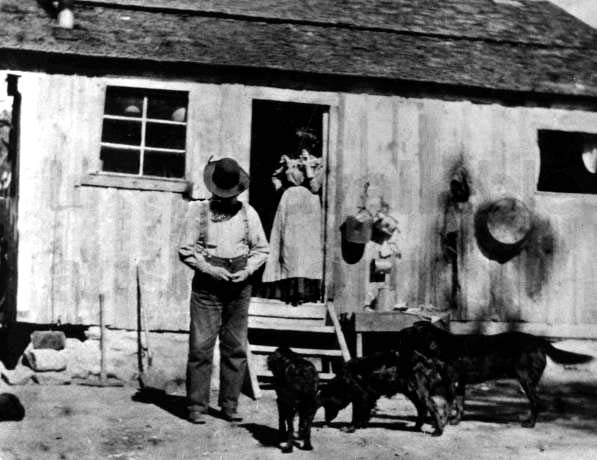 <![endif]>
Original Palace Station, 2 rooms and a loft. C. 1875
<![if !vml]>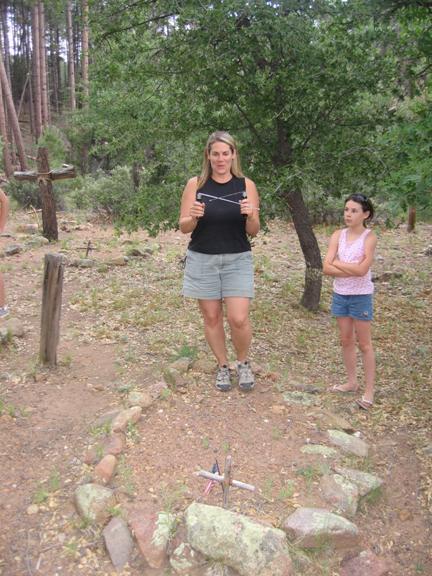 <![endif]>
Molly Littrell identifying an adult male grave at Palace Station Cemetery as daughter Jane looks on. Photo courtesy: Todd Zuercher 07/3/08
Palace Station is one of many gold mining communities that sprung up to serve the needs of residents in the Bradshaw Mountains south of Prescott. Most were no larger than wide spots in the road, one or two structures, a corral with limited primitive services for travelers and needs of the miners.
<![if !vml]>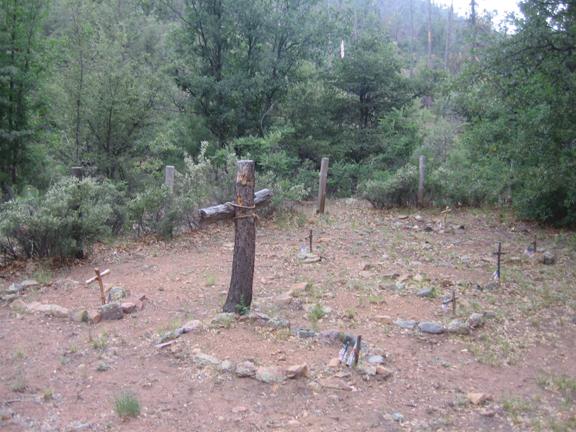 <![endif]>
Palace Station Cemetery
Photo courtesy: Todd Zuercher 7/03/08
Palace Station resides peacefully along the historic Senator Highway to Crown King. Don't be fooled by the term "Highway" as the road is dirt, dusty, muddy, and rough most of the way. The historic communities of Senator, Maxton, Venezia, Bueno, Dandrea and Goodwin were all destroyed. At one time Palace Station had a gazebo (outside kitchen), wood/coal shed and house, only one building is still standing.
In 1873 Alfred B. Spence, his wife Matilda and her father, R.J. Lambuth, came to Arizona Territory from Missouri. The Spence family settled beside Groom Creek were Alfred established and operated a sawmill. Two years later the Spence family moved to Crooks Canyon, named after General George Crook the famed Indian fighter, where they built a house, which today is the oldest house in the state from the pioneer days. Alfred Spence chose the location because it was halfway between Prescott and at that time, the productive Peck Mine. The stage road traveled 13.74 miles to the Peck Mine and Peck, AZ.
In 1877 the Prescott & Phoenix Stage line, stopped at the house, known as Palace Station, on the road to and from the Peck Mine and points south. The passengers could get a meal from Mrs. Spence and the horses were watered.
Stage passengers were not offered overnight accommodations, however many travelers did partake in the very rustic overnight accommodations. For Stage passengers, Palace Station was only two hours from Prescott and approximately two hour from the Peck Mine.
<![if !vml]>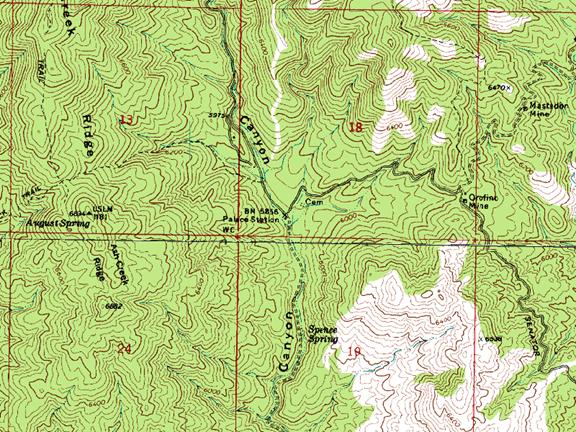 <![endif]>
Historic Palace Station, Arizona and the Pioneer Cemetery
It is probable that Doc. Holiday and his girl friend at the time, "Big Nose" Kate traveled through Palace Station on their way from Prescott to Phoenix. Stopping at the historic ghost town of Tip Top to stay over night then continuing on to Phoenix then Tombstone.
Palace Station was known to have had a saloon. For the miners and their families that worked in the area, Palace Station provided a social gathering point also.
Alfred Spence died in 1908 and is buried in the Palace Station Cemetery not far from the remaining log structure. The advent of modern transportation, telegraph and phones, spelled the demise of Stage lines in Arizona, Mrs. Spence sold Palace Station in 1910.
Palace Station is now used by U.S. Forest Service, the structure is closed for the public however the exterior, grounds and cemetery reveal a historic authentic atmosphere of the station and mining district.
Sadly many historic buildings in Arizona were damaged, destroyed by the Forest Service and BLM but a few were saved then moved to museums for preservation.
AREA MINES
Arizona Central Mining Company claims: A group of 14 claims located in Crooks Canyon, about 1 mile below Palace Station.
Consolidated Bodie Mine: Workings include 2 shafts at 100 & 180 feet deep (1881), plus a 480 foot long tunnel. Ore yielded 40% Pb and 61 oz. Ag/T.
Crook Mine: Workings include 670 feet of shafts and 850 feet of tunnels; a 100 foot deep shaft (1934) & a long tunnel 160 feet below the outcrop. Worked to 220 feet. Early workings were open cuts to about 40 feet deep over 4,700 feet along the vein. Total output was some $250,000 of metal (period values).
Tom and Dick Mine:  Workings include a 175 foot deep shaft plus 500 feet of drifts on 2 levels. A 2-stamp mill was erected.
Mastadon Mine: approximately ¾ mile east and slightly north of Palace Station.
Orofino Mine: approximately ½ mile east on the Senator Highway.
Note: Todd Zuercher told Molly Littrell's father, Jack Orr (the one who identified the names of the children in the Middleton School photograph) about the cemetery at Palace Station and he asked if the headstone with the small iron cage around it was still there? We informed him that it was still there in 2008. He then informed us that during the Battle Fire of 1972, which threatened Palace Station, a friend of his removed the marker (pretty sure it's wood) and took it home with him until the fires passed to ensure it wouldn't burn. It was returned shortly thereafter to its rightful location.
The Palace Station Cemetery is obviously well taken care of. According to Todd, his limited research did show, not surprisingly, that there's not a direct correlation to the rock outlines and what my research found in terms of actual physical grave locations. This circumstance is typical of APCRP findings, in our research.
APCRP currently has the names of eight of the presumed fifteen graves and will try to identify each grave and mark them with the name of the interred. Rumor has indicated there may be more graves outside the current enclosure; we will try to identify and mark these graves also.
Arizona Pioneer & Cemetery Research Project
Internet Presentation
Version 112008
WebMaster: Neal Du Shane
Copyright ©2003-2008 Neal Du Shane
All rights reserved. Information contained within this website may be used
for personal family history purposes, but not for financial profit of any kind.
All contents of this website are willed to the Arizona Pioneer & Cemetery Research Project (APCRP)
. HOME | BOOSTER | CEMETERIES | EDUCATION | GHOST TOWNS | HEADSTONE
MINOTTO | PICTURES | ROADS | JACK SWILLING | TEN DAY TRAMPS