HOME | BOOSTER | CEMETERIES | EDUCATION | GHOST TOWNS | HEADSTONE
MINOTTO | PICTURES | ROADS | JACK SWILLING | TEN DAY TRAMPS
Arizona Pioneer & Cemetery Research Project
Internet Presentation
Version 020109
<![if !vml]>

<![endif]>
& Pioneer Cemetery
Yavapai County, Arizona
Research: Pat Ryland
Written: Neal Du Shane
<![if !vml]>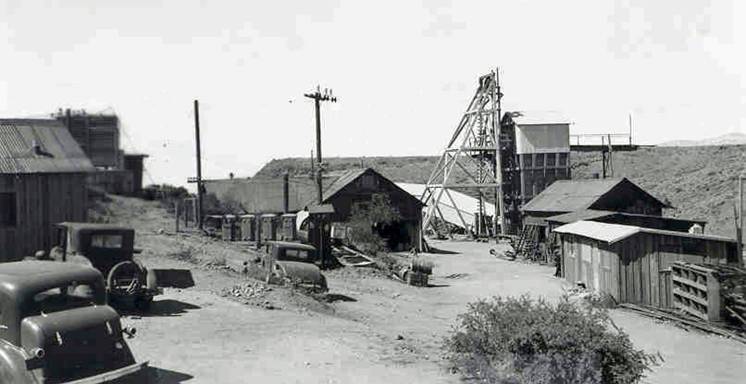 <![endif]>
Richinbar Mine, circa 1940
Photo Courtesy: Arizona Department of Mines and Mineral Resources
"The camp was named after Richard N. Barker, "Richenbar" citizen member of the Board of Control."
Our research has found the mine name spelled several different ways; Richenbar, Richinbar, Richen Bar, Richin Bar so we will go with the most often documented "Richinbar". Technically it should have been spelled the "Rich-N-Bar" but I speculate.
The Mine and twelve patented claims and are located in; Township 10 N, Range 2 E, Section 36, Quarter SW. Topographical Map name: Joes Hill – 7.5 Min. GPS general area Reading (WGS84) N34 12.1821, W112 6.1197.
Potential Patented Claims
| | |
| --- | --- |
| Black Mesa | Marie |
| Aztec | Oregon |
| Blue Note | Surprize |
| Compromise | Vernon |
| Lute | Vesuvius |
The Richinbar Mine is at an altitude of 3,500 feet on the west brink of the Agua Fria Canyon, approximately four miles east of Bumblebee and nine miles by road from Cordes.
There appear to be three shafts that produced. The main producer was the Zyke Shaft which had a depth of some 500 feet and was reported to connect with several thousand feet of workings that extend northward.
In May of 1934, the workings below the 200-foot level were under water. The upper workings were reached by two other shafts north of the Zyke shaft.
<![if !vml]>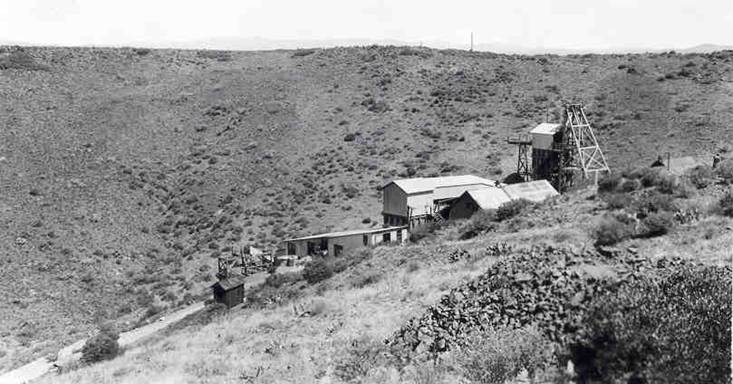 <![endif]>
Richinbar Mine, circa 1940
Photo Courtesy: Arizona Department of Mines and Mineral Resources
Other possible mine names were the Gold Note which was to a depth of 350 feet. The entire mine consisted of over 3,000' of lateral workings on five levels.
Today the shafts are still open, though partially collapsed, and one is fenced on three sides. VERY DANGEROUS - DO NOT GO NEAR THESE SHAFTS.
<![if !vml]>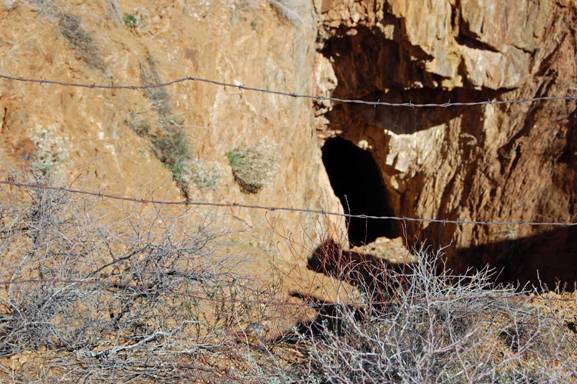 <![endif]>
Photo by: Neal Du Shane 1/29/09
The largest stope, which is on the 140-foot level, was about 65 feet long by 55 feet high by 14 feet wide. Throughout its exposures, the vein pinches and swells abruptly.
From approximately 1905 to 1908, the Richinbar Mine Company carried on extensive development work at this property, built a 20-stamp mill, and according to local reports, mined some 8,000 tons of ore that contained about $6.00 per ton in gold together with a little silver. There has apparently been an additional 24,000 tons produced since then.
<![if !vml]>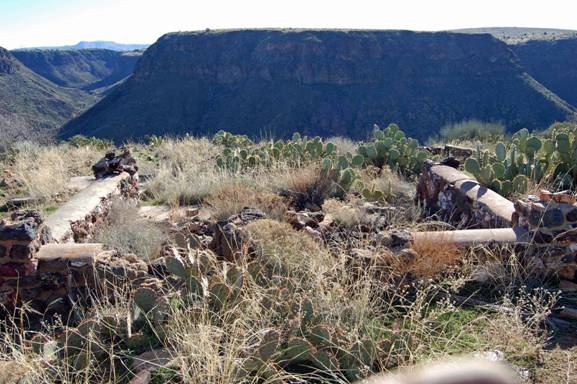 <![endif]>
Richinbar Mine structure foundation
Photo by: Neal Du Shane 01/29/09
Prior to 1922, the mine was operated by three different companies and, in 1917, was un-watered and re-timbered.
Early in 1933, the Sterling Gold Mining Corporation obtained control of the property and prior to May, 1934, made some surface improvements and carried on a little underground work. Eight men were employed at that time.
1933 - Sterling Gold Mining Corporation – filed Bankruptcy.
1936 – Now working under 77B re-organization.
January 1, 1940 Sterling Gold Mining Corporation filed a field engineer's report that stated: "77B – Reorganization Operation not successful. Awaiting decision of court."
In January 18, 1985 it was reported "It appears that the Richin Bar mine has very little remaining potential. The presence of lead and zinc in the ore would hinder it's use as flux. No further work warranted."
Production is recorded for the period 1905 - 1948 at the Richinbar;
Cumulative totals are:       Tons of ore             31,833
                                          Pounds of copper   7,352
Pounds of lead        6,947
Troy oz. of gold       4,616
Troy oz. of silver      1,425
It was reported in the Mining Record on Wednesday, July 12, 1972: That the Richinbar Mine, a specimen ore sample was recently put on permanent display in the Denver Museum of Natural History and that another specimen of ore from the mine has been on display at the Smithsonian Institute in Washington, D.C., for over 15 years
<![if !vml]>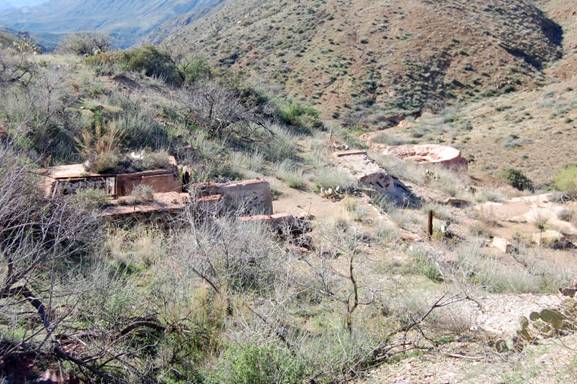 <![endif]>
Remains of Richinbar Mine south of former head frame.
Photo by: Neal Du Shane 1/29/09
On March 4, 1940 a Bankruptcy notice was issued for the Sterling Gold Mining Corporation by the District Court of the United States for the Southern District of Texas Huston Division.
With any mining operation a potential small community that would have developed around the mine. The question; were there any graves in and about these properties?
Pat Ryland has documented two deaths at the Richinbar. One miner fell to his death in a shaft and was removed a short time later and buried in Prescott.
One article dated 8/26/1897 is pretty interesting. It says the Richinbar had phones, electricity & daily stage service.
More importantly it gives the name of a man who is buried on the Richinbar property. His name is Ed Barden. He was killed on 8/21/1897 when he was getting out of the mine, had a heart attack & fell off the ladder into the shaft just as some TNT went off.
They made him a coffin & then; "The body was interred on the hill above the mine."
Seven research coordinators interested in the history of the area made a trip to the Richinbar property on January 29, 2009. Ultimately posing the question; is there a historic pioneer cemetery at the Richinbar?
<![if !vml]>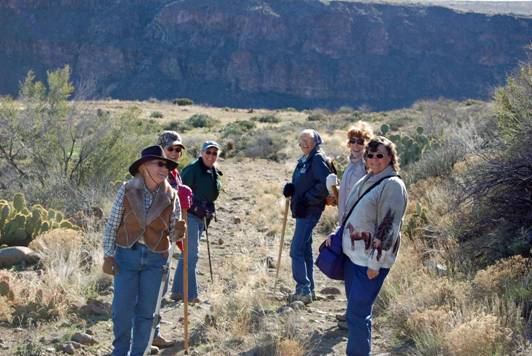 <![endif]>
Left F-B: Cindy Enos, Bonnie Helten, Trudy Mertens,
Right F-B: Pat Ryland, Glenda Simmons, Shelley Rasmussen,
Photo by: Neal Du Shane
In January it was a very pleasant hike with the weather cool when we started but comfortably warm when we returned. With all of our exploring we logged 3.56 miles round trip. For the most part the terrain is flat with the exception of the last quarter mile which has a little elevation change getting closer to the Richinbar mine.
Many remains of structures can still be seen if you explore. One interesting structure is the earthen water holding tank at the highest hill behind the former mine. Which makes one question, how did they get water up from the Agua Fria to this holding area from 1,000 feet below?
<![if !vml]>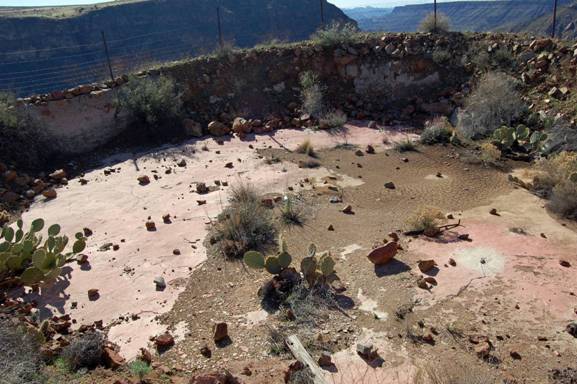 <![endif]>
Earthen Water Holding Tank above Richinbar Mine
Photo By: Neal Du Shane 1/29/09
<![if !vml]>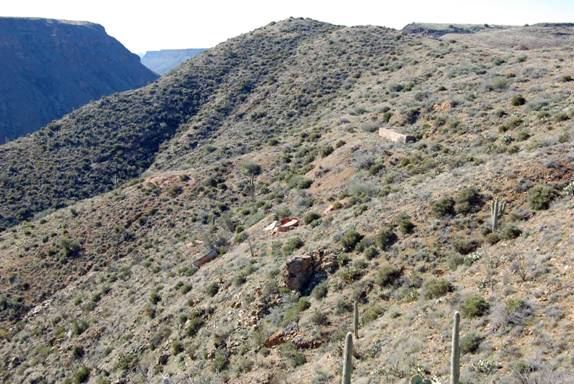 <![endif]>
Remains of Richinbar Mine on east slope
Photo by: Neal Du Shane 1/29/09
After exploring all the sites in the area which include beautiful petroglyphs we decided to see if we could find any graves. It didn't take long and we were able to identify a grouping of women's graves and across the road and slightly up an embankment were several male grave. Why the separation, one can only speculate.
<![if !vml]>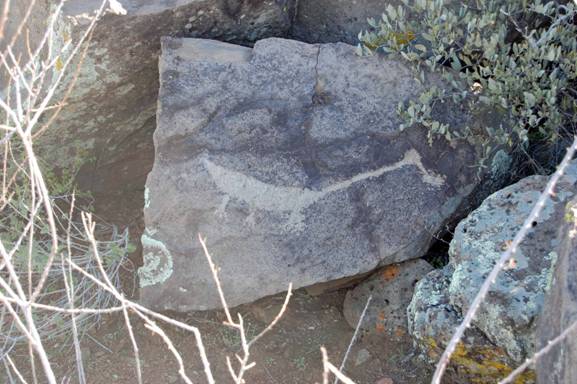 <![endif]>
One of several Petroglyphs in this area
Photo by: Neal Du Shane 1/29/09
Graves have no formal markings such as headstones or engraving only rocks piled to identify a grave. In total we would estimate there could be from 15 to 30 graves in and about the property, none of which are in a formal layout or in rows. Burials are haphazard and random.
<![if !vml]>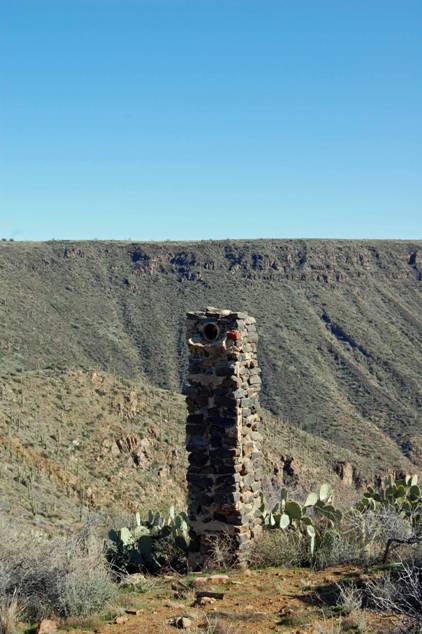 <![endif]>
Photo by: Neal Du Shane 1/29/09
One lone grave of a male was found near a lone standing chimney which could be the grave of Ed Barden as it resides above the Richinbar Mine on a hill? No way to know for sure but using history as our source it is possible this may be his grave. No marker or headstone identifies his grave only rocks piled to outline a single adult male grave.
<![if !vml]>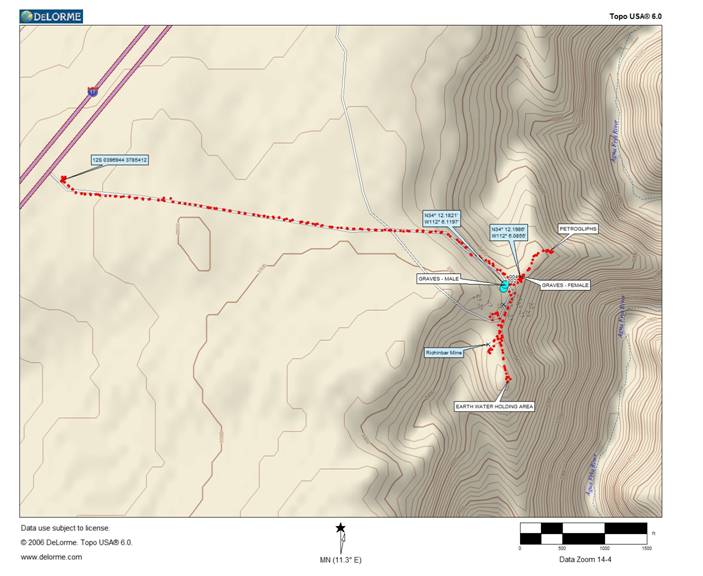 <![endif]>
Map by: Neal Du Shane 1/29/09
Arizona Pioneer & Cemetery Research Project
Internet Presentation
Version 020109
WebMaster: Neal Du Shane
Copyright ©2009 Neal Du Shane
All rights reserved. Information contained within this website may be used
for personal family history purposes, but not for financial profit of any kind.
All contents of this website are willed to the Arizona Pioneer & Cemetery Research Project (APCRP).