HOME | BOOSTER | CEMETERIES | EDUCATION | GHOST TOWNS | HEADSTONE
MINOTTO | PICTURES | ROADS | JACK SWILLING | TEN DAY TRAMPS
Arizona Pioneer & Cemetery Research Project
Internet Publication
Version 061012
ROLLING HILLS CEMETERY
Prescott, Arizona
YAVAPAI COUNTY
Rolling Hills Number 1: N34 39 01.28, W112 25 48.99
Rolling Hills Number 2: N34 39 02.47, W112 25 51.93
Elevation: 5,025'
By
Kathy Block
APCRP Historical Staff
Rolling Hills Cemetery.
Map courtesy Bonnie Helten, Adapted by Author.
Rolling Hills Cemetery is located just south of the northern city limits of Prescott, off Hwy. 89 that goes north from Prescott to other cemeteries researched by APCRP – Del Rio, Drake, and Cedar Glade. Turning east on Ruger Road from Hwy.89, the cemetery, bisected by Ruger Road, is quite visible. Crystal Lane goes to the right from Ruger Road, along the northern edge of the cemetery, to Ernest A. Love Field airport and the North-Aire Accelerated Flight Training Center. A parking lot on the north side of Crystal Lane at the junction with Ruger Road gives access to both sections of Rolling Hills Cemetery.
The City of Prescott owns the airport. It was activated April 1, 1940, and named for a local hero, Ernest A. Love, 1895-1915, a First Lieutenant in the U.S. Army Air Service, who was shot down over Verdun, France during W.W.I. The facility covers 760 acres at 5,045 ft. elevation, and serves a small airline, some private planes, and occasionally military. If you wish, you can rent a luxury private jet there, starting at $1,550 an hour!
The flight training school, which abuts the N.E. Corner of Rolling Hills Cemetery #1, is operated by Embry-Riddle Aeronautical University.
Ed Block at entrance to Rolling Hills Cemetery #1
Flight school building in background.
Photo courtesy Kathy Block
We concentrated research on the larger portion of the cemetery, which I'll call "R.H. #1." The smaller portion on the west side of Ruger Road I'll call "R.H. #2." This road was originally called "Ralph Pryne Drive" and changed to "Ruger Road" by resolution of the Mayor and Council of the City of Prescott on May 24, 1988, at the request of the Sturm, Ruger and Company which has a firearms factory nearby.
| | |
| --- | --- |
| Rolling Hills Cemetery #2 across busy Ruger Rd. Matching sign at gate to far right. Photo Courtesy Kathy Block | At least five gravestones are visible in Rolling Hills Cemetery #2. Photo Courtesy Kathy Block |
Rolling Hills Cemetery, briefly called Granite View, is somewhat unique because it was established in 1933 by Ruffner Funeral Home in Prescott to bury mostly indigent "clients". The cemetery was on land owned by the Ruffner family and was never surveyed, platted, or marked. Burial lots sold for $5.00 to $7.50. Comparable lots in other cemeteries sold for $50.00 to $150.00. The dates of internments stretched from the earliest in 1933 to the last burial, probably in 1955.
Most burials were during the Great Depression. This worldwide economic upheaval began to affect the United States with the dramatic "Black Tuesday" stock market crash on October 29, 1929. This longest, most widespread and deepest depression of the 20th Century is generally described as lasting until the early 1940s, just prior to World War II.
Among the people interred were poor farmers from the nearby agricultural areas. This interesting 1935 photo shows a horse drawn car called a "Bennett Buggy" or "Hoover Wagon" often used by farmers too impoverished to purchase gasoline!
1935 "Bennett Buggy" a.k.a. "Hoover Wagon" Wikipedia photo.
According to Ruffner's records, the first burial in the new Rolling Hills Cemetery was Andre Kavacs. He was a divorced farm laborer from Austria, born around 1881, who died in Yarnell on June 16, 1933 of "natural causes." There was no gravestone.
The last recorded burial marked by a gravestone may have been William E. Thompson. He was born Dec.23, 1879 in Indiana and died Jan.11, 1955 in the Yavapai County Hospital of "thrombosis, myocarditis, (coronary), and natural causes." He was a divorced, retired clerk. The gravestone says:
WILLIAM E. THOMPSON
Missouri
PVT 164 Depot Brigade
World War I
Dec. 23, 1879 – Jan.11, 1955.
On July 26, 1982, Lester "Budge" Ruffner addressed the Prescott City Council and explained that the family deeded the property to the City of Prescott in 1956 when the city began to construct the city-owned golf course. He had the provisions that the city fence it (which they completed for both portions by 1982.), and allow no further internments in the cemetery unless in lots previously sold.
The closure of the cemetery was first addressed on April 2, 1958, by the City Council when relatives of Claude Aiken wanted to honor his request to be buried in Rolling Hills Cemetery.  Aiken, born Oct. 9, 1892, was a rancher who was fatally pinned between the car door and cab in an auto accident on April 1, 1958. He was eventually buried in the Masonic Cemetery in Prescott. The day after Aiken's death, on April 2, 1958, the mayor and two councilmen passed a motion to close the cemetery for any more internments.  The issue arose again in City Council on July 26, 1982, which updated the closure, after some discussion. The new resolution read (in part): WHEREAS, Rolling Hills Cemetery is located on land belonging to the City of Prescott. WHEREAS, Rolling Hills Cemetery is an unsurveyed cemetery the gravesites themselves are not surveyed; and no cemetery association or funeral home maintains the cemetery; and WHEREAS, the City of Prescott has the authority to order no further burials at the cemetery. Now, therefore, be it resolved by the Mayor and Council of the City of Prescott as follows: "That it is ordered by the City Council that no further burials be permitted on the premises of Rolling Hills Cemetery as described herein."
The issue of closure arose a final time on April 11, 1983, when the City Council traded property known as the James Property (where Rolling Hills #2 portion is located) for some adjacent to a subdivision. The city apparently never owned that portion of "the Harold James" estate on which some gravestones are located. St. Luke's Episcopal Church was built on a part of that land, which had been donated to it by the James family and the first service in the church was on Palm Sunday, 2000.
One interesting funeral law in Arizona is that the State doesn't require caskets or containers for burial. The law believes that a casket, even if it is made of metal, will not prevent a body from decomposing. A combustible container is required for cremation. Thus, burials in Rolling Hills Cemetery during the Depression, when money for burials was scarce, may not have always used coffins. This would have created difficulties in locating burials when some were later moved. And many graves were unmarked. A count of recorded burials on two web sites, Find A Grave and Arizona Gravestones, was about 110 burials with gravestones. We did not attempt to count the number of graves in the larger portion of this divided cemetery.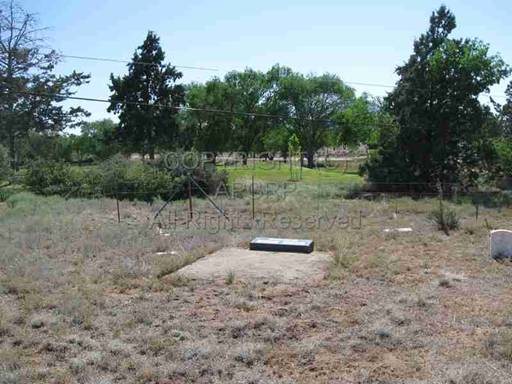 Possible unmarked graves are buried under the adjacent golf course. Photo by Kathy Block
Disturbances of internments occurred several times in Rolling Hills Cemetery.  Some graves may have been covered by Ruger Street when it was built as Ralph Pryne Drive around 1940. At Citizens Cemetery in Prescott, Sheldon Street, that borders on one side, was widened in the 1950s. Prescott had a substantial Chinese immigrant population in the early 1900s. Chinese who had been buried there were mostly removed to Rolling Hills Cemetery.  Some graves were possibly covered by Sheldon Street also. The Chinese internments were mostly reburied in the N.W. Corner of Rolling Hills Cemetery #1 near the entrance gate. Unfortunately, these segregated burials included unknown, unmarked graves. Supposedly some may have been covered by the adjacent Antelope Hills Golf Course, operated by the City of Prescott.
The North part of the golf course of 18 holes opened in 1958 on land next to the southwest portion of Rolling Hills Cemetery #I. This is a traditional tree-lined course with small greens that require more accuracy than power. A South course was added in 1992 with a wide open track with large greens. One blog stated: "The possibility exists that many golfers today may be unknowingly treading over the final resting places of Prescott's early Chinese residents. Truly a crying shame."
One well-preserved Chinese gravestone in R.H. #1 is that of Woo Ho, who was a male born in Kwantung, China, on Sept.30, 1854. He was a never-married dishwasher who lived at the Palace Hotel. He died in the Yavapai County Hospital of chronic myocarditis on April 14, 1949.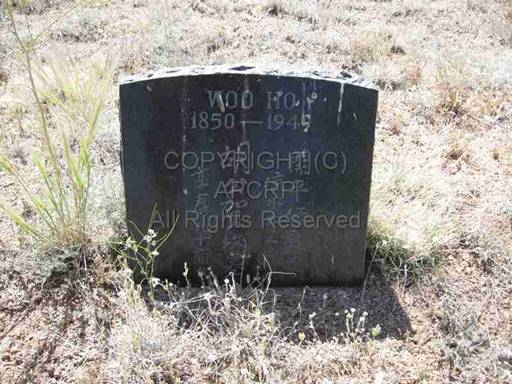 Headstone of Woo Ho. Photo courtesy Kathy Block
According to Chinese tradition, illustrated by another headstone, the date 1942 on the left is probably the death year. On a proper gravestone, you should be able to read a list of the family members of the deceased, the village name where the person came from if known, and a short poem to be used for a descendant's middle name. Unless someone can read the inscriptions, this person's identity is lost.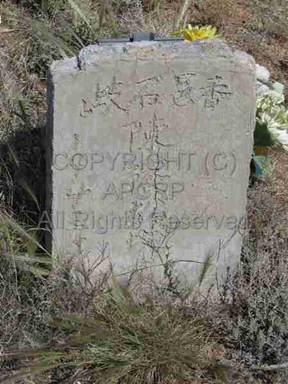 1942 Chinese headstone. Photo courtesy Kathy Block.
Using various sources, I found information about some of the other burials with headstones, in R.H. #1.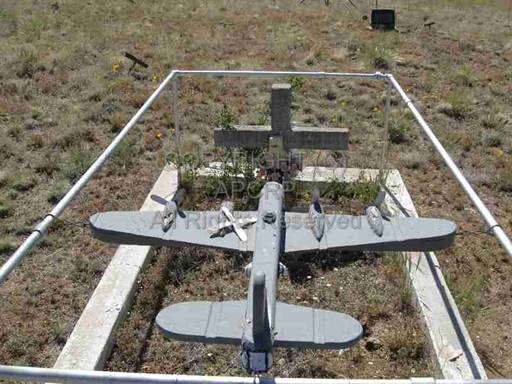 Grave of Denny Keenan. Photo courtesy Kathy Block.
One grave featured a model airplane on top and a cross at the head said, "Son Danny Keenan." This was the grave of Daniel Morris Keenan, who died of acute rheumatic fever and carditis on Oct. 11, 1939. He was born in Mesa, Arizona, Feb. 25, 1930, and was 9 years, 7 months, 16 days old, the son of Jack Keenan and Marian Terrion. He must have loved airplanes?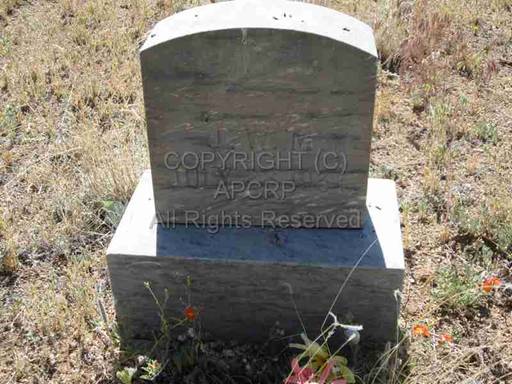 Headstone marked "J.W.M." Photo courtesy Kathy Block.
One mystery was solved. Who was J.W.M.? The initials only were on the gravestone, plus the date.  He was James William Muse, Jr., who died on Sept. 26, 1937, the son of James William Muse and Beatrice Wells. He was stillborn at 7 months.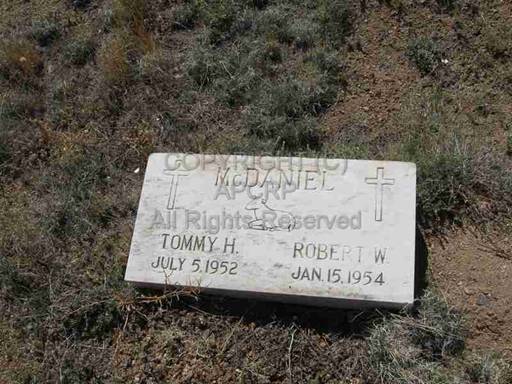 McDaniel gravestone. Photo courtesy Kathy Block.
A final question arose about a double grave marker for two burials named "McDaniel." The right side has the name of Robert William McDaniel, Aug.8, 1954, and the left side simply says "Tommy H." Robert was born Jan. 15, 1954 in Bagdad, Arizona (a big copper mining town), and died of asphyxia and strangulation in Bagdad on Aug. 8, 1954.  "Tommy H." was a brother born two years earlier on July 5, 1952, who was a premature birth and died of heart failure. Both were the sons of Charles W. McDaniel and June Wanda Brown McDaniel, who lived in Bagdad, Arizona. It is unknown if Tommy was first buried elsewhere and then moved to join his brother in a double grave.
All the burials in Rolling Hills Cemetery #1 and #2 were by the Ruffner Funeral home.  Many of the DCs state burials by: Embalmer: Lester Ruffner, Funeral Director: Lester Ruffner. Others say "Ruffner Funeral Home".  This family of morticians began service to the Prescott area with George C. Ruffner.  In July, 1906, he took over an "undertaking establishment" from F.F. Nevin, who was moving to Ely, Nevada. George's brother, Morris Andrew Ruffner,  first came to Arizona to mine. George followed him in 1882 and became famous as sheriff of Yavapai County. He won the funeral home in a poker game! His younger brother Lester Lee Ruffner came from Illinois to run this Ruffner Funeral Business. George C. Ruffner, born Nov.16, 1882, died in Prescott on July 23, 1933 of bronchial pneumonia and chronic myocarditis, and is buried in Mountain View Cemetery.
 Early news accounts give many glimpses of the services provided thru the "Ruffner undertaking parlors." At this time Rolling Hills Cemetery did not exist. Lester Lee Ruffner shipped caskets to other areas on the train, for example to Kirkland to hold the body of a man who died due to extreme heat at his home at Placerita on July 31, 1906, possibly one of his first undertaking services. Sometimes his services were sad, as for the family whose mother gave birth to two boys and one died the next morning. One burial, of S.C. Rees, in Sept.21, 1906, had a connection to Del Rio.  His body was found on the road leading from Del Rio station to the home of Carl Rees. His remains were taken to Prescott for burial. Ruffner took charge of the body of a passenger on a train who died of TB and brought it to his "undertaking establishment to be prepared for internment." In Dec. 1907, remains of an infant son of a doctor were exhumed and prepared for shipment to San Francisco. (Presumably on the train.)
One interesting service by this early Ruffner establishment was in August 1908. A man died of TB in the hospital in Prescott and refused to the last to give his real name or any info on his life previous to his arrival in Prescott a year and a half before.  He was paralyzed for the last 3 weeks and unable to move in bed and would not answer questions from nurses or doctors.  Ruffner apparently received information about a sister in Michigan and was trying to locate her and inform her of the death of her brother, who was about 45 years old.  It is unknown if Ruffner undertaking establishment found her!
Some funerals were held in the undertaking parlors, others were held at the Masonic temple. One was arranged by the Grand Army of the Republic and assisted by a firing squad from Fort Whipple.
An 18 year old girl who died in Prescott on July 12, 1907, was buried in the Clear Creek Cemetery in "one of the largest funeral assemblages seen in Verde Valley in many years." G.C. Ruffner undertaking establishment prepared the remains for burial. They "looked almost as natural as life when exposed to view a short time before internment."
In February 1929 Lester Lee Ruffner bought the historic home of Judge Edmund Wells for use as a funeral parlor,. This house is in the Ruffner Funeral Home Historic District on South Cortez Street in the National Register Historic District. The building, called "the finest residence in Prescott ", is one of the oldest structures still standing in one of the oldest neighborhoods from the early Territorial days.
 Lester Lee Ruffner died January 24, 1967. He was born in Illinois on May 26, 1885, and came to Prescott in 1900.and moved to Williams in 1960.  His obit states he was "the oldest practicing funeral director in the state. " He had established Rolling Hills Cemetery on the land he owned.
Lester's son, Lester Budge Ruffner, born in 1918, became active in civic affairs and was named "Man of the Year" in 1984. During the 1960s, he began a second career as a journalist and wrote columns for local Prescott papers, publishing a collection of these articles in 1971 entitled, "All Hell Needs is Water." He died in Phoenix on May 20, 1996, and was cremated at Mountain View Cemetery. His wife Elisabeth had assisted him for more than 30 years and apparently he was a "reluctant mortician." They sold the business to allow Lester "Budge" to write full time. He was a highly popular speaker on history and the contemporary scene.
The Ruffner Funeral Home was purchased in 1978 by Fred D. Wakelin, and became Arizona Ruffner Wakelin Family Funeral Homes, Prescott.  Fred, according to his obituary, was known throughout the region for "his caring demeanor and exemplary services to thousands of bereaved families." (He was born April 5, 1935 in Denver, Colorado and died Jan. 15, 2012.)
The funeral home advertised that not only were they the oldest funeral home in Arizona , as well as the oldest continuing business in Prescott, but also: "Experience has shown us that when we sit down with a family that different people have different needs. We have the responsibility to bring no preconceived ideals for what is right or wrong in the goal of creating a fitting, memorable and affordable tribute for their loved ones." This tradition probably began with the establishment of Rolling Hills Cemetery for poor, Depression-era clients!
At the time of our visit to Rolling Hills Cemetery #1, we noticed signs of its age and history.  Although a group of volunteers from the nearby St. Luke's Episcopal Church "adopted" the cemetery and keep the weeds trimmed, we noticed that many graves had little metal stakes with unreadable or no names behind long- gone glass; some of the graves were marked only by stones; or rarely by iron bars; and some had just mounds of earth. Concrete blocks with horseshoes etched on them were near some graves. It would take major research to determine how many burials are actually there in the two sections, probably many more than the known 110 graves. A group of Eagle Scouts sponsored by the Church erected a flagpole for a flag to honor veterans buried there, and created the matching entry signs for each part of the cemetery.
| | |
| --- | --- |
| Concrete block with horseshoe etched in it near graves. Photo courtesy Kathy Block. | Flagpole and entrance at Rolling Hills #1. Parking area in upper right. Photo courtesy Kathy Block. |
Some of the burials, according to Sharlot Hall records, were later moved from Rolling Hills Cemetery to Mountain View Cemetery, possibly when Ruger Street was built? These records give a clue that maybe the street was built around 1940.  Examples: Parley W. Davis, the DC showed he was first buried in Rolling Hills Cemetery around Jan. 9, 1940, but then must have been moved, as Mountain View Cemetery records show him as being buried there on Nov.24, 1940. Another burial was Charles C. Smythe. His DC showed burial in Rolling Hills Cemetery, "near the Prescott airport" on Oct.18, 1949. Later, Mountain View records showed he was buried there Jan. 20, 1950. Did relatives move their family members to be in a family plot?
| | |
| --- | --- |
| Random placements and kinds of grave markers. Photo courtesy Kathy Block. | Broken Iron bars around grave. Photo courtesy Kathy Block. |
| Beware of spiny cactus and weed seeds! (do not walk around wearing sandals) Photo courtesy Kathy Block. | Identity lost. Some one cared about these nameless graves. Photo courtesy Kathy Block. |
A book was published about Rolling Hills Cemetery in 1989, "Rolling Hills Cemetery of Yavapai County, Prescott" by Louise Polan Turk. This out-of-print 50 page book, privately printed, was for sale on Amazon. I was unable to locate a copy.
When you are in Prescott, visit historic Rolling Hills Cemetery for a look at a cemetery founded during the Depression to serve a growing, varied community, unlike many cemeteries that APCRP has researched that grew around mining operations.
------------------------------------------------------------------------------------------------------------------------------------------------------------------------------
The author would like to especially thank the following people who generously contributed information for this article:
Bonnie Helten for the Google Map that I adapted for information about the locale.
Cat Moody, Historic Preservation, and City of Prescott, who generously provided copies of relevant minutes of six Prescott City Council meetings of the 1950s and 1980s, which clarified many historical events affecting Rolling Hills Cemetery.
Beth Parkowitz, Parish Administrator, St. Luke's Episcopal Church, who patiently helped answer many questions that arose during my research.
Ed Block, my husband, for his willingness to visit this historic cemetery and help with photos and research!
Neal Du Shane, who patiently posted this article and photos and dealt with any "gremlins" that might arise!!!
Arizona Pioneer & Cemetery Research Project
Internet Publication
Version 061012
WebMaster Neal Du Shane
Copyright ©2003-2012 Neal Du Shane
All rights reserved. Information contained within this website may be used
for personal family history purposes, but not for financial profit or gain.
All contents of this website are willed to the Arizona Pioneer & Cemetery Research Project (APCRP).
HOME | BOOSTER | CEMETERIES | EDUCATION | GHOST TOWNS | HEADSTONE
MINOTTO | PICTURES | ROADS | JACK SWILLING | TEN DAY TRAMPS