HOME | BOOSTER | CEMETERIES | EDUCATION | GHOST TOWNS | HEADSTONE
MINOTTO | PICTURES | ROADS | JACK SWILLING | TEN DAY TRAMPS
Arizona Pioneer & Cemetery Research Project
Santa Maria Cemetery
a.k.a.
Ferra Cemetery
Courtesy Bonnie Helten. Reproduction of a letter, in part, from Jennifer Peck of Safford, AZ. Granddaughter of Francisco Ferra.
<![if !vml]>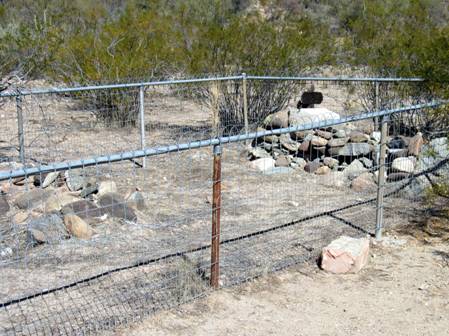 <![endif]>
There are 4 graves in the cemetery at Santa Maria:
Verzavi Ferra
Delfina Ferra
Fancisca Ferra
Mrs. Black (Phoebe)
The family story is that the girls died in an epidemic (Scarlet Fever?) Mrs. Black was the neighbor who helped nurse the girls and also became ill and died. The girls were buried in the dresses they were to wear for their 8th grade graduation.
<![if !vml]>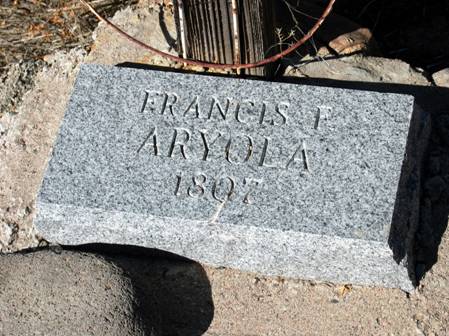 <![endif]>
The chain link fence and the wooden crosses were put in 1966 or 1967 by Joe B. Ferra to replace the original markers. Joe B. Ferra is the son of Francisco Ferra and my grandfather. The granite headstones were placed there before 1983 by someone unknown to me, probably Ferra descendants from California.
<![if !vml]>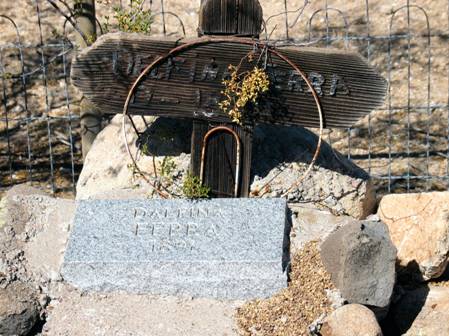 <![endif]>
Verzavi and Delfina Ferra were probably born between 1878 and 1881 on the family ranch called the Santa Maria Ranch. They probably died between 1892 and 1896.
Francisca Ferra Arriola was born on the Santa Maria Ranch about 1882. She married Jose Arriola on May 26, 1899 in Prescott, Arizona. She died between April and June of 1900, probably of childbirth. The 1900 census shows in the household of Francisco Ferra, a granddaughter named Francisca Ariala. She was born in April 1900 and on the next page of the same census, appears Joseph Ariola, a widower. Next door to Francisco Ferra is Charles Black and his wife, Phoebe.
<![if !vml]>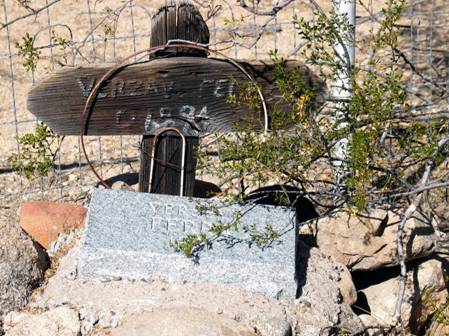 <![endif]>
The head of the Ferra family, and father of the girls in the cemetery, is Francisco Ferra. He was the son of Juan Ferra and Miquela (Sambrano) Ferra. Francisco was born in Sonora, Mexico in February 1846. His family moved to Arizona in 1861, settling in La Paz, Yuma Co., Arizona.
<![if !vml]>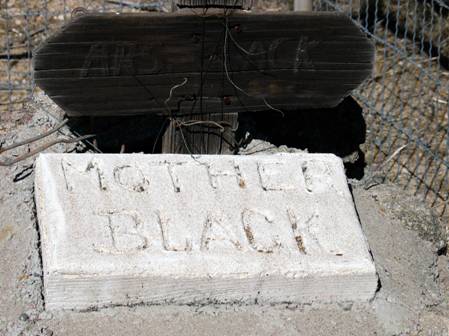 <![endif]>
Francisco Ferra married Elaisa (or Eliza) Bobarthy Navarro about 1877 in Yuma. Francisco and his family were living on the Santa Maria Ranch by 1878. They had a large family of at least 17 children: Jose, Delfina, Francisca Arriola, John I., Carmen Arriola, Frank, Mary Jarvis, Micela Burgess, Joe B., Sarah, Fred, Emilio, Alice Cunningham, Tony. The family lived on the Santa Maria Ranch until about 1901 when they moved into Congress, Arizona.
All Photographs by: Neal Du Shane, 2006
Selected Sources:
1900 U.S. Census Yavapai Co., Arizona, pg. 8B, 9
        Households of Francisco Ferra, Charles Black, Joseph Arriola
Yavapai Co., Arizona Marriages, Vol. 2. p. 426
        Jose Arriola and Francisca Firra, age 18
Mill Site and Water Rights, Book 3, pg. 86, Yavapai Co., Arizona
Marks & Brands No. 3, pg. 145, Yavapai Co., Arizona
        Livestock brand of Francisco Ferra.
Yavapai Co., Arizona School Census, 1896-1903. Arizona Dept. of Library and Archives Santa Maria, Thompson Valley and Congress School Districts showing the school age children of Francisco Ferra (no Delfina or Verzavi).
APCRP Presentation
Version 091007
All Rights Reserved 2007 APCRP
WebMaster: Neal Du Shane
HOME | BOOSTER | CEMETERIES | EDUCATION | GHOST TOWNS | HEADSTONE
MINOTTO | PICTURES | ROADS | JACK SWILLING | TEN DAY TRAMPS