HOME | BOOSTER | CEMETERIES | EDUCATION | GHOST TOWNS | HEADSTONE
MINOTTO | PICTURES | ROADS | JACK SWILLING | TEN DAY TRAMPS
Arizona Pioneer Cemetery Research Project
Presentation
Version 032512
If you enjoy this presentation a $15.00 contrabution
is appreciated to support APCRP research.
<![if !vml]>

<![endif]>
Contents
SWANSEA FIRST VISIT 05/07/07. 1
9
SWANSEA

FIRST VISIT 05/07/07
La Paz County
By: Neal Du Shane
Following highway 60 from Wickenburg, AZ I came to Salome, Arizona. A few short miles I came to Hope, Arizona and took a right on Highway 72. Following it to Bouse where I turned on Swansea Road and crossed the RR Tracks. The road remains hard surface for approximately 3 miles then turns to gravel. It is a good road, but I would advise not to travel it in heavy rain as there are many washes that are part of the road. At Midway turn left and travel to the four-way stop, then turn right. In total it is approximately 26 miles to Swansea from Bouse.
Looking for gold, the first prospectors came to the mountains surrounding the Bill Williams River in the late 1850's. The first mines were established at the Mineral Mill and Planet claims west of Swansea in 1862. That same year the first 100 tons of ore were sold from the Planet mine. The ore was taken 20 miles overland by pack mules, loaded on a steamer for the trip down the Colorado River, and shipped on schooners to San Francisco. Although shipping ore was impractical and costly, new mining districts were established, along with pack trails and roads. Mine owners hoped the high quality ore, and the chance to get rich, would attract needed investors.
The Swansea area was first investigated in 1862 by three prospectors who were disappointed when the ore showed only copper and silver when they struck silver-lead ore on the Ruby Silver Claim. Soon the silver ran out, leaving "worthless" copper deposit. Copper became a more marketable product by 1896. One of the men returned with a new partner and mining began.
<![if !vml]>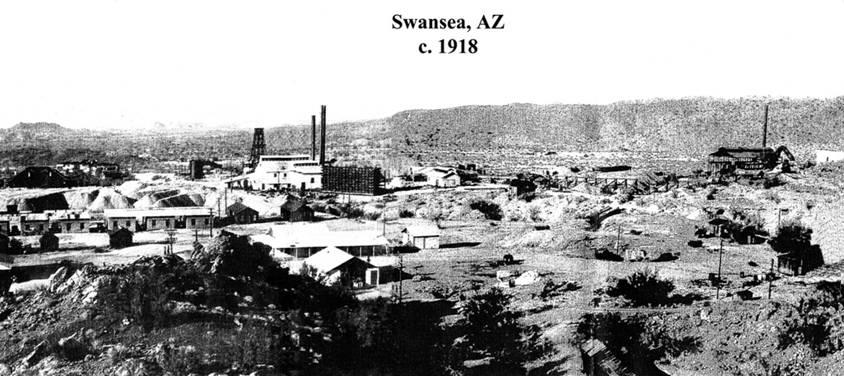 <![endif]>
In 1867, U.S. Mining Commissioner J. Ross Browne favorably evaluated the Bill Williams mining district. He reported that "the whole county appears to be formed of the ores of iron and copper, the hills for miles around being colored red by the iron, or green and blue in patches where waters containing carbonate of lime in solution have percolated through the copper."
The geological reports on the Buckskin Mountain emphasized the potential of the area to match the world's richest copper mines. Browne's 1867 report however held the clue to the unavoidable failure of these mines: they were too rich in low value materials that impeded mining.
Browne noted. "… the miners ran considerable risk of injury by being crushed by heavy masses of ore . . . having been held in place by large quantities of powdery oxide of iron, . . . which is nothing more nor less than iron rust . . . will come rushing down and block all further work until the opening can be timbered up."
Thousands of board feet of big timber would be needed to expand the mines underground, quite a challenge in the treeless Sonoran Desert.
Taking its name from Swansea, South Wales, Untied Kingdom, where most of its copper was shipped. The ore got there via a combination of local railroads, the Colorado River and shipped from the Gulf of California around Cape Horn to the United Kingdom.
John W. Johnson eventually sold his mining claims in 1904 to the Signal Group. Serious efforts to mine the copper in the area didn't begin until the arrival of the railroad. After the Arizona & California Railroad started construction from Wickenburg to Parker in 1904.  The new owners found the key to fully developing the copper mine lay with the new Railroad line.
Newton Evans and Tomas Jefferson Carrigan saw an opportunity to further develop existing mines in the area and acquired investment money and began to develop Swansea. T.J. Carrigan began looking for investors. He convinced George Mitchell to take a 21 mile buckboard ride through the desert to visit the claim in 1908. It worked. Mitchell, a Swansea born Welshman, bought 132 claims in the Signal Group, and planned a town to support his dream, named after Mitchell's birthplace. Mitchell capitalized the Clara Consolidated Gold and Copper Mining Company for $3 Million and incorporated the following year.
On May 2, 1910 George Mitchell's smelter was "Blown in", and the first copper was poured, reported the Los Angeles Mining Review (May 7, 1910) Mitchell wired the Los Angeles and French investors, "started furnace this morning without a hitch and everything running smoothly. Turning out matte (refined copper) at a rate of 50 tons per 24 hours". Relating to metal market prices at that time, which would be $15,000 per day.
Hoists for five mine shafts were under construction by 1908 and a water pipeline from the Williams River, a distance of 3.5 miles had been completed and a 350 ton capacity furnace had been built.
The shaft hoists and associated mining equipment were either steam powered or electric. Two steam powered generators furnished electricity for the smelter, town, ore trains and water pumping station on the Bill Williams River. The large water tanks stood on the hill south of the dust chamber. Some estimates say as much as 400,000 gallons of water per day were required for the smelter and town operations. The Bill Williams River flowed freely in the early 1900's, before Alamo Dam was built upstream in 1969. The energy all came from coal, which along with the other supplies, required shipping into Swansea by rail.
500 people occupied Swansea in 1909. In 1910 the Arizona and Swansea railroad began operation from Bouse. You can still see the railroad bed as you travel from Bouse to Swansea. The key in moving, ore, supplies and people in and out of the growing mining towns was the railroad.
Unfortunately George Mitchell never did anything in a small way and by 1911 his enormous plant had drained the treasury and the Clara Consolidated was bankrupt. Author Harvey Weed (Mines Handbook, 1911) described Mitchell's Swansea as "an example of enthusiasm run wild, coupled with reckless stock selling and the foolish construction of surface works before the development of enough ore to keep them busy…
In 1914 much of the town was rebuilt under the ownership of The American Smelting and Refining Company. Mining operations under the present ownership continued until 1927 when the Great Depression closed most of the mines for good in 1929.
Swansea's survival depended on the copper prices. Copper at one time was selling for 12 cents a pound and cost 15 cents per pound to produce. The concentrator, which should have been built many years before, reduced the 1920 price of producing copper to about 13 cents per pound.
Attempting to operate the mine, the French investors, capitalized another $4 million in stock, hired Lane as the new Superintendent, enlarged the operations and followed Mitchell into bankruptcy.
Mitchell retained control of the railroad for a time and sued the French investors. By 1920, following further financial troubles. Mitchell retired to Las Angeles.
In 1920 Charles Clark sold out to mining engineer George M. Colvocoresse, who mined and milled ore worth $2 Million from 1921 to 1924.
American Smelting and Refining Company (ASARCO) acquired a lease in 1928, made a number of improvements and rebuilt the concentrator just in time to meet the Great Depression and the fate of their predecessors.
By 1937 Swansea was a ghost town although periodic small operation mining did continue until 1949.
During Swansea's peak period, (believed to be 1908 - 1929) there was an electric light company, with a gigantic generator to operate the mining equipment, a automobile dealership, a lumber company, two cemeteries, a bar, insurance agent, the local mining and smelting operations, concentrator, dairy milking house, hospital and school. With a peak population swelling to 750.
From 1906 to 1949 production from the mines was 27 million pounds of copper.
WWI was the demise of Swansea's short existence when copper prices dropped.
In 1937, the remaining employees cut up all the steel and the railroad, sold the materials to recover lost wages, and left the area.
<![if !vml]>
<![endif]>The two cemeteries that were mentioned earlier are still there. The passing of time, elements and destruction is taking a toll on the remaining graves. With approximately 11 interments, one of the Pioneer Cemeteries is along the road as you enter from Bouse. One lone white cross remains with a plaque of 9 month old Sandra Lynn Dugas, born September 6, 1936, died May 16, 1937. Obviously the Dugas family still maintains this grave. In this cemetery there is evidence of derelict wooden crosses. Several of the graves have imploded on themselves leaving only an indentation as evidence of these Pioneers final resting places. If you come upon remote pioneer cemeteries, please pay your respect's and leave them in better condition than you find them. These historic sites could be a member of your Pioneer Heritage. Protect, maintain and preserve these historic museums of our heritage. It's against the law to disturb any cemetery in Arizona.
Today there is much to see and explore in Swansea. There are a number of buildings, including most of the main street. A railroad station and remains of the copper mine. The miner's adobe housing is being preserved by putting up new roofing over the structures by the BLM.
BLM has erected self guided tour signs with historical references to all the existing structures and land marks.
This was a 335 mile round trip from Sun City and I spent 13 hours traveling and exploring Harrisburg and Swansea locations. A trip well worth the time and effort.
Neal Du Shane
President and Founder,
Arizona Pioneer Cemetery Research Project (APCRP)
05/07/07
 Photos by: Neal Du Shane
WebMaster: Neal Du Shane
070507
SWANSEA

REVISITED 01/10/08
Kevin Hart and my self ventured to Swansea for our second visit to this historic Ghost Town since my last visit here in May 7, 2007. While this as approximately a 6 hour round trip sojourn, it is well worth the distance and time involved.
Not much has changed here since our last visit. But this time we met up with a team of BLM volunteers that are working slowing down the decay of the miner's quarters as you come into Swansea. While remote, this is one of the best well preserved ghost towns we have visited and there is an extensive self guided tour of the town in its prime. Brochures are available as you come down the hill stopping at the first rest area on the left.
<![if !vml]>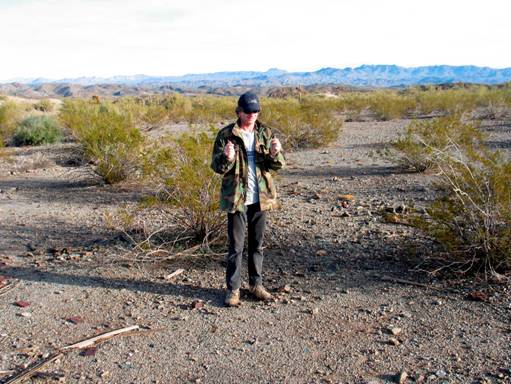 <![endif]>
Kevin Hart researching the main Swansea Cemetery 01/10/08
Photo Courtesy: Neal Du Shane
The Arizona Pioneer & Cemetery Research Projects goal on this visit was to find the main cemetery and document it. Once we arrived we knew the general area for the cemetery and we started researching the graves. Kevin found approximately 45 male graves and 3 female graves. In all we estimate if the population in Swansea's prime would have been 1,500 to 2,000 the cemeteries could account from 150 to 200 graves.
This may be local legend, but it's believed the larger of the two cemeteries was Catholic and the other was Protestant. While no research was done in this respect we are accepting the statement by the BLM Volunteer on site.
Unfortunately unless you are a trained individual the cemetery graves are very hard to identify. There are no headstones or markers, with rare exception are there rocks outlining the grave. Only a handful of graves can be identified but requires a lot of searching.
<![if !vml]>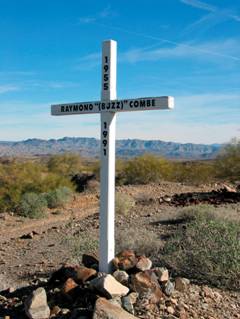 <![endif]>
Grave of Raymond "Buzz" Combe
Photo Courtesy: Neal Du Shane
1956 – January 26, 1991
I had missed this marker on my first visit or it was erected after I had been here last year. We researched an adult male and determined that he died in an automobile accident. We then went down to the Miners Cabins and talked with the BLM Volunteers who indicated the Raymond Combe was a participant in the "Parker 400" for may years. His death came from participation in the race. Made the hair on the back of our necks stand up.
--------------------------------------------------------------------------------------------------------------------------------------------
7/21/08 Devon Combe
I was browsing the APCRP website and I saw that you had posted a picture and a tidbit about Raymond "Buzz" Combe. I guess you found a cross that was erected in a Swansea cemetery. He was my father and he died in an off-road race crash because the part of the windshield broke so it was hard for the driver to see and they crashed into a giant rock mass. He died from whiplash and his heart exploding. His body was actually cremated and is buried in Chula Vista, CA. I don't know if any of this helps for anything that you do, because I really don't know exactly what you do. I just wanted to give you the full story - well as best I could, seeing as I was only nine months old at the time. Good luck with all your projects.
According to Devon Combe, daughter of Raymond "Buzz" Combe, the driver of the Nissan Pathfinder was Mike Lund. Lund now resides in a remote location in Mexico. "Buzz" and Mike were a long time race team, logging up more than 30 races together. Mike Lund at the time was employed as a shock engineer for Bilstien Shocks.
Devon has no memories of her father, she was only 9 months old at the time but she has been told that "Buzz" was an effervescent man that proved himself to be the epitome of a great friend, time after time.
The cross is placed on a hill that overlooks a rock embankment where his father died. As a part of the course, a road ran down a hill into a sharp turn and the turn was missed and the car hit along the passenger side into the embankment. I have no idea who the man buried at the cross is. According to my mother the cross was erected a short while after my father had been cremated and the funeral had taken place.
Raymond "Buzz" Combe died on January 26th 1991, the same day Devon learned to walk. He left behind his wife Peri Combe who worked for the popular family business, Mastercraft, and his two daughters, Tyler age 3 and Devon. If there is anymore information I can give or anything else I can do for you please let me know. Your interest and respect means a lot to me and I truly appreciate it.
7/21/08 Ty Marie Combe

My name is Ty Marie Combe, I was surprised by an email from my little sister directing me to the APCRP web page where I found an astonishing picture you took of the marker where my father was killed in 1991. Surprisingly, my sister and I have not returned to the spot since his death and had no knowledge of the cross whatsoever until my sister googled our father's name. How did you come across it? I am very grateful to have the picture you took, and wish you the best in your future endeavors. You never know who's life you will touch! Thank you again, Ty Marie Combe
7/22/08 Todd Zuercher - APCRP Booster
I was at the Parker 400 in 1991 when the accident happened - I was several miles up the course at the top of Railroad Canyon (the "fun" way to go into Swansea). Buzz and his wife Peri were the owners of Mastercraft Racing Seats in southern CA. Buzz was co-driving in a Nissan Pathfinder race truck driven by a gentleman named Mike Lund. They came around a corner too fast, rolled, and hit a giant rock, as his Devon notes. I remember it because it happened nearby, relatively speaking, and it was the first fatality at an off road race I was attending. A young 21 years old at the time - man how time flies!
Los Angeles Times - Los Angeles, Calif.
Author: SHAV GLICK
Date: Jan 28, 1991
Buzz Combe, 35, of Bonita, Calif., was riding in Mike Lund's Nissan Pathfinder near Swansea, Ariz., when the racing truck missed a 90-degree turn at the end of a seven-mile section of dirt road described as one of the faster portions of the 115-mile lap. The truck, which was racing in Class 3, plunged into a ravine, overturned and hit a large rock on the passenger side, said race spokesman John Houlgate.
--------------------------------------------------------------------------------------------------------------------------------------------
We have all heard "what you see may not be what you get" . . . such is the case in the appearance of a few of the graves, numbering no more than 5 that gave the appearance the interred had been exhumed. All the evidence was there, oblong hole approximately 3' X 7' X 2' to 5' deep.
Mounds of dirt around the edge of the hole. I've always questioned why anyone would dig up a grave if it weren't family or friends wishing to relocate their loved one to a cemetery closer to the family plots. This grave is a classic example that appears as an obvious grave being dug up – the adult male is still there. Can't explain why this grave would be disturbed, but the interred is in fact in this grave. I've verified this exact case, in most of the graves that give an appearance of being exhumed.
<![if !vml]>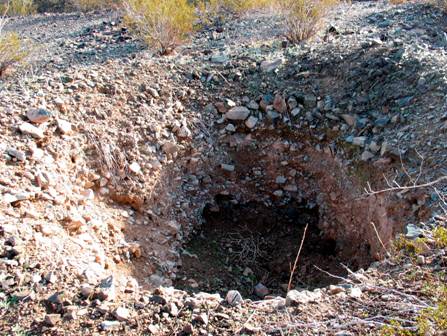 <![endif]>
False appearance of an exhumed grave - Swansea Cemetery
Photo Courtesy: Neal Du Shane
While none of the appearance of exhumation holes were this drastic, none of the graves were empty, all still had the interred in the grave. Which only points out just because there is a hole that looks like an exhumation – double check the grave, it is likely the interred is still there.
<![if !vml]>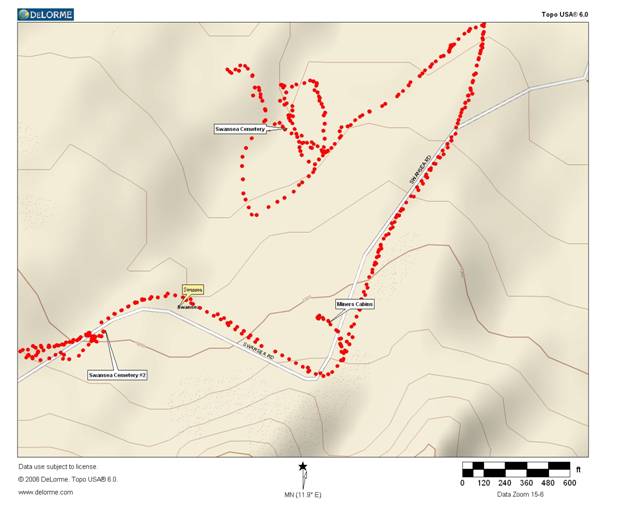 <![endif]>
You enter and exit from Bouse into Swansea on the road in the lower left of this topographical map.
Kevin and I posted two APCRP - ATTENTION signs, one at each cemetery in hopes visitors will provide information of family or loved ones that are interred here.
<![if !vml]>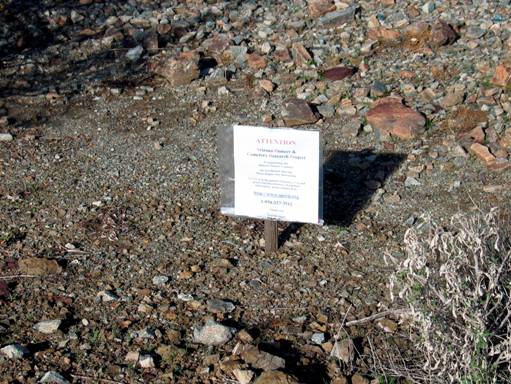 <![endif]>
Sign posted by APCRP asking visitors for information at either cemetery.
Photo Courtesy: Neal Du Shane
Arizona Pioneer & Cemetery Research Project
Internet Presentation
WebMaster: Neal Du Shane
Copyright ©2003-2008 Neal Du Shane
All rights reserved. Information contained within this website may be used
for personal family history purposes, but not for financial profit of any kind.
All contents of this website are willed to Neal Du Shane APCRP
HOME | BOOSTER | CEMETERIES | EDUCATION | GHOST TOWNS | HEADSTONE
MINOTTO | PICTURES | ROADS | JACK SWILLING | TEN DAY TRAMPS