HOME | BOOSTER | CEMETERIES | EDUCATION | GHOST TOWNS | HEADSTONE
MINOTTO | PICTURES | ROADS | JACK SWILLING | TEN DAY TRAMPS
Arizona Pioneer & Cemetery Research Project
Internet Publication
Version 010610-LB
<![if !vml]>

<![endif]>
Memories
By Lorrene Arilla Pritchett Bykerk
Submitted By Loren Bykerk
Vulcan Mine in Winter about 1923-24
<![if !vml]>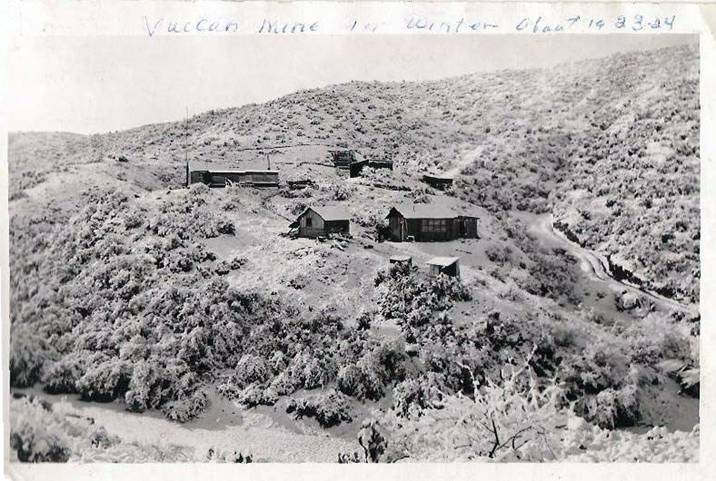 <![endif]>
Figure 1. Vulcan Mine North East of Wickenburg, AZ - Photo Courtesy Loren Bykerk
Loren Bykerk: "I've just finished listening to recorded interviews my mother gave, as well as reading her memoirs. Unfortunately, she doesn't give firm year as to when the family moved to the Vulcan from Quartzsite. I'm guessing that at about age 3 she was still at Quartzsite based on the pictures I have of her there. She was eight when they made the move to Poland, arriving there on November 17, 1927, her birthday. My best guess is that they were at the Vulcan for about four to five years, from about 1922 - 1923 until November 1927."
Lorrene Arilla Pritchett Bykerk
"The next home I remember was near where the Constellation Mine in the area of Wickenburg, Arizona. It was called the Vulcan Mine (Figure 1.) and I have pictures of it in a photo album. The Constellation Mine was not yet developed when we lived there; it came in after we left. We lived in a small house near the mine. My dad and a man named Lou Huber, a world war one veteran, became partners. We called him "Uncle Lou". (Figure 2.) He lived in Phoenix and would bring us food from A. J Bayless Stores in Phoenix and help "daddy" at the mine.
<![if !vml]>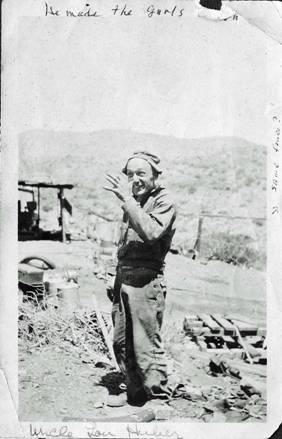 <![endif]>
Figure 2. "He made the girls laugh"
"Uncle Lou Huber" at Vulcan Mine
Photo Courtesy Loren Bykerk
Later they added a third room to the house and created a cellar for food storage from a mineshaft that was located near the house. The cellar was dark and cold and had a ladder going down.
They built a sloping door over it to keep it cold. One day I closed the door while my brother Worth was down in it. Yes, I got in trouble, a severe talking to! That was the last time I did that. We were never allowed to play down in that cellar."
Ina – Lorrene – Worth – Edith and 4 other orphans
<![if !vml]>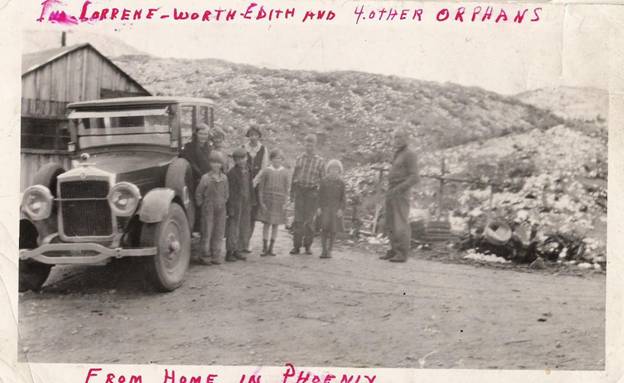 <![endif]>
Fig. 3, School and students at Vulcan Mine. Photo Courtesy Loren Bykerk
Loren Bykerk explains: "As for any speculation the orphan's were used for labor at the mine, the fact that my Grandmother Ina, lived at the mine, and knowing her nature, I seriously doubt that she would have allowed Bill to use those kids as laborers. It's my understanding that the school "marm" would usually live at the mine as well. Bill's third wife was a teacher who lived with them, originally at Poland".
Lorrene continues; "We had the kittens to play with and would go down to a big wide sandy wash to play in the sand. We played in cardboard boxes until Worth got stung on his back by a scorpion and me on the heel. I didn't get very sick but Worth seemed to handle it better than me. We treated the wounds with ammonia and mud. We never were lacking for play. We had burros hanging around and we played with and rode. We had a milk goat and one Billy goat that would butt us with his horns and knock us down.
<![if !vml]>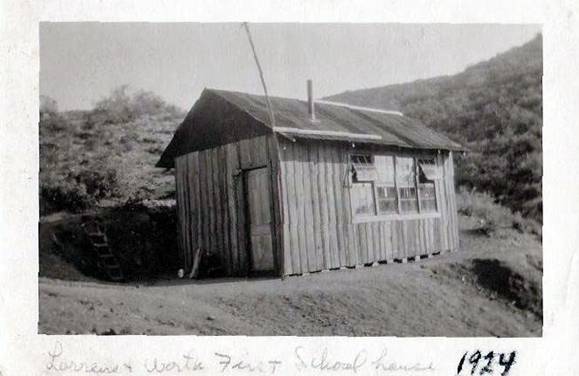 <![endif]>
Fig. 4, Lorrene & Worth First School House 1924 – Vulcan Mine
Photo Courtesy Loren Bykerk
When we would go to Wickenburg for provisions, we would get a treat. One scoop of ice cream at the drug store, at a fancy metal table with matching chairs that had scrolled high backs. Somehow, ice cream has never tasted as good as that. At the shoe store, they had some thin transparent scorpions that would curl up if you held them in your hand.
<![if !vml]>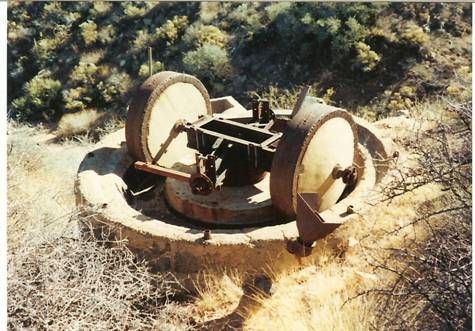 <![endif]>
Fig. 5, Arrestra at the Vulcan Mine
Photo Courtesy Pat Ryland - APCRP Certified Coordinator
They were free to customers and we cherished them and played with them for as long as they would live. During periods of heavy rain, the Hassyampa River would rise. Only the men were allowed to cross using a cable seat. They would go across, get the supplies and come back with their arms loaded. There was no bridge. The ride home was over a slippery and muddy desert road until we reached the sandy wash near home. If the water in it wasn't too deep, we would drive up the wash until we came to the road that took us up to the house. Sometimes an adult would have to push the car up the steep hill. There were times that we had to sit at the edge of the wash before we dared to drive in it because the water was too swift and deep.
<![if !vml]>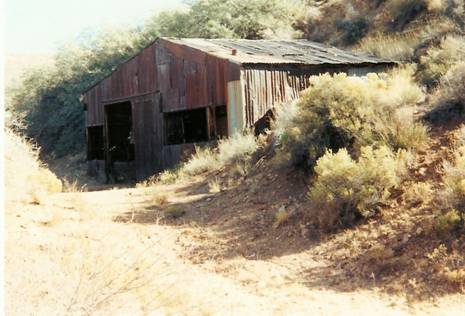 <![endif]>
Fig. 6, Vulcan Mine - 1999
Photo Courtesy Pat Ryland - APCRP Certified Coordinator
I don't think the house was more than 7 - 10 miles from town, but travel was slow and it seemed like it was a long, hungry ride home. That store bought bread tasted so good (only the center though), and by the time we got home, "momma" was lucky enough to have some crust for breakfast. We always got our little treat, which was a small piece of candy about 1 inch around. One day my brother got punished and was not given his 7 pieces of candy. I remember we sat on the cellar door and I gave him 4 pieces of mine. I heard about that one too for years. He was always sharing with me and it seemed he was always good. Yet, I know he must have been in trouble too.
<![if !vml]>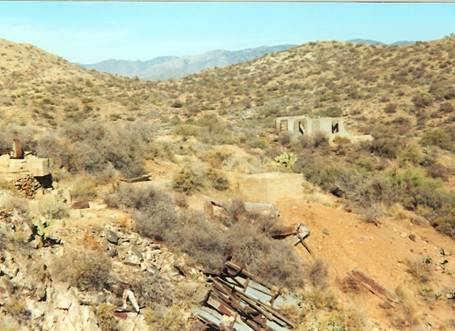 <![endif]>
Fig. 7, Vulcan Mine - 1999.
Photo Courtesy Pat Ryland - APCRP Certified Coordinator
We never got spanked for our wrongs, however "daddy" had a loud swearing voice and a mean cold stare in his eyes. When he spoke and looked at us, we were too scared to challenge him. I have often wondered just how my mother ever handled the hardships of cooking for the miners and caring so well for us. Let alone keeping up the laundry with the scarcity of water, using hand made lye soap on a scrub board.
Incidentally, my brother Worth was a year older than me and was killed in a mine cave-in in March of 1939.  It was the Carmichael Mine located near the Snowdrift Mine, both located close to the Big Bug Road that goes over the hill from Poland to Walker, AZ."
Loren Bykerk said; "My understanding is the Carmichael was just a small "wildcat" hole that he and a buddy were working. I'm told that there is still an elderly man named Carmichael living up in that area. He is possibly a descendant of either Joe or Jake Carmichael, the brothers who built the charcoal kiln which still stands in Walker. The name of the mine is listed on Worth's death certificate."
<![if !vml]>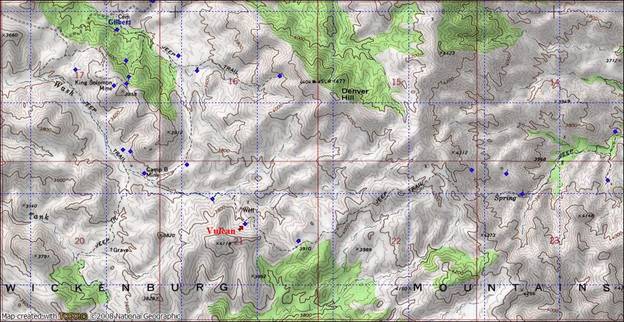 <![endif]>
Fig. 8, Map Courtesy Allan Hall - APCRP Certified Coordinator.
Arizona Pioneer & Cemetery Research Project
Internet Publication
Version 010610-LB
WebMaster: Neal Du Shane
Copyright ©2010 Neal Du Shane
All rights reserved. Information contained within this website may be used
for personal family history purposes, but not for financial profit or gain.
All contents of this website are willed to the Arizona Pioneer & Cemetery Research Project (APCRP).
HOME | BOOSTER | CEMETERIES | EDUCATION | GHOST TOWNS | HEADSTONE
MINOTTO | PICTURES | ROADS | JACK SWILLING | TEN DAY TRAMPS