HOME | BOOSTER | CEMETERIES | EDUCATION | GHOST TOWNS | HEADSTONE
MINOTTO | PICTURES | ROADS | JACK SWILLING | TEN DAY TRAMPS
Arizona Pioneer & Cemetery Research Project
Internet Presentation
Version 012409
<![if !vml]>

<![endif]>
<![if !vml]>

<![endif]>
Table of Contents
Photo of a few Verde Flat Cemetery Graves. 2
APCRP Boosters researching Verde Flat Cemetery Photo   3
Second Vulture City Cemetery. 5
Historic Topo Map showing graves and cemeteries. 6
Vulture City Cemeteries 01/08/08 Update. 7
Culling Children Graves - Photo.. 7
Gus Swain & John McDonald - Graves. 8
Topo Map of key grave locations  01/08/08. 10
One of the many rewards of doing what I do is meeting new and wonderful friends that I didn't have prior to forming this organization. A truly rewarding experience.
Such was Thursday November 15, 2007. I had been invited to give a seminar on finding unidentified graves to an interested group in Wickenburg. In an effort to identify, document and record these sites before they are lost forever.
<![if !vml]>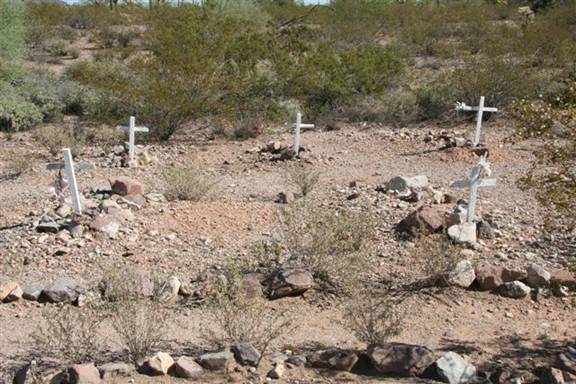 <![endif]>
Approximately 90 grave markers placed by a Boy Scout Troupe a few years ago.
Photo Courtesy: Glenda Simmon. 11/15/07
After the seminar and an excellent chili lunch we went to the Verde Flat Cemetery near the Ghost Town of Vulture City to practice what we learned. We all researched the obvious Verde Flat Cemetery and found many graves that don't have white crosses. We are estimating there could be up to 200 graves inside the fenced area and we found graves numerous graves outside the fenced area also.
<![if !vml]>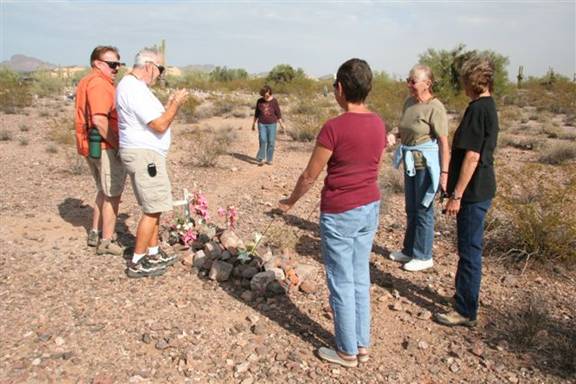 <![endif]>
L-R: Neal Du Shane, Ed Abe, Mary Ann Wunderlin, Jenell Breuer, Lila Elam, Bonnie Helten. Rocks were 90 degrees opposite of the actual placement of the interred.
Verde Flat Cemetery November 15, 2007 Picture by: Glenda Simmon
Pat Ryland had pointed out to me there were two grave sites on the east side of the black top road. I went to Topozone and sure enough there are two sites marked "graves" in the area Pat indicated. Pat had been to this area previously and had found some graves.
The group had gained confidence in their abilities and Bonnie Helten suggested we go across the black top road and see what we could see. Fortunately I missed the road I was looking for and we parked on the edge of the highway and started walking toward the small mountain. I luck into more cemetery sites missing the road I was looking for! That's how we accidentally found Charlie Stanton's grave.
<![if !vml]>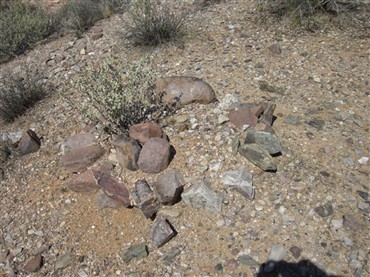 <![endif]>
Is this a grave or camp fire ring? Grave identified 11/15/07
Photo by: Neal Du Shane
<![if !vml]>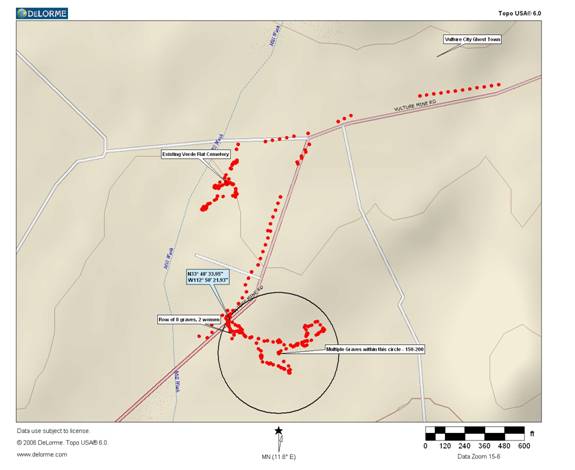 <![endif]>
Circle indicates new found cemetery and graves at Vulture City, AZ
The dotted red lines indicate my line of travel.
We hadn't gone 50' when we started seeing signs of derelict graves. As we walked we detected graves that would rival the numbers in the current Verde Flat Cemetery. Cindy found a perfectly straight row of eight graves of which two were women near a small wash. In all we worked an area of approximately 500' graves were prevalent. More research will need to be done here to identify all the graves.
One old timer was identified a white male, miner, hanged for high grading. Maybe this cemetery was the graves of the less reputable citizens of Vulture City? Could it be – this cemetery has almost returned to dust do to this fact? Could be . . .
Second

Vulture City Cemetery
<![if !vml]>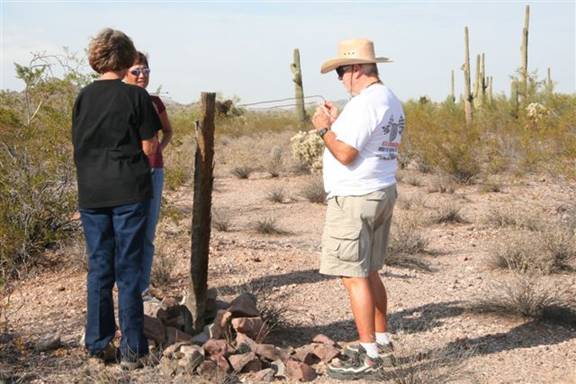 <![endif]>
L-R Bonnie Helten, Jennel Breuer, Ed Abe confirming an adult male grave.
Photo courtesy: Glenda Simmon
This was a tremendous historical find as I have never found research information that indicates there was a second cemetery in Vulture City of any size. We know there were many hangings at the "Hanging Tree" but no one ever knew where these less than reputable people were interred.
People I have asked about the graves of those hanged and "Soiled Doves" indicated "They were buried on the mine property somewhere". Vulture city was the largest town in Arizona in its day with an estimated population of 2,000 to 3.000 residents in its peak. A constant flow of migrant "10 day miners" would be in and out of here constantly. No one knew them when they arrived and if they died while working here, no one knew their names or their next of kin and simply buried them as "John or Jane Doe". Being this wasn't a company mining effort, rather miners paid a certain amount for every ton of rock they could haul away, then process the ore themselves and keep the proceeds. This concept allowed for each miner to be an entrepreneur hard rock miner.
Historic

Topo
Map showing graves and cemeteries
<![if !vml]>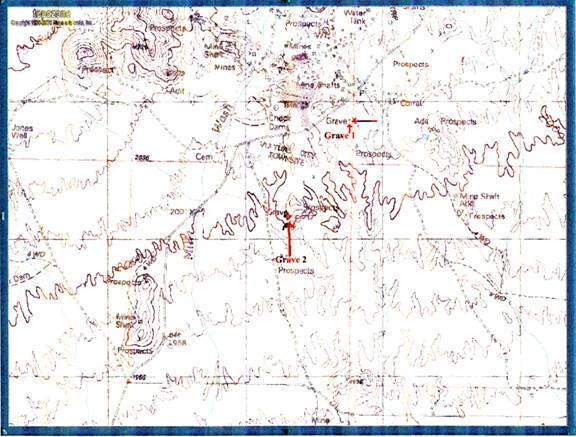 <![endif]>
On this old topographical map, notice the wording "Vulture City Town Site" would have been across the road from the mine property to the east which makes sense. I placed the Grave 1, Grave 2 with the arrows on the map. We are trying to get a copy of the plot plan for Vulture City. If you know where we can get a copy, please let us know.
My special thanks to everyone that participated in this historical research outing and my new found friends. For those open minded enough to try something new even though we all are skeptical in the beginning.
By: Neal Du Shane
Bonnie Helten, Pat Ryland and myself made a lot of progress at the Vulture City Cemeteries Tuesday. Documenting, locating and marking all the graves we have listed on the roster. Three Culling children, the half sister of Maria Culling . . . Ramona Valenzuela, Inocante (Sp?) Valenzuela was Ramona's brother and is buried beside her and George Taylor in the main cemetery.
<![if !vml]>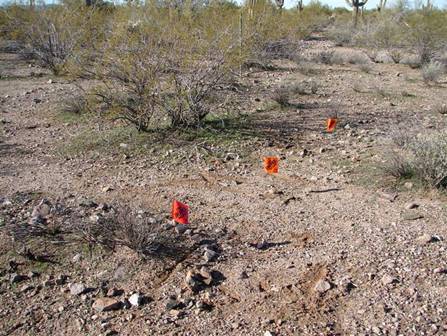 <![endif]>
Albert Culling closest, two other Culling Children - died of Diphtheria Epidemic in 1882
Photo Courtesy: Bonnie Helten 010808
Installed a sign on the Verde Flat Cemetery sign asking for information from visitors.
<![if !vml]>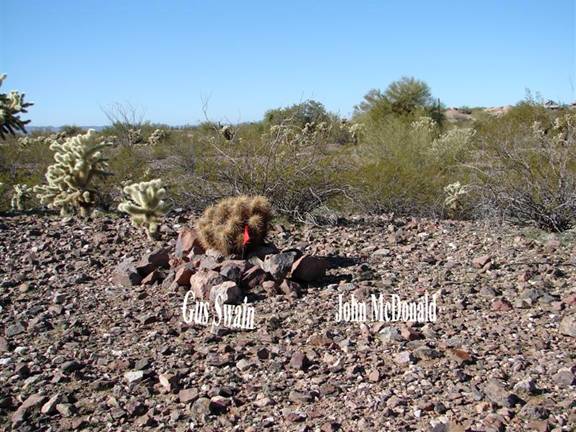 <![endif]>
Grave's of Gus Swain & John McDonald, 3' North (right), 010808
Photo Courtesy: Bonne Helten
Proceeded across the highway to the second cemetery and found and documented the graves of Gus Swain and John McDonald. McDonald, Swain and Taylor were names researched from the book "Catch the Stage to Phoenix." In the general area of Swain and McDonald there was a grave of a teenage boy within in feet of their graves. As we have found this whole area is full of graves.
<![if !vml]>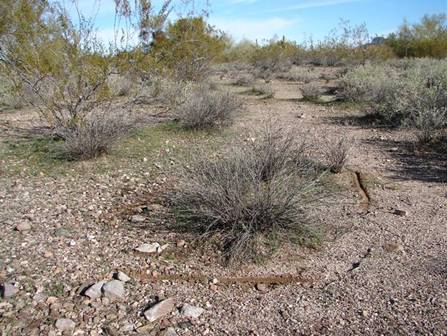 <![endif]>
Died Mar. 11, 1873 by Apaches
Photo Courtesy: Bonnie Helten 010808
Drove to the Vulture Mine and talked with the caretaker Roma Hagan - daughter of Marge Osborn, Marge and her husband were caretakers here for years at the mine. Showed Roma the map of Vulture City and it is her belief the map may have been platted and would have been on the SE side, across the black top from the mine property, but to her knowledge it was never laid out as a town. It is also Roma's belief that all the less proper element in Vulture City were buried in the area across the black top from the Proper burials at the Verde Flat Cemetery. So far this is proving true once we know more about the graves here. More less proper burials than proper burials it would seem, no wonder there are no markers or headstones in this cemetery.
Topo

Map of key grave locations

 

01/08/08
<![if !vml]>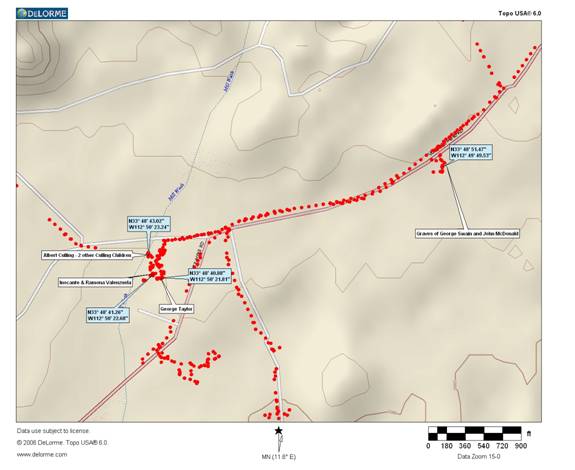 <![endif]>
Location of some of the graves at Vulture City 010808
Arizona Pioneer & Cemetery Research Project
Internet Presentation
Version 012409
WebMaster: Neal Du Shane
Copyright ©2003-2008 Neal Du Shane
All rights reserved. Information contained within this website may be used
for personal family history purposes, but not for financial profit of any kind.
All contents of this website are willed to the Arizona Pioneer & Cemetery Research Project (APCRP).
HOME | BOOSTER | CEMETERIES | EDUCATION | GHOST TOWNS | HEADSTONE
MINOTTO | PICTURES | ROADS | JACK SWILLING | TEN DAY TRAMPS