HOME | BOOSTER | CEMETERIES | EDUCATION | GHOST TOWNS | HEADSTONE
MINOTTO | PICTURES | ROADS | JACK SWILLING | TEN DAY TRAMPS
Arizona Pioneer Cemetery Research Project
Internet Presentation
Version 051708
Flying E Ranch - Graves
Wickenburg, Arizona
In 2006, several local Wickenburg historians had informed me of a grave on the Flying E Ranch. One of them knew the exact location and took me to the grave site.
The history of this grave, it seems the lady and her husband were retired and lived in the community to the east of the ranch property. Both of them loved this area and hiked it on a regular bases, they loved it so much that when she passed away, her husband asked the owners of the Flying E if it would be okay to bury her ashes on their property. They were given permission and the husband buried the ashes and placed a marker with four barrel cactus to mark the grave.
<![if !vml]>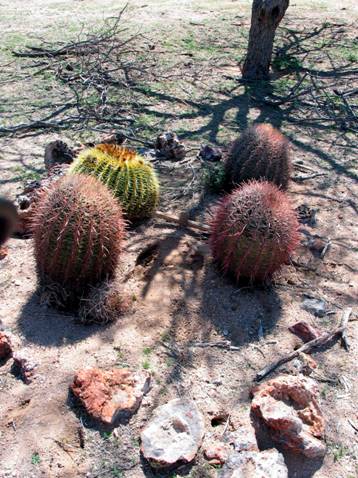 <![endif]>
Woman's grave on Flying E Ranch
Photo by: Neal Du Shane
When I researched this area in 2007, the marker for the grave was still there and the barrel cactus was still there. The area where the grave is located is being developed and one can only assume this is grave is now on a lot.
<![if !vml]>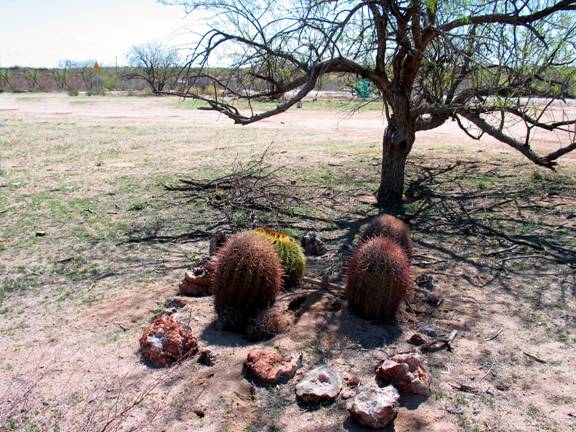 <![endif]>
Woman's Grave as it appeared in 2007 on the Flying E Ranch - Looking SE
Photo by: Neal Du Shane
On a return visit to this site in 2008, a bobcat had disturbed the grave and removed the barrel cactus. Faint outline of the original grave was over run with the tracks of the bobcat.
As is normal with researching an area, I worked a circle some 100' in distance from the grave. I found three graves of adult males in a row, some 40 feet directly north of the original grave.
It is sad to see so much apathy, disbelief and disrespect toward the final resting places of our ancestors. At this point it appears no attempt to exhume and re-inter has been communicated to us by the developer. I was informed he was going to talk to the state and then hung up on. We have not researched if this is land is currently owned by the Flying E or was sold to the developer.
Arizona Pioneer Cemetery Research Project
Internet Presentation
Version 051708
Webmaster: Neal Du Shane
Copyright ©2003-2008 Neal Du Shane
All rights reserved. Information contained within this website may be used
for personal family history purposes, but not for financial profit of any kind.
All contents of this website are willed to the Arizona Pioneer & Cemetery Research Project (APCRP).
HOME | BOOSTER | CEMETERIES | EDUCATION | GHOST TOWNS | HEADSTONE
MINOTTO | PICTURES | ROADS | JACK SWILLING | TEN DAY TRAMPS