HOME | BOOSTER | CEMETERIES | EDUCATION | GHOST TOWNS | HEADSTONE
MINOTTO | PICTURES | ROADS | JACK SWILLING | TEN DAY TRAMPS
Arizona Pioneer & Cemetery Research Project
Presentation
Version 091007
James Clark Hunt
Grave at Wagoner, Arizona
Courtesy: Bonnie Helten
Hunt, James C. Born in New Jersey. A 1st lieutenant, 1st N.J. Cav., Aug. 1861-Mar. 1862, he resigned to become a 2nd lieutenant, 1st U.S. Cav., as of Feb. 19, 1862. Promotion to 1st lieutenant dated from July 17, 1862. That year and again in 1865 he served for several months as RQM. Promoted to captain as of June 28, 1862. He earned brevets at Toddís Tavern and Five Forks, Va.
<![if !vml]>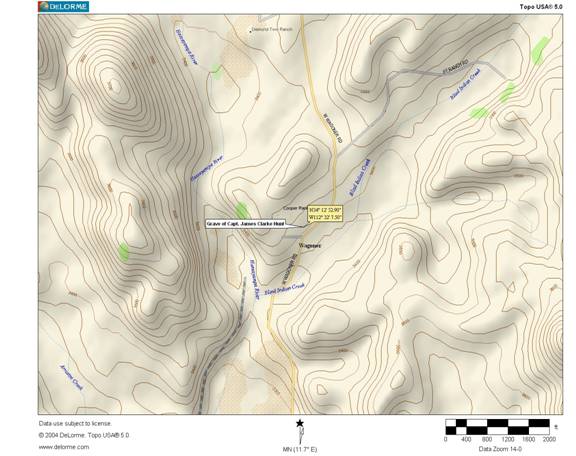 <![endif]>
After the war he earned a Brevet at Steenís Peak, Oreg., Jan, 29, 1867. Hunt reached Camp Grant, Ariz., with M Co. in Sept. 1869. Later stationed at Camps Goodwin and Apache, he scouted from all three posts. On May 12, 1872, he tendered an unconditional resignation which was accepted June 20, 1872. An endorsement by Maj. Alexander J. Dallas, commanding Camp Apache, showed Hunt resigned to avoid a court-martial.
He settled in Arizona. He died Mar. 29 1890 at Walnut Grove, survived by his wife and two children.
APCRP Internet Presentation
Version 091007
All Rights Reserved. APCRP 2007
WebMaster: Neal Du Shane
HOME | BOOSTER | CEMETERIES | EDUCATION | GHOST TOWNS | HEADSTONE
MINOTTO | PICTURES | ROADS | JACK SWILLING | TEN DAY TRAMPS