HOME | BOOSTER | CEMETERIES | EDUCATION | GHOST TOWNS | HEADSTONE
MINOTTO | PICTURES | ROADS | JACK SWILLING | TEN DAY TRAMPS
Arizona Pioneer & Cemetery Research Project
Internet Presentation
Version 021610
WALKER CEMETERY
MILLER GRAVESITE  
WALKER, ARIZONA
By Kathy Block, APCRP Historian
Coordinates (WGS83): N34 27.501, W112 22.720. (Elevation 6,361 feet)
Many lists of cemeteries and gravesites in the Prescott area and Yavapai County mention "Walker Gravesite". After some research, Ed and I, with help of one of Neal Du Shane's famous maps, were able to locate the gravesite of a baby named Claude Miller.
<![if !vml]>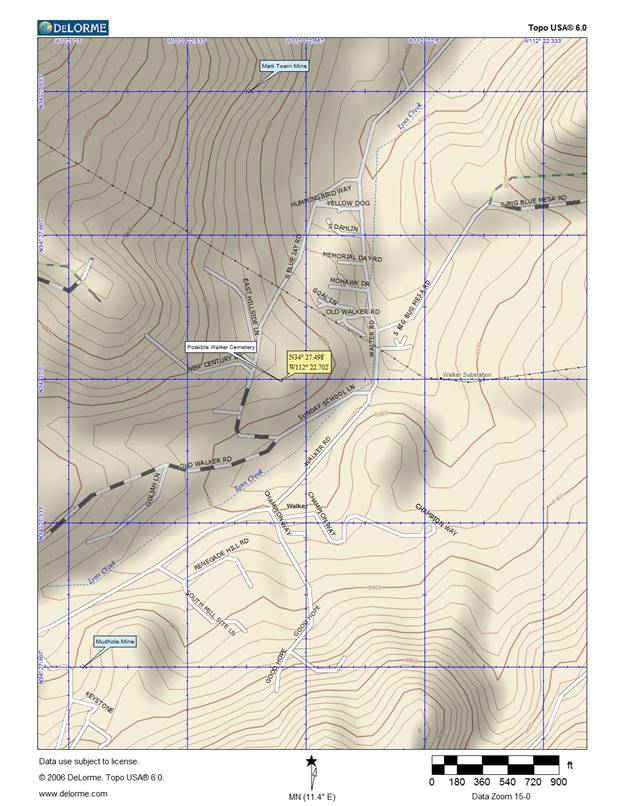 <![endif]>
Map by: Neal Du Shane
His isn't the only lone gravesite in the area; see Kevin Hart's APCRP information on Howells and various graves nearby: Howells, AZ
The Miller gravesite is a burial of a baby named Claude Miller. The inscription on the wooden marker, presumably at the head of the grave reads:
"Our Darling Baby, Aug. 1, 1910. Claude Miller, son of A.W. & L. Miller."
At the foot of the grave is a small board that simply says "C.M." The grave is enclosed by a well-maintained white wooden picket fence. The site sits on a gentle knoll amidst a pleasant open pine forest.
| | |
| --- | --- |
| <![if !vml]><![endif]> | <![if !vml]><![endif]> |
To reach this gravesite, drive to Walker south on Walker Road which begins in Prescott off Highway 69. This paved road, labeled "Walker Road" and "Lynx Lake", turns south from the highway between an ARCO gas station to the west and a COSTCO on the east. Travel south past Lynx Lake and campgrounds, a popular recreation area, for about 7 miles to the unincorporated area of Walker. You will come down Smelter Hill area where Kevin Hart researched the ghost town and cemetery of Howells.
Go south beyond the fire station and a marked trail to a historic charcoal kiln, to Sunday School Lane that turns to the right (west). The turnoff has a sign for "Walker Community Church." Travel a very short distance, about 1/4 mile, on a dirt road, and on your left is the Non-Denomination Community Church. It has an open-air chapel under the pines.

The road veers to the right and becomes Old Walker Road. You can actually spot the white picket fence on your right as you turn. New Century Road comes in to your left just past the pull-off to park. There are many summer cabins and some permanent homes around the gravesite area, reached by narrow, rocky tracks that form a maze of roads in this area. A passenger car can easily negotiate this road; it was tricky for us, as we were pulling our famous little travel trailer with a Toyota 4x4.
| | |
| --- | --- |
| <![if !vml]><![endif]> | <![if !vml]><![endif]> |
The community of Walker, according to a Prescott National Forest sign located on the right just as you approach the fire station, says:
"This town site was named after Capt. Joseph Walker, who discovered gold here in 1863. At the peak of activity, Walker had a population of 3,000."
An excellent web site to see historic photos of the town and learn more about its history is: Walker Fire Department. One historic fact of interest is that in 1908 there was a fire and a few buildings burned. Two years later, in 1910, a second fire hit downtown Walker. The fire was disastrous and most of the people lost everything. Before the fire reached the Gronlund's Saloon, a few nearby locals helped Mr. Gronlund move all the contents of the saloon, including a barrel of whiskey from the basement, to the Walker jailhouse which the fire did not reach.
The Walker area has seen a series of large fires over many years since this time, and a fire in the Crown King area to the south a few years ago burned uncomfortably close to Walker. A warning sign at a trailhead tells of the results.
<![if !vml]>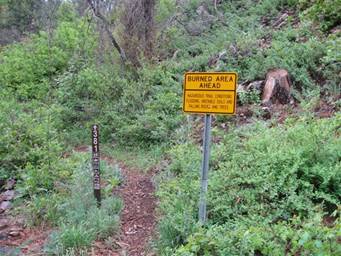 <![endif]>
Walker's post office was established in 1879 and discontinued in 1940. Walker was once a boom town sustained for over 80 years by the mines in the nearby Bradshaw Mountains. Some of the mine claims are still active today. There are recreational gold panning areas in the Prescott National Forest on Lynx Creek, which yield fine gold and a few larger gold particles and nuggets.
<![if !vml]>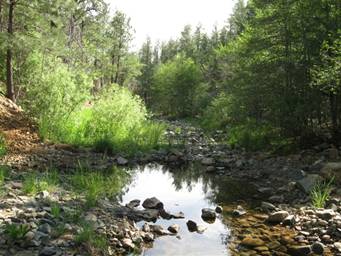 <![endif]>
Bannie Mine recreational site, north of Walker
A good biography of Captain Walker can be accessed from several web site's using search engines. He was leader of a group who made many discoveries of gold in nearby Lynx Creek and the Bradshaw Mountains in 1863. He lived from Dec.13, 1798 to Oct.27, 1876, and is buried in Martinez, California.
Now, the mystery about the Miller baby buried in that grave! Queries to the fire station site and to the church, yielded no clues to this baby or his family. Some limited historical research yielded a list of people in the Walker party. Some of the men were named Miller, but no direct links were found to the "A.W. and L. Miller" on the marker. In July 1861, when the Walker party was leaving Potosi Mine SE of Las Vegas, there were 21 men in the group. Among them were John L. Miller, J.L. Miller, Samuel C. Miller of Illinois, Henry Miller of Missouri, John J. Miller of N. Carolina, Jacob Miller of Illinois.
At the historic Citizens Cemetery in Prescott, we met a volunteer who directed us to four burials of two babies and two adult Millers. He claimed that Jacob Miller (1830-1899, "A Pioneer") was one of the Walker party. Could these people be somehow related to Claude Miller? Queries to website's relating to the subject, have so far have gone answered.
Like so many other gravesites that seem to be scattered around old mines, ghost towns, and settlements, there are questions, but no answers forthcoming. Possibly the baby was buried, dying from some illness or accident, very common in these harsh frontier wilderness times, and the family moved on to other adventures, other mines, other settlements with their history lost in time in an era when few records were kept or saved of these early settlers in the Walker area.
If you have any additional information about the Miller baby gravesite, we would welcome your comments. If you have information you would like to share contact APCRP at: n.j.dushane@comcast.net . Thank You
UPDATE ON WALKER (MILLER) GRAVESITE - 2/16/2010
By Kathy Block
While researching Yavapai County Death Certificates on burials in cemeteries in the Bradshaw Mountains, I found the Death Certificate for Claude Miller. Somehow I'd failed to find it when writing about his lonely grave. Here's some information from the Death Certificate.
Claude Miller was born prematurely on August 7, 1910, and according to the physician (who came from the Poland area), death was at 10:15PM from "inanition". The baby lived only 17 hours. He was buried by his father, Archie Miller, listed as "undertaker" at "Walker".
Claude's parents, Archie and Lillian Miller, were both originally from Nebraska. It can be inferred that they truly cared about this short-lived infant by the elaborate grave they created in the pine forest near Walker. Their informant, who witnessed the Death Certificate, "Personal particulars are true to the best of my knowledge and belief", also lived in the Poland area, suggesting that Archie had some type of employment or friends there.
The death occurred while Arizona was still a Territory and is stamped, "Arizona Territory Board of Health, Bureau of Vital Statistics, Received at Phoenix Sept.15, 1910." This was more than a month after Claude Miller's death, symbolic of the slow flow of information from isolated areas to Phoenix.
All Photographs courtesy: Ed and Kathy Block
    Arizona Pioneer & Cemetery Research Project
Internet Presentation
Version 021610
WebMaster: Neal Du Shane
Copyright © 2009 - Neal Du Shane
All rights reserved. Information contained within this website may be used
for personal family history purposes, but not for financial profit or gain of any kind.
All contents of this website are willed to the Arizona Pioneer & Cemetery Research Project (APCRP).
HOME | BOOSTER | CEMETERIES | EDUCATION | GHOST TOWNS | HEADSTONE
MINOTTO | PICTURES | ROADS | JACK SWILLING | TEN DAY TRAMPS