HOME | BOOSTER | CEMETERIES | EDUCATION | GHOST TOWNS | HEADSTONE
MINOTTO | PICTURES | ROADS | JACK SWILLING | TEN DAY TRAMPS
Arizona Pioneer & Cemetery Research Project
Internet Presentation
Version 052409-2
SUPPORT APCRP
BECOME A BOOSTER
YUCCA CEMETERY
By Kathy Block, APCRP Historian
All Photographs by: Kathy and Ed Block
The unincorporated settlement of Yucca, Arizona was probably named after the yucca, a spiny desert plant that has many species. The subspecies probably growing around the area is Yucca schidigera, native to the Mojave-Colorado Desert. The roots contain saponin and Native Americans used them for soap, especially shampoo, and the fruits for food, and the leaf fibers in weaving fabrics. The needle-sharp tips give the plant the name "Spanish bayonet." The flowers are pollinated by a small night-flying moth which lays her eggs in the plants' ovaries where the young feed on the developing seeds.
<![if !vml]>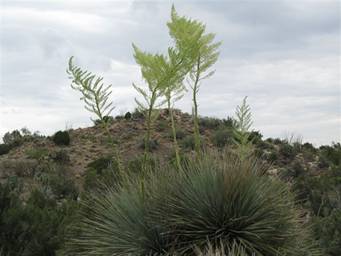 <![endif]>PHOTO LEFT: YUCCA plant with stalks, too early to bloom.
This now almost deserted town, described in various Internet web pages as a "true jerkwater town" and a "Route 66 Stepchild", and dismissed in a Route 66 guidebook by Richard and Sherry Magnum, Route 66 across Arizona as "Today there is nothing worthwhile to see of Route 66 while driving I-40 west of Kingman. So the 1952 alignment is seldom mentioned today." There are only a few businesses left on the west side of I-40, including a seedy bar called "Honolulu Club", E.F. Blanchard Spur Maker, a post office, a gas station, a struggling cafe/general store, and real estate office. The population, housed in mostly ramshackle homes and trailers, numbered 282 in 2000.  Some income/business is provided by personnel from the nearby historic Yucca Proving Ground.
The Yucca Proving Ground, formerly owned by Ford, was purchased by Chrysler in November 2007 for $34.9 million. (Unknown status, due to Chrysler's problems.) The land use began as the Yucca Army Airfield during World War II for training pilots from the US Army Air Corps, originally using 2,284 acres of land, expanded to 4,000 acres by Ford in 1952. The Airfield gained notoriety when a B-25 on a flight from Las Vegas to Yuma crashed into the Mohave Mountains 25 miles SW of Yucca on July 10, 1945. All five crew members died. Due to the remote location and steep terrain, their remains were not recovered until Aug.3, 1945. The pilot was apparently confused by thunderstorms and wind and veered off a safe course over the Colorado River. The plane hit the mountains, corkscrewed and crashed. Pieces of the plane can still be seen today near a peak called Crossman Peak. (The author can see this mountain from their front yard.)
Yucca began in the 1880s as an order office and water fill station for the Atlantic and Pacific Railroad (affiliated with the Atchison, Topeka and Santa Fe Railways). It was part of a rail line commissioned by Congress spanning from St. Louis, Missouri to Needles, California. This rail line is a major freight corridor to Southern California. In fact, the cemetery is fronted by the railroad tracks to the west, and a large freight train roared by while we were there! The Santa Fe railroad completed a land exchange of 70,000 acres with the U.S. Government in 1997 just southwest of Yucca, and this land was subdivided by the railroad into 40-acre parcels and offered to the general public as Stage Coach Trails development. The parcels are mainly being purchased by individuals for residential use or long term investment. Other smaller developments opened just north of Yucca in 2006. These developments may eventually spur business growth in the area. Two major attractions are the Stagecoach Trails Guest Ranch to the east and the "Golf Ball House" to the northeast at Alamo Lake Road exit. A website with photos of Yucca's current appearance is: TexasEscapes.com.
The route west of Kingman was disputed even as the original alignment for Route 66 was being selected in the 1920s. Oatman competed with Yucca for the bypass route and temporarily won an alignment which didn't last for the duration of Route 66. In 1952 when Oatman's economic power had declined, the Yucca bypass was opened. This aided Yucca's growth for twenty years and a classic motel, a truck stop, and other businesses created jobs and Yucca's future looked bright. BUT, in the early 1970's, Interstate 40 replaced the section of freeway of Route 66 going thru Yucca, and bisected and bypassed the town. The motels and truck stop, located on the east side of the freeway, went out of business as people used facilities in Kingman, Arizona, 35 miles NE, and Needles, California, 38 miles west.
The Yucca Cemetery reflects the bleak appearance of the area. It is located on First Street between Sixth and Fifth Streets. To access, take Proving Grounds Road exit off I-40, head west, and either take Frontage Street, which parallels the freeway, for one block, and turn right (west) on Sixth Street and Frontage, go four blocks to the street paralleling the railroad tracks, or go straight west when exit, go four blocks, and turn left on a dirt track for a block. The cemetery is on the east side of First Street, facing the railroad tracks. (GPS Coordinates are: N34* 52.567, W114* 09.132. Accurate within 10 feet. Elevation 1,824 feet.)
<![if !vml]>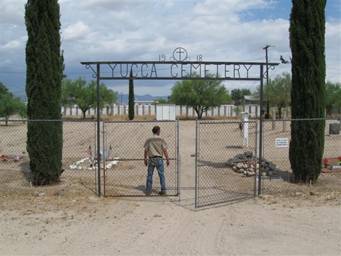 <![endif]>The cemetery is entered thru a gate under an elaborate ironwork arch that reads: " 1918: Yucca Cemetery, To the right of the gate is a sign that says: "This is not an endowed cemetery." Once entered, the stark raked gravels, the many unknowns gravesites, and headstones mostly arrayed around the perimeter of a fence greet you.
There is a signboard explaining that a group was formed in 2002 to restore and protect this cemetery, and asks for funding help, displays "memorials" and "gift pledges" on plaques, etc .
<![if !vml]>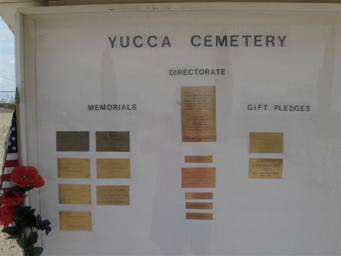 <![endif]>
There are not many plaques. Prior to this time, the cemetery was in danger of disappearing altogether!  It had been used for burials since the 1880s when the railroad was establishing their facilities, but wasn't officially designated a cemetery until 1918. It was recorded as a burial location then, and had been protected from private acquisition until about 1969-1970 when there was a statewide reassessment program regarding real property in Arizona. The tax lots appeared on the delinquent tax rolls and were to be offered for sale! A group of interested persons, many of whom had family members buried in Yucca Cemetery, got advice and cooperation from then Judge of the Superior Court, the Honorable Frank X. Gordon, Jr., and formed the Yucca Cemetery Association. Thus, any attempt to seize and sell the lots was legally and effectively avoided. Note: This threat to cemeteries continues today, as in a case near Phoenix, where a couple bought a parcel of land containing, unknown to them, a historic Hispanic cemetery!
<![if !vml]>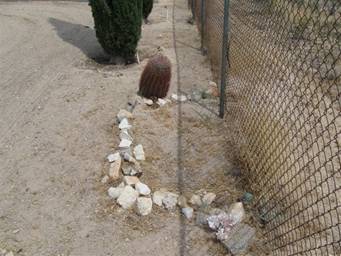 <![endif]>There are approximately 36 burials identified in this cemetery, but also many unmarked burials with no headstones. Early records were apparently spotty and incomplete, and some records have been lost. The earliest identified burial was Luie Jauncie, birthdate unknown, died October 1910. The last burials seem to be in 1999. There are many babies in unmarked graves. When a fence was erected around the cemetery by the Association, one unknown grave was bisected!
| | |
| --- | --- |
| <![if !vml]><![endif]> | <![if !vml]><![endif]> |
                                         Photo's 5 and 6
Some of the headstones are rather unique, one is a wagon wheel and another is a rim from a vehicle wheel! (Photos 5 and 6).
<![if !vml]>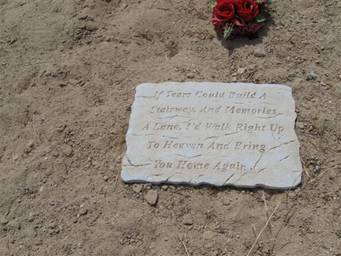 <![endif]>
The most sentimental plaque, pictured on left, near headstone for a couple, is pictured on left. One burial, a Mr. Thompson, dates of birth and death unknown, was supposedly killed at either the San Francisco mine or the Cedar Mine. (See information on Cedar/Cedarville on www.apcrp.org website.)
| | |
| --- | --- |
| <![if !vml]><![endif]> | <![if !vml]><![endif]> |
Photo's 8 and 9

As mentioned, some burials were in the 1880s before the cemetery was formally established. A few final photos give an overview of the appearance of this stark, bare, almost treeless cemetery! (Photo 8) And this shows a very minimal, unknown, unmaintained grave site. (Photo 9).

Arizona Pioneer & Cemetery Research Project

Internet Presentation

Version 052409-2

WebMaster: Neal Du Shane

Copyright © 2009 Neal Du Shane
All rights reserved. Information contained within this website may be used
for personal family history purposes, but not for financial profit of any kind.
All contents of this website are willed to the Arizona Pioneer & Cemetery Research Project (APCRP).

HOME | BOOSTER | CEMETERIES | EDUCATION | GHOST TOWNS | HEADSTONE

MINOTTO | PICTURES | ROADS | JACK SWILLING | TEN DAY TRAMPS