HOME | BOOSTER | CEMETERIES | EDUCATION | GHOST TOWNS | HEADSTONE
MINOTTO | PICTURES | ROADS | JACK SWILLING | TEN DAY TRAMPS
Arizona Pioneer & Cemetery Research Project
Internet Publication
Version 103109-KB
VENEZIA, ARIZONA
By Kathy Block, APCRP Historian
What does the name "Venezia" suggest to you? Canals, gondoliers, ancient palaces? This "Venezia" was a stage coach station, mining settlement, and gold mining area. It was named in the early 1900s by an Italian settler, F. Scopel, after his native city of Venice, Italy.
Venezia was located on Senator Highway about 16 miles south of Prescott and 1.3 miles north of Palace Station. (See APCRP on Palace Station cemetery.) ../Palace Station/Palace Station 111108.htm Three sites separated by 8 miles – Venezia, Goodwin, and Maxton- shared a post office, which moved among the three towns. First it was in Goodwin in 1894, then Maxton in 1901, on to Venezia in 1916, then Goodwin again in 1935. At Venezia, the Post Office was established April 1, 1916 and discontinued June 1, 1935, reflecting changes in population as the mines grew and then played out. Venezia was a mill town for surrounding mines. There was a 20 stamp mill, a store, stage stop, saloon, and more. Heavily dedged Starlight Creek separated the town's buildings, which stood southeast of the mill and across the creek. At its peak in 1925, the village supported only about 75 residents.
The Forest Service dynamited and bulldozed the site, in the 1970's. According to Philip Varney in Arizona's Best Ghost Towns, Northland Press, Flagstaff, 1980, "A lifelong resident of the community said that the town's dilapidated buildings, which stood southeast of the mill and across the creek, were torn down a few years ago because they were dangerous to visitors. Without those buildings, there will be very few visitors and little danger. The lone remains at the townsite are scattered rubble, a picked-over dump, and a bench seat between two trees." When we visited the site, the bench seat is STILL intact, as are the concrete foundations of the mill site, and several large adits in the mountain. Also, we found what appeared to be two grave sites on a hill across the creek to the south of the concrete foundations.
<![if !vml]>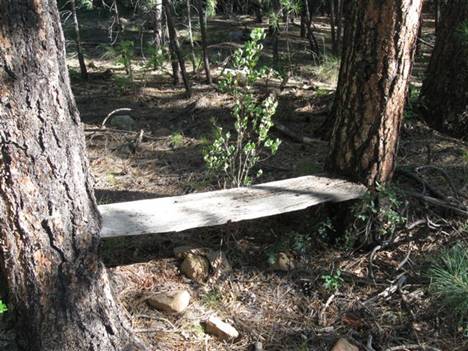 <![endif]>
Bench seat across creek from Venezia mill.
<![if !vml]>
<![endif]>
Remains of wooden cross on tree between the stones.
The processing mill for Venezia was built in the 1930s. Sharlot Hall photo archives have photos of the mill and large adit being built. The mines in the area were the "Trapshooter" Reilly Gold Mine, Crook, Venezia, Starlight, and Mount Union mines, in Crooks Canyon, which Senator Highway goes thru. The post office was near the Canyon. During the early days the mines were rather extensively worked in the "oxidized zone", generally from 40 to less than 200 feet deep. Sulphide ores were treated in the 20-stamp amalgamation-concentration mill at Venezia and another at Mount Union. From 1927 to about 1932, a company called the Wessterner Gold-Lead Mining Company milled about 100 tons of gold ore. They only shipped one car of lead-zinc ore, with total combined production of these mines of about $500,000 (in 1930's prices).
<![if !vml]>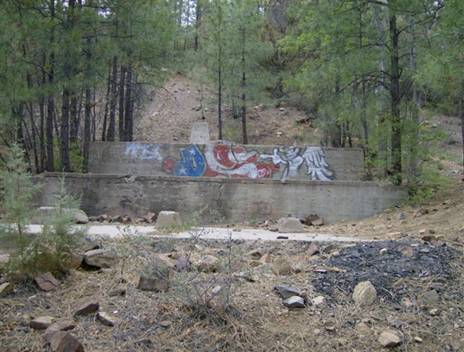 <![endif]>
Ruins of the stamp mill at Venezia.
<![if !vml]>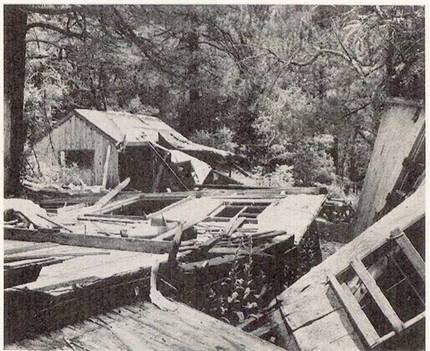 <![endif]>
Ruins in 1970s before they were bulldozed.
<![if !vml]>
<![endif]>
Old building foundations near the graves.
Geologically, this area has ridges and canyons with altitudes of 6,200 to 7,400 feet. Much of the rock is granite, with many rhyolitic dikes. At Venezia, a tunnel (adit) ran northward for about 200 feet on the supposed extension of nearby Crook Mine vein. There was some white quartz and ankerite and pyrite. Below Venezia there was an unproductive 200 foot shaft. But about half a mile further south, some rich ore was moved from a short tunnel where the vein was about 2 feet wide. You can find adits and old tailings piles by walking on remains of old mining roads near the town site.
<![if !vml]>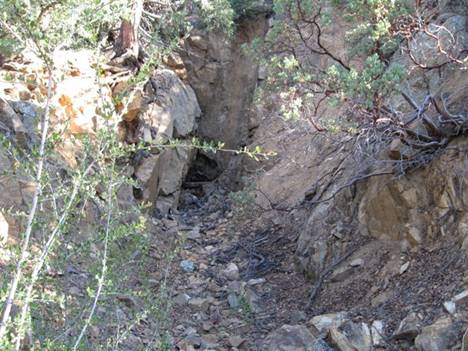 <![endif]>
Lower adit with mineralization, behind ruins of stamp mill.
<![if !vml]>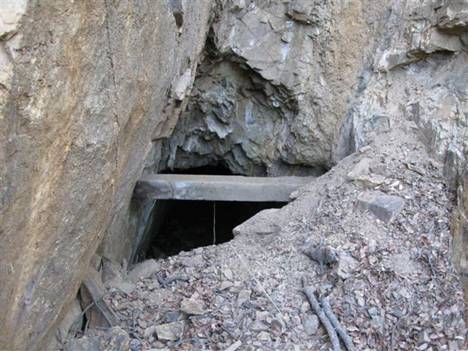 <![endif]>
Upper adit above lower adit. Deep and dangerous.
A new mining enterprise, called the Lucky Break Mine, was relocated by Searchlight Exploration from LasVegas, Nevada. Marker claim papers from 1968 show they staked claims at Venezia and other nearby old mines. The claim at Venezia was a "parallelogram" 1500 feet in length and 600 feet wide. We saw no evidence of recent mining, except for a few signs of placer work in the creek.
This townsite would be interesting to visit to research the possible grave sites and hike on the old roads. Even though Palace Station and its cemetery are only 1.3 miles south of Venezia, miners or some other town settlers could have been buried at Venezia, due to bad roads in the winter, or haste and unwillingness to stop mining for very long? Even today, the Senator Highway is a rough graded road, with some steep hills, sharp dropoffs to canyons, that crosses little creeks en route to Palace Station and Crown King. The country is somewhat wild, though tragically burned in some areas by forest fires, and very scenic!
<![if !vml]>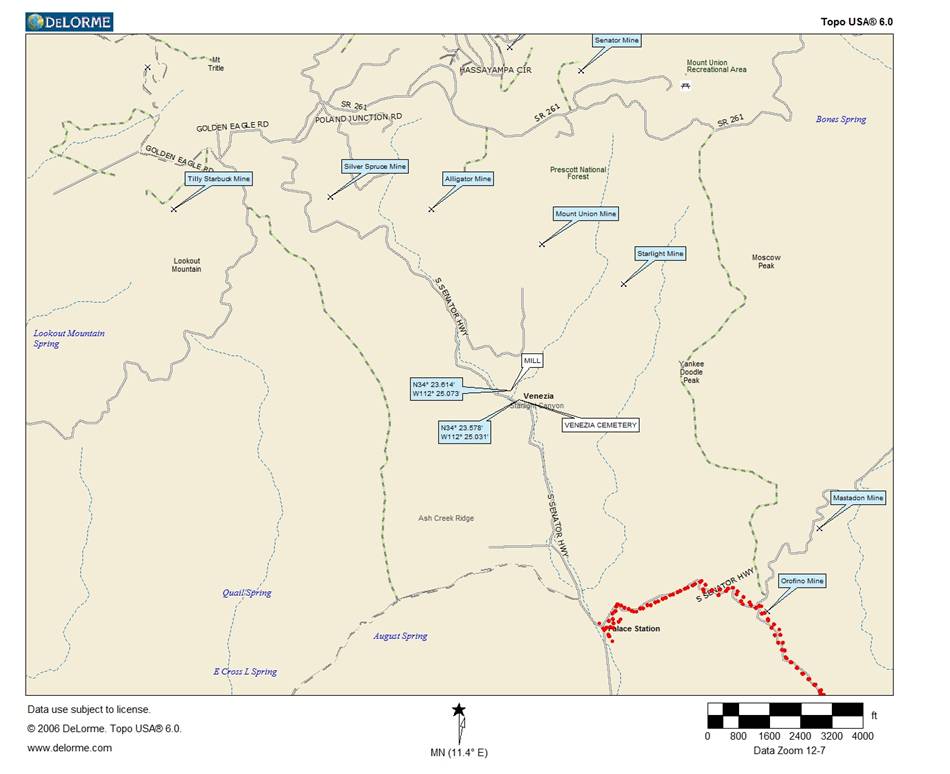 <![endif]>
Map by: Neal Du Shane
Photographs courtesy: Ed and Kathy Block
Arizona Pioneer & Cemetery Research Project
Internet Publication
Version 103109-KB
Copyright © 2009 Neal Du Shane
All rights reserved. Information contained within this website may be used
for personal family history purposes, but not for financial profit or gain.
All contents of this website are willed to the Arizona Pioneer & Cemetery Research Project (APCRP).
HOME | BOOSTER | CEMETERIES | EDUCATION | GHOST TOWNS | HEADSTONE
MINOTTO | PICTURES | ROADS | JACK SWILLING | TEN DAY TRAMPS